ITAR Injection Molding
High-quality injection molded ITAR (International Traffic in Arms Regulations) parts | $500 off your first mold
ITAR Injection Molding Process With Xometry
Xometry offers molding solutions for engineers working with the military or with defense contractors. We connect customers to high-quality molding companies for prototype or end-use plastic parts covered under the United States Munitions List (USML) and registered with International Traffic in Arms Regulations (ITAR). 
Xometry is recognized by the US Department of the State as an ITAR-registered Manufacturer and proven experience doing complex custom injection molding for customers in the defense Industry.
Xometry—and all ITAR registered molding shops— follow guidelines to ensure that:
All personnel and subcontractors are aware of and observe the stipulations of the molder's ITAR certification
Undergo thorough internal and external audits to ensure ITAR compliance maintenance
Vet the origins and production of all components designed, developed, configured, adapted, or modified for military applications controlled under the USML
Verify that intellectual property rights of sensitive military information and technologies are being protected
Injection Molding Finishes Available
Moldmaker's choice of finish. Typically SPI B-3 to D-3 depending on geometry and drafts. Interior, non-cosmetic faces, are typically as-machined.
Range of finishes including matte, swirls, lines, and patterns. Finishes include: MoldTech - MT11010 MoldTech - MT11020 MoldTech - MT11030 MoldTech - MT112XX MoldTech - MT114XX MoldTech - MT116XX
Range of finishes from Grade 3 diamond / high polish to 320 stone low polish. Finishes include: SPI A-1 SPI A-2 SPI A-3 SPI B-1 SPI B-2 SPI B-3 SPI C-1 SPI C-2 SPI C-3 SPI D-1
No secondary polishing or grinding. Part will show tooling marks.
Xometry can match other mold textures upon request.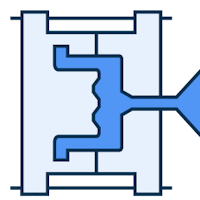 Ready to get started on your ITAR injection molding quote?
Xometry's ITAR Injection Molding Services Include:
Single, multi-cavity, and family mold options
Press availability from 50 to 1,100+ tons
Part inspection, including FAI and PPAP options
Free online file upload and quote submission
Quotes with design for manufacturing (DFM) feedback within 24 hours
Large domestic partner network and international options
Insert molding and overmolding