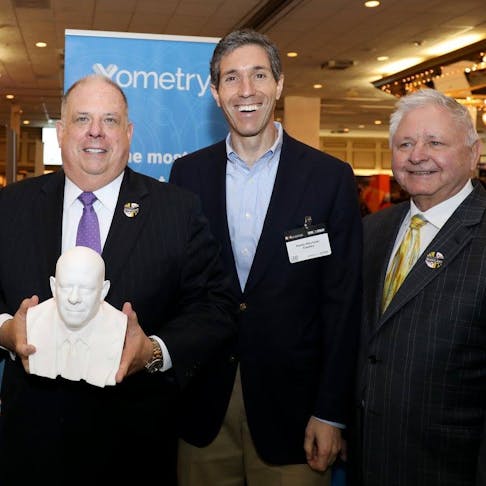 Celebrating Manufacturing Day 2017
From RMI of Maryland to TechWeek DC, we had a very busy and exciting Manufacturing Day this year!

By Team Xometry
October 8, 2020
 2 min read
Manufacturing Day is an annual celebration of modern manufacturing, and an opportunity to inspire the next generation of workers. To celebrate this year, Xometry kicked things off at the Regional Manufacturing Institute of Maryland's event with students from Maryland's leading schools and universities.
This was a fantastic opportunity to connect with bright students from across the state who will make up the future of manufacturing, and walk through live demos of our instant quoting platform.
Maryland Governor Larry Hogan was in attendance, and spoke on the positive growth of manufacturing jobs in the state. As we are headquartered in Maryland, it's very exciting to witness this growth of manufacturing first-hand! In fact, there are 3,680 manufacturing businesses within Maryland, of which 60% are advanced manufacturers.
The Governor also stopped by our booth where we presented him with a custom manufactured 3D bust!
(Photo courtesy of the Executive Office of the Governor)
Governor Hogan loved the 3D Printed bust we made for him!
From RMI we traveled to TechWeek DC, where our CEO, Randy Altschuler, shared his perspective on raising venture capital as a panelist on the topic of "Growth Financing: Operators." The panel was moderated by Emily Edwards of Village Capital, and included tech leaders Sid Banerjee of Clarabridge, Michael O'Neil, Jr. of GetWellNetwork, and Viyas Sundaram of Snagajob. It was a wonderful learning experience for those attending to hear these four seasoned startup professionals share their wisdom.
What we appreciate most about attending these events is the opportunity to meet you: the fantastic people who work hard everyday to excel the manufacturing industry forward. We could not be more proud to serve such an incredible community, and are inspired by the amazing work we see from you all.
We hope you had a fantastic Manufacturing Day this year, and we look forward to many more!
Check out some more pictures and recaps:

Team Xometry
This article was written by various Xometry contributors. Xometry is a leading resource on manufacturing with CNC machining, sheet metal fabrication, 3D printing, injection molding, urethane casting, and more.