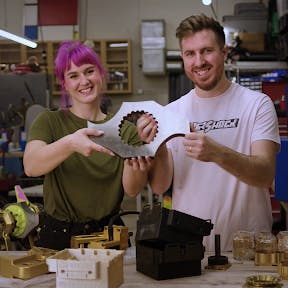 Hypershock Chooses Xometry
Learn why dynamic duo Will and Alex Bales use Xometry to build their fighting robot, HyperShock.

By Team Xometry
March 8, 2023
 1 min read
At Xometry, our team works hard to make it easier for engineers and designers to access high-quality custom manufacturing services quickly and easily.
Will and Alex Bales, a dynamic duo behind the famous fighting robot HyperShock, trust Xometry when building and iterating on their designs.
Xometry has been sponsoring fighting robot teams, including those participating in BattleBots for years, with HyperShock being our longest-standing partnership. All of the CNC and 3D printed components of HyperShock's build were manufactured by Xometry. We love the partnership and passion that Will and Alex share for building HyperShock, and we can't wait to see how they perform in the rest of the 2023 season of BattleBots and beyond! 
Xometry is not a sponsor of nor affiliated with BattleBots, Whalerock Productions, or Battlebots.

Team Xometry
This article was written by various Xometry contributors. Xometry is a leading resource on manufacturing with CNC machining, sheet metal fabrication, 3D printing, injection molding, urethane casting, and more.