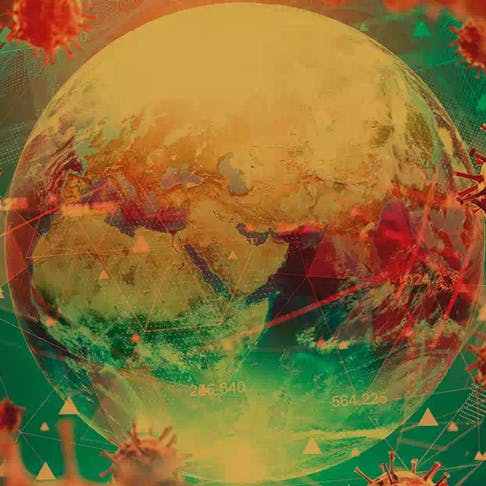 Managing Manufacturing Risk in the Age of Coronavirus
How should companies adapt to emerging supply chain disruptions during COVID-19? Here are 7 things we think leaders should consider to create supply chains that are more responsive to change.

By Randy Altschuler
October 9, 2020
 5 min read
Here at Xometry, we are particularly attuned-to the ebbs and flows of particular industries. Our digital manufacturing marketplace has tens of thousands of customers ordering parts for everything from aerospace to defense to medical devices. When one of those industries experiences changes in demand, we can recognize and quantify it through their activity patterns. Similarly, with over 5,000 manufacturers spread across 46 states as well as Europe and Asia, we can quickly spot who is busy and who has open capacity.
The rapid emergence and global spread of coronavirus, or COVID-19, has created a shock unlike anything we have experienced recently. A recent ISM special survey showed nearly 75% of US companies have already experienced supply chain disruptions as a result of the coronavirus, and this number is likely to grow. These challenges have evolved rapidly. Initially, there were issues sourcing products from China, which were dealt with by taking aggressive measures to limit the spread of the disease. Now, companies must prepare for supply disruptions within certain areas of the US as manufacturers themselves have to shut down due to illness or quarantines. At the same time, overseas capacity is coming back online.
Unfortunately, COVID-19 and other pandemics are not the only hurdles facing companies. Tariffs and trade policy are also present risks to supply. As borders close and nationalism rises across the world, it is not even clear if the traditional paradigm of labor cost as the largest determinant of the location to manufacture still holds true. As we are experiencing with the recent travel bans, other "Black Swan" risks could render entire continents inaccessible. Disasters like Fukushima and even more isolated supplier-specific issues like non-conformances or production delays can leave engineers and supply chain managers unable to meet demand. Harvard Business Review's research found that few companies are well prepared for low-probability, high-impact events like these.
So how should companies adapt to these emerging challenges? A world faced with disruptions like pandemics requires better planning and supply chains that are more responsive to change. Xometry's experience serving thousands of manufacturers and suppliers gives us a unique perspective on how to manage through times of crisis. There are 7 things that our experience tells us leaders should consider:
2. Make Your Supply Chain More Digital and Transparent
Digitization continues to revolutionize manufacturing across the supply chain. Leaders should ask themselves where they can obtain and use data to make even better decisions. One key area is logistics visibility—do you truly know where your parts are, when they've gone into production, and when you will receive them? In fact, 60% of supply chain leaders feel that a lack of supply chain transparency is a major risk. Xometry and other manufacturing networks show you in real time when your parts go to production, when they are inspected, and when they are shipped. This gives you the information you need to make good choices, even in uncertain times.
3. Make Your Supply Chain More Agile
Recent innovations like manufacturing-as-a-service (MaaS) offer new ways to maintain cost-effectiveness while increasing flexibility and predictability. For example, Xometry has a network of over 5,000 highly vetted manufacturing facilities in 46 US states and 14 foreign countries and we manage this network for you. This means that when challenges arise in one area, we can easily shift manufacturing to an area or supplier that is less affected. Xometry has experience leveraging its flexible supply chain during regional natural disasters such as hurricanes and has developed systems required to manage even greater disruptions such as this crisis.
4. Make Sure Your Capacity is Flexible
Manufacturing networks also offer far more capacity than individual facilities. With manufacturing-as-a-service, you can ramp production down if demand slips temporarily, then raise it again when demand storms back. Networks like Xometry can take on even large production jobs, with capacity to handle hundreds of thousands of molded and machined parts. Because of their nearly infinite capacity, networks may be able to do these jobs cheaper and faster than single-source suppliers by connecting the work requirements with capable suppliers that can begin work immediately.
5. Look for Opportunities to Become More Efficient
Times of uncertainty can also be great times to think through the least cost-efficient areas of your supply chain. For example, are there parts that you are 3D printing that might be cheaper to make with injection molding? Are you using any custom parts suppliers that charge a premium for fast delivery, but are up to 75% more expensive on some parts? Now is a great time to try new options. One way to start is with online quoting engines, like Xometry's Instant Quoting Engine, that give you market-based pricing within seconds so you know what a fair price is for your parts given current market conditions.
6. Make Your Supply Chain More Customized
Manufacturing networks offer levels of customization that you cannot get elsewhere. Xometry works with thousands of partners, each with unique machines and capabilities. If you can get exactly what you need—vs. trying to fit what you really need into what a single supplier can do—your parts look and function as required and your supply chain becomes more predictable.
7. Get Input From the Experts
There's a tendency to only talk to your closest co-workers during a crisis—don't fall prey to it! There are a range of experts, inside your company and externally, that can help you create and implement new ideas. Xometry's team of supply chain and operations leaders has hundreds of years of collective experience getting products to market quickly and cost-effectively.
If you would like to discuss how we can help you get the parts you need quickly and efficiently, or would like to discuss how your business can manage through these uncertain times, please reach out to me directly at [email protected]

Randy Altschuler
I'm the Chief Executive Officer at Xometry. I'm passionate about revolutionizing manufacturing using big data, machine learning, and a skilled manufacturing workforce.