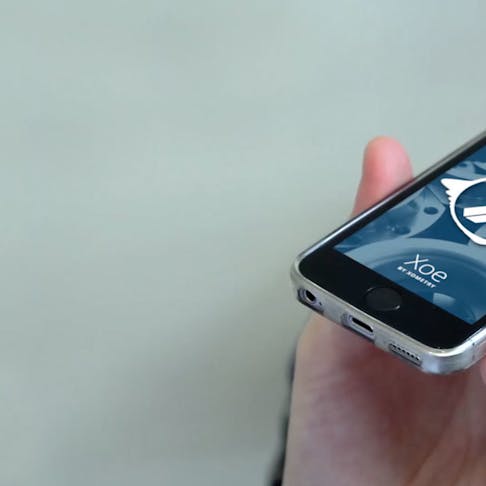 Our Quoting Voice Assistant, Xoe™
This April 1, Xoe™ was introduced. She was designed to combine the best in proprietary voice recognition and computational geometry software to create the most powerful instant quoting engine in the world.

By Team Xometry
October 8, 2020
 2 min read
This April 1st, a new Quoting Voice Assistant promised to take the world by storm. Xoe™ was set to transform the manufacturing industry by launching it into the future.
A future with Xoe™ promised no more uploading a 3D CAD file (although that is super easy). No more clicking around with a mouse to choose from a myriad of processes, materials, and specs to get parts exactly the way you want them. No more typing on the keyboard to specify special tolerances or adding requirements to your drawings. The premise was simple: just describe to Xoe™ your desired part, and she would instantly tell you the price and lead time. Verbally.
Xoe™ was even set to be integrated into our SOLIDWORKS Instant Quoting Add-In, for even easier quoting and ordering in one platform.
If you can talk, you can get an instant quote.
Kathy,
Director, Exciting Stuff
Before you get your hopes up, we must admit: Xoe™ was actually our prank for April Fool's this year! The reason? To prove there really isn't an easier way to get a lightning-fast quote than by uploading a 3D design file to Xometry.com. With a range of additive and subtractive processes available to quote and order from, it couldn't be simpler to get instant pricing and manufacturability feedback on your custom parts.
Our team had lots of fun putting this video together - check out our favorite behind-the-scene shots!
How we captured Chris' perfect fourth wall break
While Xoe™ isn't real, she will live on in our hearts. In the meantime, we just made our quoting platform faster than ever, and that's no joke! See for yourself by getting an instant quote today.

Team Xometry
This article was written by various Xometry contributors. Xometry is a leading resource on manufacturing with CNC machining, sheet metal fabrication, 3D printing, injection molding, urethane casting, and more.