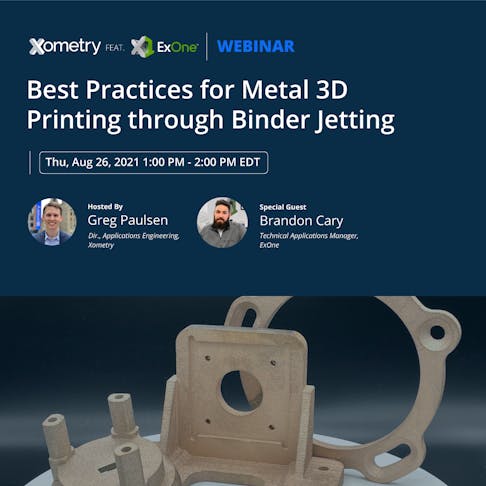 On-demand Webinar: Best Practices for Metal 3D Printing through Binder Jetting
Join metal 3D printing experts from Xometry and ExOne for a webinar on to learn how 3D printing through binder jetting can provide affordable, high-strength, metal parts.

By Greg Paulsen
September 2, 2021
Whether it is one-offs or serial production, binder jetting offers the flexibility to produce complex geometries in both metal composites and single-alloy materials. Save your seat for this free webinar to learn about this novel metal 3D printing method.
Viewing this webinar you will:
Understand how metal binder jetting works
Understand the benefits metal binder jetting has over other printing methods
Discuss materials like metal-matrix composites and single-alloy options
Review post-processing and finishing options for metal 3D prints
Learn design for additive manufacturing best practices for binder jet parts
Experience a live Q&A session with metal 3D printing industry experts
Watch this on-demand webinar to learn how to make high-quality additive manufactured parts out of metal. You can also learn more about Xometry's metal binder jetting services or get instant pricing on your metal 3D printing project through Xometry's Instant Quoting Engine.
Speaker Biographies
Brandon Cary, Technical Application Manager at ExOne
Brandon Cary is the Technical Applications Manager at ExOne, a global leader in binder jet 3D printing. Since 2013, Brandon has championed applications engineering, industrial sales, and more as a key member in ExOne's Production Service Center.
Greg Paulsen, Application Engineering at Xometry
Greg leads Xometry's Application Engineering team with 14 years of experience in advanced manufacturing. His expertise includes additive manufacturing, machining, sheet metal, injection molding, casting, and quality assurance.

Greg Paulsen
They call me the Director of Application Engineering at Xometry. This means I not only get to produce great design-for-manufacturing content, but also consult on a variety of custom manufacturing projects using CNC machining, additive manufacturing, sheet metal, urethane casting, and injection molding. If you have a question, I'm your guy.