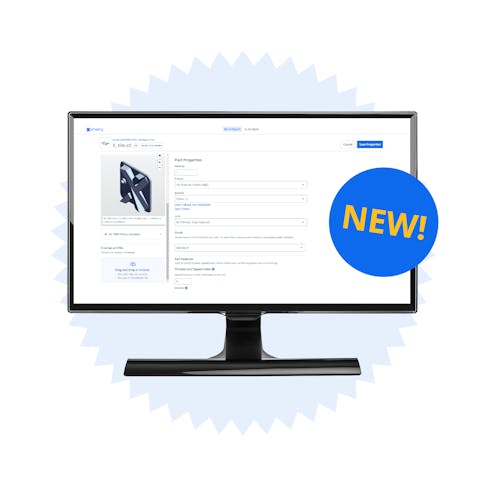 Product Update: New Quote Configuration Screen
The part configuration page of the Xometry Instant Quoting Engine just got a makeover! Read on to discover the changes and see the new additions we've made.

By Joel Schadegg
July 7, 2022
 4 min read
A New Way To Configure and Review Your Part
Xometry's software and product developers have been hard at work overhauling the Xometry Instant Quoting Engine's part configuration page. We are pleased to announce the new updates are live and ready for you to experience now!
At Xometry, we are committed to continually improving all aspects of the business to provide our users with a better, smoother experience. This latest update to our quoting engine offers immediate benefits and lays the groundwork on the backend to enable us to launch more frequent updates with greater customizability than ever before. See what's changed and what's new in the sections below.
What's New?
Let's take a quick tour of the updated part configuration page. We encourage you to try the new experience for yourself and follow along! To get started, go to your quoting dashboard and open an existing quote or create a new quote. To enter the part configuration page, click on the 3D preview of your part, click on the file name, or click the "modify part" button.
Updated Layout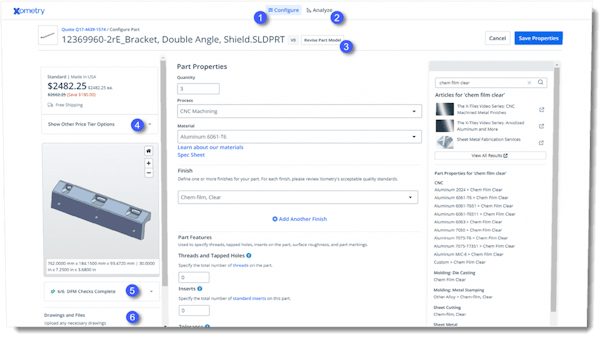 When entering the configuration page, you will notice it now utilizes the entire page. This gave us more room to play with, allowing us to implement some useful features. The image above and the list below can help you get your bearings:
1) Configure Tab - This is the main tab where you will find your pricing, configurable part properties, and more.

2) Analyze Tab - This brings you to a much larger 3D preview and design feedback window, helpful in taking a closer look or reviewing part and file feedback.

3) Revise Part Model Button - Clicking this will open a window that allows you to upload an updated file or design revision of the part.

4) Price Tier Drop-down - This drop-down menu will display other pricing options related to our economy or expedited lead times.

5) DFM Feedback Dropdown - This drop-down menu will show you what checks we've done on your file. Any DFM or file feedback will also be outlined here.

6) Drawing Upload Area - This section is where you can upload drawings or other supplementary files. Take note that depending on your viewing device, you may need to use the adjacent scroll bar to see this section.
Built-in Search Function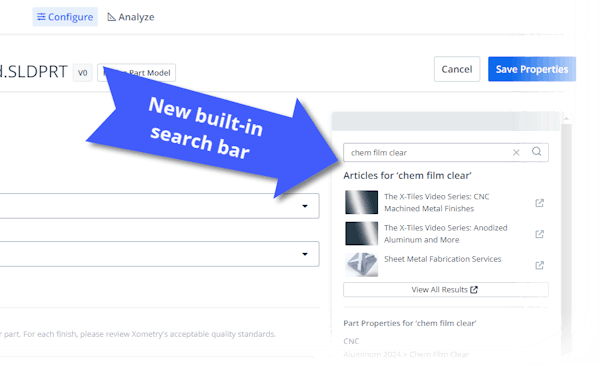 Chromate conversion, polypropylene, stereolithography, oh my! We understand when it comes to manufacturing, there are a virtually endless amount of terms, acronyms, and more that can be confusing to keep track and make sense of. Thankfully, Xometry has tons of informative and educational content on its website to help you make informed buying decisions! We've incorporated a built-in search bar within the configuration page to make it easier to access this content and help you understand all the options.
The search function can also be used to quickly find possible part parameters related to the search term. Looking for a particular finish but aren't sure which processes or materials support it? Just type it into the search bar and review the results.
Certification Selection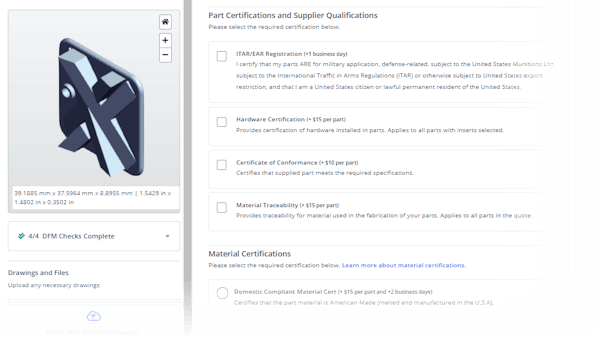 Adding certification and qualification requirements such as ITAR, Certificates of Conformance, and Material Certifications are now more streamlined. You can find the tick boxes for these options right in the part parameters section. This also enables you to apply these certifications on a line item level instead of across the entire order.
Updated Backend
The backend architecture of the page has also been updated. The changes will allow our developers to take our user feedback and make further improvements, additions, and customizations to our quoting interface more quickly and efficiently. If you have any feedback or recommendations, feel free to share them by contacting us at [email protected]
This update is just the beginning, keep an eye out for future updates to come through the pipeline!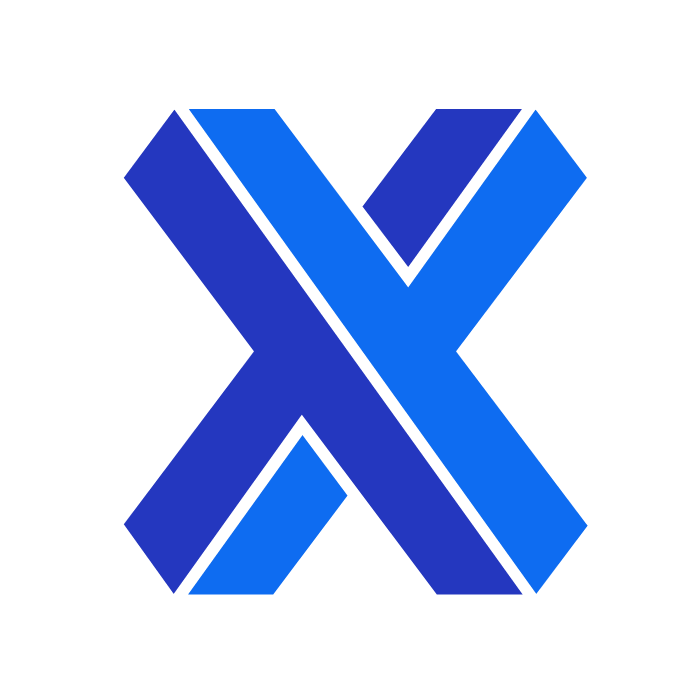 Try Out The Update Yourself

Joel Schadegg
Hey, I'm Joel and I'll be your guide for everything Xometry! From my time as an Additive Technician in our 3D printing facility to operating a team of case managers as a Business Unit Manager, I have made it my personal mission to help customers like you you get the most out of the Xometry Experience. Now, as a Technical Writer, I am here to help you by providing expert advice to help you excel and achieve success on your projects.