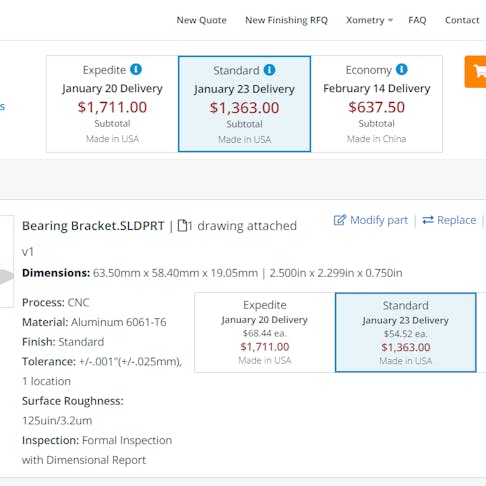 Edit, Manage, and Share Xometry Online Manufacturing Quotes
Xometry's online manufacturing platform streamlines quote and order management for sourcing and purchasing professionals.

By Greg Paulsen
October 9, 2020
 3 min read
Buyers of manufactured parts often spend days or weeks waiting for responses, between getting a quote to compare across suppliers or sending a quote for purchasing approval. Luckily, Xometry's online manufacturing platform eliminates the time spent waiting by providing instant quotes on custom parts. Quotes are automatically saved so they can be accessed, modified, or purchased later.
To get started with sharing quotes in Xometry's online quoting interface, simply click one of three sharing options in the top right corner.
Xometry quotes are easy to modify and share across organizational decision-makers. Once a quote is configured, you can choose from three sharing options: Share Your Quote, Email Your Quote, and PDF Download.
The pop-up that appears when you choose to share your quote via email
Our Share Your Quote option allows you to send a web-based quote to a colleague and give them direct access to purchase a quote on your behalf. A common example is when a designer uses Xometry's Instant Quoting Engine℠ and their manager holds the purchasing card. When the quote is shared, the recipient has the option to click directly to go to the online checkout page and order the parts online via credit card or purchase order (PO).
The pop-up that appears when you choose to share your quote via email with an attached PDF
The Email Your Quote button works similar to the Share Your Quote option, but also provides a PDF version which can be printed out or transferred electronically. Along with a complete listing of project details and notes, the PDF quote also displays contact information, estimated delivery, any selected additional requirements, and totals. PDFs are great for communicating quotes clearly across teams with all quote information displayed in a clear and comprehensive layout. Xometry PDFs incorporate an orange checkout button, which is an interactive link for purchasing online (similar to the link through the Share Your Quote feature).
This is practical for communicating with purchasers, who may or may not use Xometry's website for checkout. Purchasers have the option of emailing the PDF quote along with a purchase order to [email protected] for processing. The PDF also provides a timestamped copy of the quoted work which can be used as a reference for budgetary quotes or used in the future when comparing similar projects.
A sample of a PDF that customers can download, save, and share with purchasers
The PDF sharing option provides the same, detailed PDF file as the Email Your Quote option in a directly downloadable format. This direct download format is useful for storing a local version of a quote to reference or share with inter-organizational procurement professionals through various communication channels. Directly downloaded PDFs still incorporate the same interactive link that allows anyone who views the PDF to click through to the checkout page and purchase the quote.
Purchasing Your Order
Once you view the quote online, Xometry allows users to check out immediately using the "Continue to Checkout" function, where they can input shipping requirements, billing requirements, and additional notes for shippers.
For payment plans, check with your account representative to see if Xometry can manage net terms with your company or complete a credit application and authorize the use of POs for payment. For tax-exempt statuses, such as educational or research organizations, simply email the appropriate documents to [email protected] and the team will update your account.
Once you order your project, the order can be tracked online with Xometry's visual status tracker. Xometry will automatically generate an email with shipping information for each package and Xometry staff are always available by phone or email for project updates.
Flexible Quote Sharing and Order Management with Xometry
Xometry's flexible quote sharing and management options make sourcing a custom manufacturing project easy. Backed by Xometry's Quality Policy, you can rest assured that projects will consistently be delivered on time and to spec. With over 11 different manufacturing technologies available online, Xometry is your one-stop shop for manufacturing on demand. Try it now—get and share your instant quote now.

Greg Paulsen
They call me the Director of Application Engineering at Xometry. This means I not only get to produce great design-for-manufacturing content, but also consult on a variety of custom manufacturing projects using CNC machining, additive manufacturing, sheet metal, urethane casting, and injection molding. If you have a question, I'm your guy.