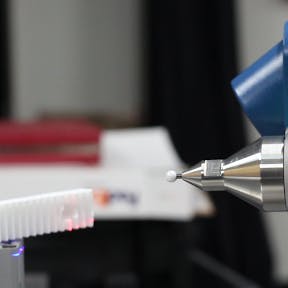 A 3D Printed Replacement Part Saves Missouri Man's Chair
What happens when you need a component that no longer exists? Well, you make it. This is the story of a farmer, a news reporter, and their mission to replace a broken chair component with the help of reverse engineering and modern manufacturing methods.

By Greg Paulsen
September 15, 2020
 4 min read
How Do You Get Parts When the Original Manufacturer Abandons?
In late June, the team at Xometry received a message from Linda Wagar, a consumer reporter with Fox4 News in Kansas City. Wagar produced a segment called Problem Solvers and did a story about a retired farmer who purchased an expensive massage chair only to have it break in less than a year. The farmer, Rick Davison, found out the company he purchased the chair from was no longer in business. Davison even went out to a local shop to try to get a repair with no luck. Wagar put on her sleuthing hat and started her investigation. After her first segment aired about the unresponsive company and repair shop, she wasn't done. Davison still had a broken chair and Wagar was determined to find a solution.
These parts needed replacement in order to repair the massage chair.
Wagar reached out to Xometry to see if it could use its plastic 3D printing services to replace one of two curved gear racks that were critical to the function of the massage chair. 3D printing has the amazing ability to create end-use production parts in low quantities and at a low cost. However, it does require one thing: 3D CAD. This is the 3-dimensional data that is interpreted by the printer to create the shape of the part. In other words, no CAD, no print. The parts needed to be reverse-engineered. Luckily, the Maryland-based 3D scanning company Direct Dimensions was able to scan and reverse engineer files for printing.
The Direct Dimensions team used the raw data set from scanning as a starting point to reverse engineer and develop manufacturable CAD of the part. Within a couple of days, they were able to provide a high-quality STEP file with parametric data ready for 3D printing.
CAD reverse engineering using the laser scanned data
With the engineered file uploaded to Xometry's Instant Quoting Engine, the parts were ready to be manufactured. Because of the part's length, the details required, and the need for longevity, Xometry engineers decided that FDM Ultem 9085 would be an ideal material. FDM, or fused deposition modeling, can 3D print up to 3 feet using engineered plastics for end-use parts. Xometry 3D printed a set of the gear racks out of the tan Ultem material overnight. Ultem is incredibly tough and wear-resistant—an ideal material for the continuous use of a gear rack without the need to use more expensive processes like CNC machining or injection molding. The washer replacements were printed in durable selective laser sintered Nylon 12.
3D printed Ultem replacement gear racks were made overnight through Xometry.
The unboxing of the replacement parts and the original broken pieces.
The Moment of Truth: Fulfilling One Farmer's Vision for Reclining
The replacement parts and their originals were shipped back to Missouri and it was time for the moment of truth. Would the 3D scanned, reverse engineered, and 3D printed replacement parts install properly into the existing chair's framework? Keep in mind that the team at Xometry only had the parts, and had no mating pieces for fit tests or checks before shipping. Xometry relied on its experience and its partnership with imaging company, Direct Dimensions, to provide a top-notch product.
The ultimate test of success is if the reversed engineered and 3D printed design would install without any troubles. As part of a FOX4KC segment, Wagar brought the parts to Davison's home where they were installed live while the Xometry team watched over a video call. After an hour of unpacking and assembly, Davison found that the parts fit perfectly. The racks mated to the contoured metal frame of the chair, and a geared system glided down the tracks without binding. For our engineers, it was a relief to see everything worked out, especially as Davion reclined in his chair for the first time in months.
With the help of Xometry's custom 3D printing and FOX4's Linda Wager, Rick Davison had his chair back in order! To read more, check out the FOX4 report by Linda Wagar: "After manufacturer abandons, another company steps in to fix Missouri man's chair."
About Xometry
From consumer products to aerospace parts, Xometry has the capability to manufacture on-demand. Xometry's Instant Quoting Engine℠ uses 3D files to instantly price in a variety of manufacturing technologies like 3D printing, CNC machining, molding, sheet metal, laser cutting, and more. Fulfillment is provided by expert manufacturers across our Manufacturing Supplier Network.
A very special thanks to Aaron Lichtig for his internal support with this project as well as the whole team at Direct Dimensions who provided terrific reverse engineering services: Michael Raphael, Harry Abramson, Jeff Mechlinski, John Kelbel, and Elaine Scott.

Greg Paulsen
They call me the Director of Application Engineering at Xometry. This means I not only get to produce great design-for-manufacturing content, but also consult on a variety of custom manufacturing projects using CNC machining, additive manufacturing, sheet metal, urethane casting, and injection molding. If you have a question, I'm your guy.