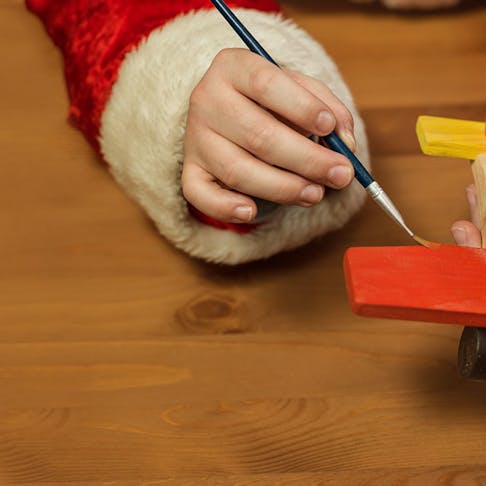 Case Study: C.L.A.U.S. Manufacturing
See how our innovative customer from the North Arctic region utilized Xometry to accommodate excess demand and ensure gifts are delivered on time this holiday season.

By Team Xometry
October 8, 2020
 2 min read
Facing tight holiday deadlines and demands for shortened production cycles, Nick of the North Arctic-based C.L.A.U.S. Manufacturing found himself in a predicament this holiday season. Requests for orders were flying in faster than his shop could produce them, and his typically high-spirited team was starting to feel overwhelmed.
According to one worker at his shop, "We were at capacity, and the orders were still streaming in with a hard deadline of December 24th." To make matters worse, a lot of their orders needed tightly toleranced machined components - particularly the making of robotic drones. "4 year old Sammy of Washington, D.C. has asked for 'a drone with a claw that can pick me up and drop me in outer space,' and demands like that aren't rare!"
That was until another team member discovered Xometry and realized they could upload each component for their toys as a 3D model for an instant quote, and then order with the press of a button. The shop knew this solution could make their work more streamlined and efficient, and immediately showed it to Nick.
Nick was delighted – he understood how valuable it would be for us to quickly clear our back-orders of excess work.
Each worker was able to instantly quote the parts they needed in a variety of manufacturing processes, including 3D Printing, CNC Machining, Sheet Metal Fabrication, and Urethane Casting. Several workers also requested quotes in Injection Molding for making thousands of end-use production parts. This variety of processes gave the team the flexibility they needed to make a wide-range of toys across multiple categories.
With Xometry's fast lead times, each worker received their toys for the holidays right as the Polar Express arrived at their local station. Plus, Xometry's guaranteed high quality ensured that none of their orders ended up at the Island of Misfit Toys. "The shop celebrated with chocolate chip cookies after our orders were all completed – our boss really does love cookies."
Nick wishes he had discovered Xometry sooner – he said maybe then he wouldn't have a head of white hair from working overtime.
C.L.A.U.S. Manufacturing was also excited to learn that Xometry could help them fill downtime during the rest of the year as a Manufacturing Partner, to build parts for customers across the nation. Starting in January, the shop plans to take a large amount of jobs to fill empty machines.

Team Xometry
This article was written by various Xometry contributors. Xometry is a leading resource on manufacturing with CNC machining, sheet metal fabrication, 3D printing, injection molding, urethane casting, and more.