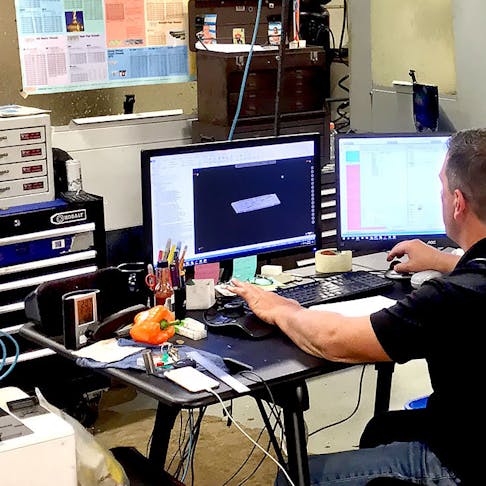 The First Manufacturing Partner to Reach $1 Million in Xometry Revenue
This is how Xometry Partner Zero Hour Parts hit $1 MM earned in just 15 months.

By Team Xometry
September 23, 2020
 3 min read
In 2007, Zero Hour Parts was a newly established machine shop, operating out of a garage with just a few machines. But the company experienced fast growth in its early stages and more than tripled their amount of machines in the span of a few years. They propelled themselves forward by first focusing on prototyping work, then later expanding to a wide variety of work, ranging from short-run productions to larger projects across many industries.
This growth and ambition within the Zero Hour team was crucial in driving them to be the first member of the Xometry Partner Network to earn $1 million on the network, a milestone hit only 15 months after their manufacturing partnership with Xometry began.
They first discovered Xometry in 2015 and right off the bat were amazed at the uniqueness of the business model. Brandon Hoag, a Zero Hour team member since 2008, describes his initial impression of Xometry. "I thought it was unique, I thought it was very interesting. It...piqued my interest," said Hoag.
Reaching $1 Million
After realizing the full potential of Xometry's manufacturing Partner Network, Zero Hour Parts officially became a partner in March of 2016. They now take jobs almost daily, anywhere between 1 to 15 jobs in a given day.
Parts they create for Xometry range from 1-2 small parts to large quantities of bigger parts. They note that Xometry's revolutionary quoting and pricing system is what determines which jobs they decide to ultimately take on.
I don't know of any other company that does exactly what [Xometry does]...it's a totally different scenario.
Xometry has now become about 15% of Zero Hour Part's current business. Their partnership with Xometry has directly resulted in growth of the company, which now has 27 machines and 40 employees - and they're still aiming higher. The shop is actively doubling the size of their current shop and planning to use the additional space to take on even more jobs.
Hoag noted, "It's fun to see [Xometry] grow and morph into whatever the next step is."
Advice to Other Shops
Zero Hour Parts takes full advantage of the variety of work available on Xometry's job boards and plans to increase their machine quantity to be even more versatile. And for others looking to expand just as quickly, they recommend doing the same.
"I think using the resources that are out there to help you achieve whatever you're trying to manufacture is probably the best thing to do," Hoag noted.
They recommend focusing on things such as:
Versatility: Being willing to do a variety of work to expand your shop's capabilities
Resources: Being aware of existing resources and utilizing them fully
Your Shop's Strengths: Learning what the best skills of your shop are and playing to them, not your weaknesses
This milestone in Zero Hour Part's manufacturing partnership with Xometry is just the beginning - we are very excited for the growth of their business and want to wish congratulations to the entire Zero Hour team in Ann Arbor, Michigan!

Team Xometry
This article was written by various Xometry contributors. Xometry is a leading resource on manufacturing with CNC machining, sheet metal fabrication, 3D printing, injection molding, urethane casting, and more.