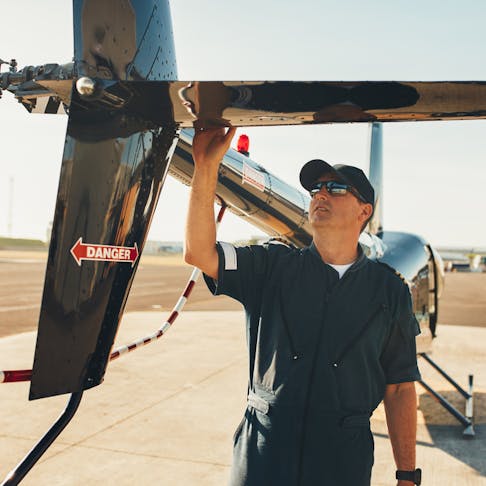 AS9100D Certification: Standard Definition, Audit Requirements

By Team Xometry
May 31, 2023
 12 min read
AS9100D is a generally accepted certification standard for quality management systems (QMS) across the aerospace sector. It is derived from the ISO 9001 standard but includes additional specifics that are tailored to the aerospace sector. AS9100D sets the criteria for establishing, implementing, maintaining, and continually improving a robust quality management system within aerospace organizations. 
An accredited certification body is a required partner in the implementation of AS9100D. This organization will guide you through the implementation process and audit your systems for compliance. The audit requirements are clear and explicit and a well-established and thoughtfully operated QMS that is established to comply with the standard will generally require only small corrections and adjustments before a certificate of compliance is issued.
What Is the AS9100D Certification?
AS9100D, also known as AS9100 and EN9100, is the most recent revision of the AS9100 standard, also called "Quality Management Systems – Requirements for Aviation, Space, and Defense Organizations." It covers the fundamentals required by ISO 9001:2015, with the addition of aerospace-sector-specific requirements to ensure quality, safety, and reliability in aerospace products and services. The life dependency of aerospace systems drives a range of specialist aspects of critical importance. EN9100 is the European standard for Aerospace Quality Management Systems, harmonized with AS9100. It is used in Europe and is aligned with the IAQG requirements. EN9100 certification is generally required for organizations operating in the European aerospace sector. The key elements of AS9100D are:
Customer focus emphasizes meeting customer requirements, ensuring customer satisfaction, and elevating and addressing customer expectations.
Risk management planning requires organizations to identify and mitigate risks associated with their products, processes, and supply chains. Risk management activities help prevent potential failures and improve overall performance and are of particular significance in the sector.
Configuration management focuses on defining and controlling product configurations (SKUs) and maintaining precise information that ensures product conformance and integrity.
Design and development quality approaches result in better products. This includes validation and verification processes, design/document change control, and product manufacture.
Supplier management processes set criteria for selecting, evaluating, and managing suppliers to ensure the quality and reliability of components and materials.
What Are Quality Management Systems?
A QMS is an aggregation of processes, policies, procedures, and resources used in an organization, so that its products or services efficiently meet (or exceed) customer expectations. The external goal of a QMS is to enhance customer satisfaction, whereas the certification goal is to meet regulatory requirements. The key components of a QMS are: quality policy, quality objectives, document control, risk management, training and competency, supplier management, corrective and preventive actions, and continuous improvement.
For What Industries and Companies Is AS9100D Relevant?
AS9100D is tailored to the aerospace industry's needs, across all aspects of the sector. This relates to all parts of the industry, including:
Aircraft manufacturers.
Aerospace component suppliers of aspects such as engines, landing gear, avionics systems, electrical systems, and interior components.
Maintenance, repair, and overhaul (MRO) providers specialize in the servicing of aircraft of all types.
Space systems and satellite manufacturers involved in the design, development, and production of space launch systems, satellites, and related ground support equipment. 
Defense and military contractors involved in the production of aerospace and defense products.
Aerospace testing and certification services, for which testing can include flight systems, avionics, and satellite systems.
Types of AS9100D Certifications
AS9100D certification covers quality management systems in the aerospace sector. There are no specific alternate types of AS9100D certifications. AS9100D is a single standard with defined requirements that organizations must meet to achieve certification.
However, the various different certification bodies that can provide AS9100D certifications vary slightly in their processes and requirements. It is common practice to evaluate a range of certifiers, to find a "best fit."
What Are the AS9100D Audit Criteria?
To achieve AS9100D certification, organizations undergo a thorough preparation and audit process. The audit is conducted by a certification body or registrar—an independent third-party organization accredited to perform audits and issue certifications. The audit criteria are:
Documentation of procedures is judged to be in compliance with the standard.
Operation of procedures is assessed to reflect both the intent of the standard and the expressed processes documented in the QMS manuals.
The leaders of both the QMS process and the entire company are engaged and effective, with a clear understanding of purpose and methods. In particular, the audit will seek to validate that knowledge and enthusiasm.
Personnel are clear in their engagement with the process and have a developed understanding of their responsibilities and procedures.
Corrective actions instructed in internal and formal audits are implemented effectively.
A culture of risk management is measurably operating, with all participants clear in their roles and empowered as contributors. This includes seeing that risks are identified, prioritized, and militated against, in a systematic way.
Regular and systematic reviews of processes, document effectiveness, and outcomes are undertaken as a continuous improvement process that is seen by all contributors as a central plank of the QMS.
The AS9100D Audit and Accreditation Process
The AS9100D certification process typically involves the following process:
Preparation: The organization commits to the AS9100D certification and prepares to build and implement a compliant QMS. It requires commitment, from the top to the bottom of the organizational chart.
Documentation: The team creates the required documentation to comply with their developing understanding of the standard. This entails developing docs for policies, procedures, work instructions, records, and other documentation that meets the requirements of the standard.
Internal Audit: The internal leaders arrange an audit to validate compliance. It is common to commission a third party to undertake this, to prepare for the certification audit. This identifies nonconformities or areas for improvement and equips the team to correct shortfalls, before the certification audit.
Certification Audit: The company engages an accredited certification body to formally audit the QMS. The stage-one audit examines the QMS documentation and verifies that the basic requirements of AS9100D are met. A stage-two audit formally evaluates the implementation and effectiveness of the organization's QMS, after corrective actions are taken. This involves a repeat of the on-site interviews and validates compliance through process observations and review of records. 
Nonconformity Management: This allows time for correction of deviations from the standard if these emerged during the certification audit. The organization must quickly address these by implementing corrective actions.
Certification Decision: This is made by the certification body, based on the audit and any subsequent corrective actions being implemented effectively. When the organization is judged to be in compliance, AS9100D certification is issued.
Surveillance Audits: These are conducted by the same certification body to ensure ongoing compliance with AS9100D.
What Are the Benefits of AS9100D Certification?
AS9100D certification offers profound benefits to organizations in the aerospace industry, including:
Improved quality, as certification enforces the development and maintenance of a strongly quality-minded environment. Implementing the standard allows the team to codify and enhance quality management practices. This ensures that products and services consistently meet or exceed customer expectations.
Enhanced customer confidence is a common experience among registered companies. Certification is universally accepted within the aerospace sector as a basis for this confidence, as it demonstrates the commitment to quality, safety, and reliability. Similar confidence is instilled internally, and this reflects well on the company in its customer and market engagements.
Increased competitiveness results, as much of the market will not deal with suppliers that have not achieved certification according to the standard. Certification also strengthens relationships with existing customers.
Regulatory compliance is key to the aerospace industry because of the risk profile of the sector. AS9100D certification aligns with the bulk of regulatory impositions, so a company that implements this is intrinsically seen as meeting its commitment to industry standards.
Supply chain management compliance requires organizations to evaluate and select suppliers based on their ability to help in standard compliance. This enhances supplier relationships, mitigates risks, and improves the reliability and effectiveness of the supply chain.
Operational-efficiency gains result from streamlined operations. The standard demands the identification of areas for improvement and reduced waste. This leads to operational cost savings, improved productivity, and enhanced business performance.
Continuous improvement is a core principle of AS9100D. Certified teams are required to monitor and measure their performance, identify opportunities for improvement, and take corrective and preventive actions. This drives innovation, optimizes processes, and allows companies to push ahead in the sector.
Risk management is a further core duty of certified companies. Implementing effective risk management practices allows identification and mitigation of risks, across all functions. Reducing failures enhances product and operational safety and improves performance.
When Are AS9100D Certifications Required?
AS9100D certifications are often required or strongly preferred in the aerospace industry for various reasons, including:
Customer requirement for registration is driven by aerospace manufacturers, defense contractors, and government agencies, all of whom require their suppliers to be AS9100D-certified. Certification demonstrates to them that the supplier has implemented a compliant QMS and will meet the demands of the aerospace sector.
Regulatory compliance requires AS9100D certification of suppliers in the aerospace industry. Often regulatory bodies require certification as a way to filter for compliance with industry standards.
Aerospace contracts generally demand AS9100D certification as a prerequisite, particularly for defense, government, and major aerospace company contracts. Certification provides a baseline assurance that the supplier has the necessary QMS in operation to be qualified to meet the contract requirements.
Supplier qualification processes are widely predicated upon certification. AS9100D status serves as evidence of a commitment to quality, compliance, and service/product reliability. The selection of suppliers generally excludes those without standard registration.
Industry recognition and reputation are first enabled by certification, to enhance an organization's reputation as credible and competitive. Missing registration demonstrates the organization's lower-grade commitment to quality and compliance with basic industry standards.
What Accredited Body Issues AS9100D Certifications?
AS9100D certifications are issued by a limited number of accredited certification bodies. These are independent organizations that assess and certify applicants against the AS9100D standard. Accreditations of these assessors are granted by accreditation bodies that operate at the national and international levels.
The International Accreditation Forum (IAF) is the association that harmonizes accreditation practices worldwide. IAF members supervise the accreditation of certification bodies for various management system standards, including AS9100D. Examples of accreditation bodies are ANSI-ASQ National Accreditation Board (ANAB) in the United States, UK Accreditation Service (UKAS) in the United Kingdom, and Deutsche Akkreditierungsstelle GmbH (DAkkS) in Germany. They supervise the accreditation of certification bodies within their regions.
The certification organization chosen will depend on the region in which the certification is being sought. It is wise to verify the credibility and recognition of the certification body by getting a recommendation from a partner or friendly company and confirming that the chosen certifier is appropriately accredited and licensed.
Similar Certifications and Accreditations to AS9100D
There are various interrelated certifications and accreditations that are relevant to the aerospace industry and related sectors. These are listed below:
ISO 9001: The most widely recognized international standard for QMS. Though not specific to the aerospace sector, it provides a strong general framework for the establishment and maintenance of effective and robust quality management.
The National Aerospace and Defense Contractors Accreditation Program (NADCAP): A global cooperative program for aerospace engineering, defense, and their service/supply sector. This provides standardization and accreditation for specific processes/treatments/methods such as chemical processing, non-destructive testing, heat treatment, etc. NADCAP regulates suppliers as meeting industry requirements and adhering to quality standards.
AS9110: Focuses on maintenance, repair, and overhaul (MRO) organizations in the aerospace area. It provides specific requirements for quality management systems in MRO activities.
AS9120: The compliance standard for aerospace distributors. It addresses requirements for organizations involved in the distribution of aerospace components, parts, and materials. It ensures product traceability in addition to appropriate handling, storage, and documentation.
The International Traffic in Arms Regulations (ITAR): A set of regulations that control the export and import of defense-related articles and services in the United States. Compliance with ITAR is required for organizations involved in the export of defense articles and is important for companies operating in the US aerospace/defense sector.
Other Certifications Related To AS9100D
In addition to AS9100D, there are other certifications and standards that complement AS9100D requirements. These are listed below:
ISO 45001: The occupational health and safety management standard, worldwide. It allows businesses to manage risk and workplace safety, to protect the health and well-being of staff.
Federal Aviation Administration (FAA) Part 21 Certification: Is required by suppliers involved in the design and manufacture of aircraft components, systems, and sub-assemblies. It regulates compliance with FAA regulations and quality standards for airworthiness.
EASA Part 21: The European equivalent standard to FAA Part 21, applicable in the European sector.
These certifications, along with AS9100D, help organizations in the aerospace industry meet specific requirements, ensure safety, maintain quality standards, and demonstrate compliance with industry regulations.
Summary
This article presented the AS9100D certification, explained it, and discussed which industries it's relevant for. To learn more about certifications, contact a Xometry representative.
Xometry provides a wide range of manufacturing capabilities and other value-added services for all of your prototyping and production needs. Visit our website to learn more or to request a free, no-obligation quote.
Disclaimer
The content appearing on this webpage is for informational purposes only. Xometry makes no representation or warranty of any kind, be it expressed or implied, as to the accuracy, completeness, or validity of the information. Any performance parameters, geometric tolerances, specific design features, quality and types of materials, or processes should not be inferred to represent what will be delivered by third-party suppliers or manufacturers through Xometry's network. Buyers seeking quotes for parts are responsible for defining the specific requirements for those parts. Please refer to our terms and conditions for more information.

Team Xometry
This article was written by various Xometry contributors. Xometry is a leading resource on manufacturing with CNC machining, sheet metal fabrication, 3D printing, injection molding, urethane casting, and more.