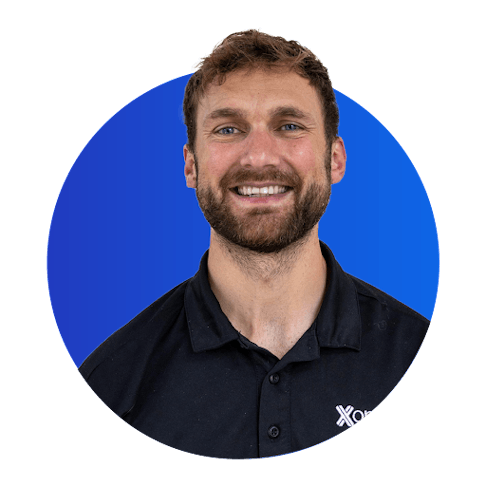 Shane Felton, Manager, Technical Sales Engineering
"Many times I experienced the struggle of not being able to easily find the perfect supplier for my parts. I'd been sent to Asia multiple times, and sourcing internationally for production deals is especially difficult. Xometry's business model of having a vetted partner network was very attractive to me. I also love to help provide value to people with my engineering and manufacturing knowledge and resources."
By Megan Conniff
August 10, 2023
 4 min read
Get to Know Shane
I'm a Technical Sales Manager here at Xometry. I manage a team of customer-facing engineers called Technical Sales engineers.
I earned my Bachelor's of Science in Mechanical Engineering from the University of Wisconsin and quickly afterward jumped into the amazing world of product development, which relies on the manufacturing industry. 
The companies I worked for developed products for various industries – power tools, consumer products, robotics, and industrial automation. In these roles, I became accustomed to sourcing parts for various product development activities, ranging from prototype builds to mass product launches. This exposed me to many different manufacturing processes and new innovations in manufacturing, so I learned about what is possible today in manufacturing.
My first role as a mechanical design engineer was very hands-on. I was able to design the end product at my desk, and then go over to our internal Rapid Innovation Center and make the product myself. From there, I learned about Quality Control and Process Engineering principles like Measurement Systems Analysis, PFMEA, and Statistical Process Control – all tools that Xometry implements today for Production Programs. That experience armed me to understand what is possible, so that when customers come to Xometry with challenging programs, I can help curate a solution for them.
The Need for Speed — and Accuracy
At Xometry, it is very common for customers to come to us in "crisis-mode." We recently had a large recreational product manufacturer seek our help to make parts for a next-generation watercraft. They were weeks behind on their manufacturing commitments and needed to move quickly to recover lost time. Agility and speed in manufacturing are aspects that Xometry excels at due to our massive, vetted partner network. Our salesperson and TSE (Technical Sales Engineer) learned about the technical and aesthetic requirements of the parts, which are highly cosmetic because they are customer-facing for a high-end watercraft. We created a manufacturing solution to get them back up and running quickly, with parts that met their specifications and even unspoken expectations. Now, we're in discussions with them about becoming an approved vendor for long-term production.
I visited another customer of ours, a large medical device company. During our presentation to about 100 development engineers, three of their development engineers stood up in front of the crowd, holding their parts made by Xometry and gave live testimonials. They spoke about how Xometry met their on-time delivery and hit tolerances of .0003", 100x smaller than a human hair! That was an awesome experience that showcased what our capabilities are. We do not work inside of a box of limitations, and cultivating innovation is one of our core values.
It's All About the People
One of the things that makes Xometry special is the people behind the technology: from our executive team to our operations team to our customer service team. We all have a can-do attitude. Our staff has extensive experience with all of the major industries. Not just some of them -- all of them. It's aerospace and defense, automotive, medical, robotics, etc. We all learn from each other and teach each other new things.
For example, we have a sales representative out in California who grew up in Silicon Valley, and she's been selling to the robotics industry for 20 years. She teaches all of us about the robotics industry and what our robotics customers are looking for.
Our VP of Manufacturing used to run his own machine shop, making flight parts for the aerospace industry. With his experience, "can-do" attitude, and willingness to teach others, Xometry was able to become AS9100 and ITAR certified as a young startup, and now we are making parts for 12 out of 13 of the Fortune 500 Aerospace and Defense companies. These are just a couple of examples of the amazing team of experienced manufacturing professionals we have here at Xometry. Yes, our artificial intelligence is second to none. But it is all about the people behind our technology.
Megan Conniff
Megan is the Content Director at Thomas and Xometry.