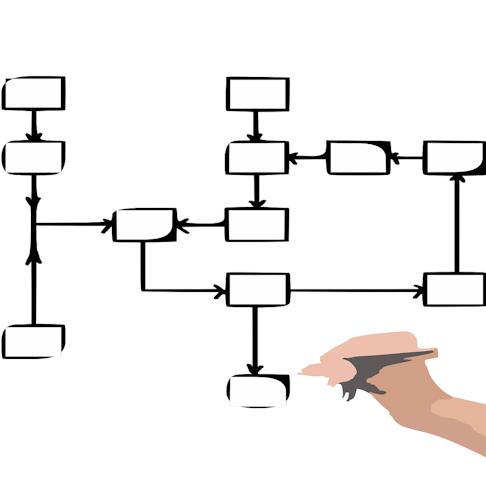 Four Ways to Increase Productivity At Your Manufacturing Facility
Every manufacturer should strive to produce their products as efficiently as possible. The saying "time is money" rings true here. This article will discuss four ways to increase productivity and boost profits in a manufacturing facility.

By Team Xometry
May 6, 2022
 4 min read
Every manufacturer should strive to produce their products as efficiently as possible. The saying "time is money" rings true here. If there is too much downtime in a manufacturer's processes, production output decreases and consequently, a company's earning potential diminishes as well. More time is spent on equipment maintenance and addressing quality claims rather than shipping quality and completed parts out the door. This article will discuss four ways to increase productivity in a manufacturing facility.
1. Analyze the Current Workflow
The first step to increasing productivity in manufacturing is for company leadership to take a step back and evaluate the current workflow within their production environment. 
Are your manufacturing processes optimized throughout the facility? Is there anything that can be changed to ensure a smoother, more efficient workflow? Where are the problem areas in manufacturing? Are there any bottlenecks or excessive downtime? Applying concepts of lean manufacturing can go a long way toward increasing productivity.
The core principle of lean manufacturing is to maximize productivity while minimizing waste. Benefits of this include reduced lead times, lower operating costs, and enhanced part quality. To begin applying lean manufacturing, first identify areas of excess waste and areas that could be optimized. Then, begin implementing new processes, machinery, or staff to upend these processes and make them more efficient. Do this for the entire facility and continue doing it for a long duration. Additionally, seek the opinions and support of your staff. Any change made to processes is sure to fall short without the buy-in of the very people who must implement such changes.
Taking an objective look at your company's manufacturing processes and addressing problem areas can go a long way toward increasing productivity.
2. Train and Retain Employees
One of the best ways to increase productivity is to place a high priority on the training and retention of employees. A well-trained workforce will have the knowledge and tools needed to efficiently produce high-quality parts. A good working environment leads to a happy group of employees who are strongly committed to doing their jobs well. 
Employees like to know they are valued by their employer and have a purpose in their work. Are your employees properly educated and trained for their positions? By investing in their continued career and personal growth through training and mentorship, you help create the conditions that lead to loyal and stable production staff.
Develop a training schedule for new employees and a continuing education program for seasoned employees to ensure collective knowledge about the manufacturing processes your plant uses. In today's business environment, e-learning has become a viable way to train a manufacturing workforce by giving employees the flexibility to complete their training when on their own schedule. It also gives workers the ability to tackle new challenges in the workplace as they arise. Manufacturing facilities are more productive when a company's entire workforce is educated about equipment use, processes, and policies.
3. Develop a Preventative Maintenance Schedule
Is your production machinery and equipment in good working condition? Unnecessary downtime is a major contributor to diminished productivity that can easily be solved by routine preventative maintenance. It's no surprise that machine downtime for maintenance is cheaper than downtime due to worn or broken parts. Companies with proactive maintenance programs are able to run at higher average production rates than those whose approach to maintenance is mostly reactive. 
By developing a preventative maintenance schedule, companies can ensure long machine life and can address machine issues before they develop into much bigger problems - leading to increased productivity and lower overall costs.
4. Update Technology and Equipment
Whether the equipment currently in use is old or whether production capacity must be increased to meet customer demand, manufacturers can dramatically improve their productivity by updating the manufacturing technology and equipment they use. Manufacturers don't necessarily have to seek out the most advanced and fanciest equipment. Rather, they should seek out machinery and equipment that can help them accomplish their goals - whether that be through automating processes or implementing new technologies and softwares.
One technology that has greatly benefited manufacturers is the use of the Enterprise Resource Planning System, or "ERP." ERP systems give manufacturers full visibility into all their processes from the moment an order is received until the moment the completed part is shipped out the door. ERP helps companies target waste, identify bottlenecks, determine resource utilization, and develop easy-to-read documentation and data tracking processes. With access to all the potential data within a manufacturing facility, ERP puts increased productivity well within reach.
In today's competitive global markets, increasing manufacturing productivity is an absolute necessity, but it can be a real challenge. The tips presented above could be a starting place for thinking through how your operation can make further improvements. Contact a Xometry team member today to discuss how you can also increase productivity with your manufacturing processes.

Team Xometry
This article was written by various Xometry contributors. Xometry is a leading resource on manufacturing with CNC machining, sheet metal fabrication, 3D printing, injection molding, urethane casting, and more.