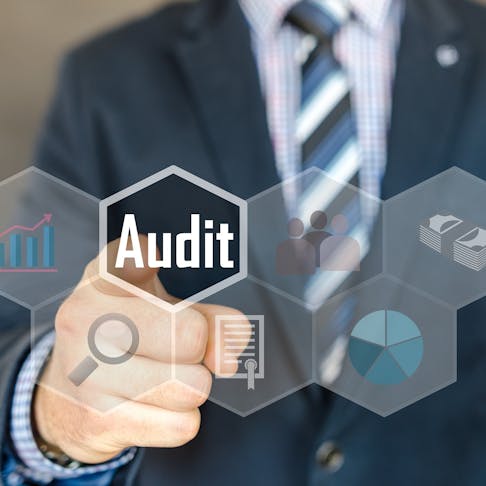 How To Get an AS9100 Certification
AS9100 certification not only helps aerospace companies win government contracts but also ensures a high-quality and robust system. Learn how to get certified here.

By Team Xometry
January 4, 2023
 5 min read
AS9100 certification is a globally recognized standard for quality management systems in the aerospace industry. It provides organizations with competitive advantages, increased efficiency, and customer satisfaction. AS9100 certification is also a requirement for organizations that want to do business with the aerospace industry, and it helps them achieve and maintain compliance with the standard. The certification can help organizations gain market share and increase their reputation as quality aerospace suppliers. Therefore, getting certified is essential for organizations that want to thrive in the aerospace industry.
The AS9100 Series and ISO 9001
AS9100 is based on the ISO 9001 quality management standard but also include additional requirements for aerospace-specific industries. These standards include AS9100D, AS9101F, AS9102B, AS9103, and AS9104/1 which organizations in the aerospace industry must abide by to reduce risk and ensure quality. 
Organizations must also meet AS9100 requirements to gain certification. ISO 9001 is an internationally recognized quality management system (QMS) standard that applies to all industries. ISO 9001 focuses on quality management processes and procedures that are necessary for an organization to meet customer requirements. AS9100 builds on the ISO 9001 standard and adds requirements specific to the aerospace industry.
Steps to AS9100 Certification
Below are the steps in getting certified:
AS9100 Certification Preparation: Before beginning the certification process, it is important to ensure that all stakeholders including the top management have enough buy-in to follow through with the process. The organization also needs to appoint a team or an authority figure that will oversee the entire procedure. Additionally, they should be well-versed in the standard to ensure correct implementation. Acquiring an updated copy of the standard is also recommended for guidance. The organization also needs to gather the existing documents and records for assessment.

Perform AS9100 Gap Analysis: Once all the pertinent documents and records have been gathered, it is time to perform a gap analysis. The gap analysis helps identify any gaps between the AS9100 requirements and the existing processes the organization has in place. These gaps must be addressed before implementing any new processes. 

Create an AS9100 Action Plan: Once the gap analysis is complete, it is important to create an AS9100 action plan. This should include a list of all the requirements that need to be addressed, as well as the timeline for when they should be completed. This plan will help the organization stay on track and ensure that certification is achieved on time. 

Design and Document Your AS9100 QMS: Once the action plans are agreed on, it is time to design and document your AS9100 quality management system (QMS). This includes creating audit plans, documenting the company's processes and procedures, and aligning them with the standard's requirements. It is important to ensure that all requirements are met and that compliance is maintained.

Create the Mandatory Documents: AS9100 requires companies to produce and implement some mandatory processes. These include quality policy, quality objectives, and plans, the scope of the QMS, documented procedure on control of externally provided processes, products, and services, an implemented process on the control of non-conforming products and services, as well as on non-conformity and corrective action management.

Educate Your Organization on AS9100: Once the system's implementation is complete, it is important to ensure that all employees are educated on the requirements. This includes providing awareness and training on the basic requirements of the standard and their responsibilities in maintaining AS9100 certification. They also need to be aware of any revisions or changes in their current process and any new records they need to comply with.

AS9100 Implementation: Once the AS9100 action plan has been created, it is time to begin implementation. This includes addressing all areas of non-conformance identified in the gap analysis and creating processes and procedures that meet the requirements. It is important to ensure that the full implementation of the system is completed properly and on time to ensure AS9100 certification. 

AS9100 Internal Audit: Before the actual certification with the certifying body, an AS9100 internal audit needs to be conducted by members of the organization who are trained to conduct the audit. Individual audit training certifications must be recorded and maintained for audit credibility. It is important to ensure that AS9100 internal audits are executed properly and at planned intervals. All internal audit records must be properly recorded and maintained as they will be audited during the certification.

AS9100 Certification Audit: Once all the standard requirements have been met, it is time to begin the AS9100 certification audit. This will involve an accredited AS9100 certifying body coming in to evaluate the requirements and verify that the system has been properly implemented. 

AS9100 Certification Maintenance: Once AS9100 certification is achieved, the organization must maintain compliance. This means that the organization must continue to adhere to AS9100 requirements and be regularly audited. Organizations can also apply for AS9100 recertification after a certain time to maintain accreditation. 

Once AS9100 certification is achieved, there are several benefits that the organization can enjoy. Certification can improve customer satisfaction, increase the organization's efficiency, reduce costs, and help to improve the organization's reputation. AS9100 certification can also help the organization gain a competitive advantage and increase its market share.
By following these 10 steps, organizations can achieve AS9100 certification and enjoy the benefits that it offers. It is important to ensure that all non-conformities are properly addressed and all processes are implemented. Doing so can help organizations benefit from AS9100 certification and become more successful.

Team Xometry
This article was written by various Xometry contributors. Xometry is a leading resource on manufacturing with CNC machining, sheet metal fabrication, 3D printing, injection molding, urethane casting, and more.