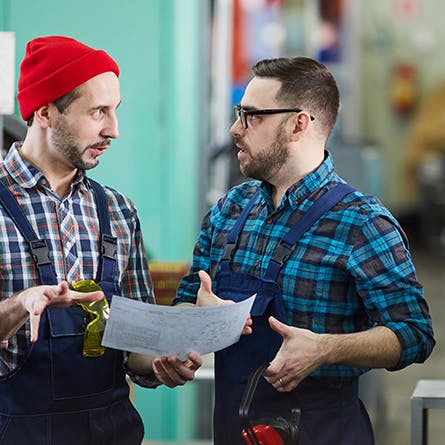 How to Use Customer Conversations to Boost Your Machining Business
What aren't your customers telling you? Customer conversations can help you uncover new product or service concepts and other ideas to grow your manufacturing or machine shop. Here are four ways you can use the information you gather to boost business success and sustainability.

By Team Xometry
March 26, 2021
 5 min read
4 Ways Customer Conversations Boost Business
"Customers crave three things right now," says Jeanne Hurlbert, PhD, an expert in customer engagement and president of Hurlbert Consulting in Baton Rouge, LA. "A deeper relationship with your shop, heightened engagement with you and improved service levels."
You can deliver all three with one simple tactic: customer conversations. Here are four ways you can use the information you gather to boost business success and sustainability:
Pinpoint Pain Points
"The most effective way to identify new product and/or service offerings is to measure the biggest challenges that your customers face," Hurlbert says. "Honest, two-way conversations reveal what your customers want and what keeps them up at night -- which is key to developing new lines of business -- and how well you're giving them what they want -- which provides information to hone your strategies." Bonus tip: Use these insights to create marketing and sales content to attract prospective customers who resemble closely the customers you currently serve. See how one family owned shop used customer conversations to grow.
Support Process and Quality Improvement
Regular check-ins -- especially after the sale, install or delivery -- can reveal deficiencies before they produce costly customer defections. This is a great chance to learn what went well with the order and what can be improved upon to continue earning business.
Emphasize Relationships
"Talking to customers shows them that you run a relational rather than a transactional business," she says. "Conversations build trust that supports customer retention and turns customers into raving fans, grows loyalty and retention and creates insurance against market turmoil." Learn how to get more referrals from happy customers and others. 
Build Social Proof
Customer conversations can be used to develop testimonials and statistical satisfaction data. "Testimonials provide the stories that stick to appeal to prospective customers' emotions," she notes. When you couple them with such statistical proof as '98% of our customers are satisfied and 95% would recommend us,' you also appeal to their logic."
Sounds good, right? Now let's look at different ways to have those conversations.
5 Ways to Converse with Customers
"Rule number one: Your existing customers want a steady, not intrusive, stream of contact," says sales coach Marty Clarke. "Customers may not reply to every touch but they do want to know you are paying attention to them and that you are still 'in the game as it relates to your relationship to them. Even in the absence of actual conversations, establishing a regular communication presence is an ignored art. Don't ignore it."
Review these six different ways to consistently "converse" with customers:
Zip Through Zoom Calls
"A Zoom call does not have to be a long, protracted production," asserts Clarke, who is the learning and development principal for Little Rock, AR-based Windstream. Suggesting a short a 10- to 15-minute Zoom catch-up or demo isn't a burden and establishes you as an actual human being in an increasingly impersonal, digital environment." Bonus tip: Limit yourself to one good inquiry and set a timer to show your respect for their time.
Engage With Email
Despite the volume of email we all get, it's still an important way to communicate. But since more of us are looking at messages on phone-sized screens or skimming through the old inbox, Clarke says your missives "better be short and it better be relevant. Get to your point early and be done with it. This keeps your presence consistent and once you get a reputation for being quick and to the point, your emails will get read."
Leverage LinkedIn
Engaging via LinkedIn is a low-key way to show you're paying attention and to uncover challenges and plans. Follow customers' company pages and your contacts' profiles or request a direct connection. "Any time a customer says something about themselves or the company, you hit that like button and then make a comment," Clarke says. "It takes 3 seconds and keeps you connected." Learn more about why you and your shop should be on LinkedIn.
Send Out a Survey
Online surveys are one of the most efficient and effective tools for gathering customer insights. "Keep surveys short and focused on the customer," Hurlbert counsels. "Making questions 80 to 90% closed-ended and only 10-20% open-ended -- and offering incentives, such as a chance to win a gift card to demonstrate you value their time and input." Bonus tip: Use aggregated data to showcase metrics like customer loyalty and satisfaction that you can use in marketing and sales materials.
Form a Focus Group
If you really want to dig into customers' thoughts, work with a market research expert to do a focus group -- especially, Hurlbert says, "if survey results yield unexpected or counter-intuitive findings. Conducting interviews after a survey can help to identify possible explanations that you can explore further in subsequent surveys."
Clarke acknowledges that evolving your customer communications to be more conversational may feel awkward at first. Like most challenges, the trick is just doing it.
"The first one's hard," he admits, "but every time you reach out, it gets easier and you get better at it."

Team Xometry
This article was written by various Xometry contributors. Xometry is a leading resource on manufacturing with CNC machining, sheet metal fabrication, 3D printing, injection molding, urethane casting, and more.