Plasma Cutting Services for Massachusetts
Custom Plasma Cutting for Massachusetts for Prototyping and Production Part Fabrication | Free Standard Shipping on All US Orders | Subject to availability. Xometry doesn't guarantee that we can provide this service at any given time.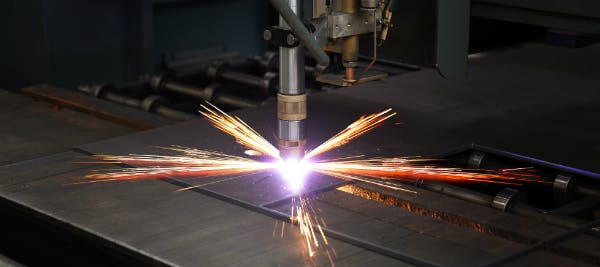 Why Choose Xometry for Plasma Cutting?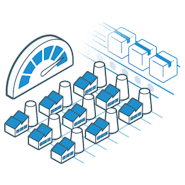 Endless Options
Choose from millions of possible combinations of materials, finishes, tolerances, markings, and certifications for your order.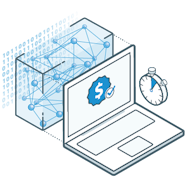 Easy to Use
Get your parts delivered right to your door without the hassle of sourcing, project management, logistics, or shipping.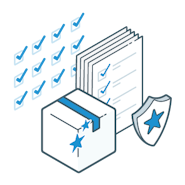 Quality Assurance
Our number one job at Xometry is making your custom parts to your specifications.
Your Massachusetts Custom Plasma Cutting Service
Xometry's custom, online plasma cutting service offers a cost-effective on-demand fabrication solution for your sheet metal needs. Thanks to our Instant Quoting Engine, we can provide instant pricing for any size fabrication run from low-volume prototyping to high-volume production. Xometry also offers a laser cutting service and a waterjet cutting service.
You can get an instant quote from a 3D CAD file or DXF file in our Instant Quoting Engine.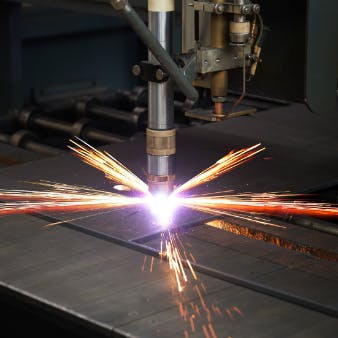 Xometry's Powerful DXF Quoting Tools in Massachusetts
When it comes to sheet, we can't be beat. The Xometry Instant Quoting Engine is equipped with various features to ensure your sheet cutting quotes are quickly generated, straightforward, and unbeatable. In addition to 3D CAD, one of the most commonly used formats for plasma cut parts are 2D DXF. We made sure to include extensive features and support for the format. Below are a few of the key elements we've incorporated to offer you the most optimal DXF quoting experience for your flat plasma cut parts:
Automatic DXF File Repair -- Common issues found in DXF files are automatically fixed when detected.
2D DXF File Viewer -- Our built-in vector based DXF viewer makes it quick and easy to review your uploaded designs.
Simple Material Selections -- Only see the sheet thicknesses applicable to your chosen material through easy to use drop-down menus.
Nested DXF File Support -- Upload a single pre-nested DXF file containing multiple components to consolidate your line items and receive discounted family pricing.
Use the 3D viewer above to preview Xometry's part rendering features.
Xometry's Sheet Cutting Service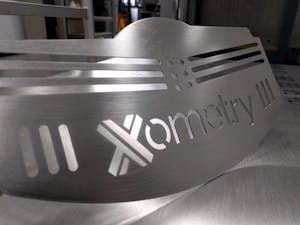 Sheet Cutting Services
Upload your CAD files to get an instant quote for laser cutting or waterjet cut prototypes and production parts. No minimums. Get parts in days and free standard shipping on all US orders.
Sheet Cutting Services
Massachusetts Plasma Cutting Materials
Materials Available at Xometry
| Aluminum | Copper | Steel |
| --- | --- | --- |
| Aluminum | Copper | Steel |
| Aluminum | Copper | Steel |
| Aluminum | Copper | Steel |
| Aluminum | Copper | Steel |
Additional materials are available upon request!
Standard Sheet Thicknesses
Available Finishes for Massachusetts
Minimal post-processing or treatment on parts is done.
Anodized (Type II or Type III)
Type II creates a corrosion-resistant finish. Parts can be anodized in different colors—clear, black, red, and gold are most common—and is usually associated with aluminum. Type III is thicker and creates a wear-resistant layer in addition to the corrosion resistance seen with Type II.
This is a process where powdered paint is sprayed onto a part which is then baked in an oven. This creates a strong, wear- and corrosion-resistant layer that is more durable than standard painting methods. A wide variety of colors are available to create the desired aesthetic.
Chem Film (Chromate Conversion Coating)
Provides corrosion resistance and good conductivity properties. Can be used as a base for paint. Can leave surface yellow/gold.
Don't see the finish you need? Submit an RFQ and we'll look into a finishing process for you.
Available Types Of Plasma Cutters in Massachusetts
This is the most common and conventional form of a plasma cutter and operates like any traditional CNC sheet metal fabrication tool, producing flat profiles with straight edges. These plasma cutters are best for cutting large parts from thick material quickly and are more cost-efficient than CNC laser cutters for the same work.
This type of CNC plasma cutter adds in an additional axis of rotation which allows the cutting tool to tilt and cut edges at an angle. This is extremely useful for cutting chamfers, countersunk holes or angled edges as part of weld preparation, which saves on secondary operations such as grinding or machining helping reduce overall cost.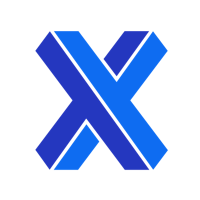 Ready to get started on your plasma cutting quote?
Applications of Plasma Cutting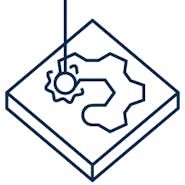 Blank Preparation
Plasma cutting can build near net shapes of conductive metals, making it perfect for material preparation.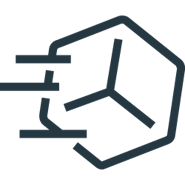 Rapid Prototyping
The range of plasma cutter materials available, low cost per unit, and speed of production makes waterjet a great option for prototyping.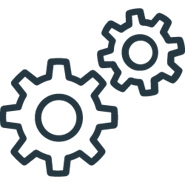 End-Use Production
Large format cutting, vast material options, and high throughput have made plasma cutting a favorable technology for end-use parts.
Advantages of Plasma Cutting
Similar to CNC machining, sheet metal processes produce highly durable parts well-suited for both functional prototypes and end-use production.
All sheet metal parts are built on-demand and with lower setup costs compared to CNC Machining. Depending on your needs, order as little as a single prototype up to 10,000 production parts.
Choose from a variety of sheet metals across a wide range of strength, conductivity, weight, and corrosion resistance.
Combining the latest cutting, bending, and punching with automated technologies, Xometry provides instant sheet quotes and completed parts often within a week.
Plasma Cutting General Tolerances
Description
General Tolerance

Description

General Tolerance

For features of size (Length, width, diameter) and location (position, concentricity, symmetry) + 0.125", -0.000 is typical. Material length and thickness may affect tolerances.

Description

General Tolerance

Thickness tolerances are determined by the material blank.

Description

Minimum Recommend Part Size

General Tolerance

Description

General Tolerance

2X material thickness with a minimum of 1.000"

Description

General Tolerance

Description

General Tolerance

Plasma edge will have vertical striations and be tapered. Upper edges may have a rounded area with top splatter.
Please check out Xometry's Manufacturing Standards for more information on tolerances per process. Unless we have agreed to other tolerances in your Quote, we will work to achieve and hold the tolerances noted.
Design Guide: Laser and Sheet Cutting
We've compiled our best tips into this guide to help you understand laser and sheet cutting processes, how to prepare your files, important design considerations for optimizing your parts for manufacturing, and information about Xometry's sheet cutting services.
Read the Full Case Study
An Overview of the Plasma Cutting Process
The Basics Of Plasma Cutters
Plasma cutting, or plasma arc cutting, uses an accelerated jet of hot plasma to cut through electrically conductive materials. Plasma cutters are the fastest way to cut through gauge material up to 6" thick and are more cost-efficient to run than high-powered CNC laser cutters. Plasma cutters do their best work on large sheet metal parts, versus CNC laser cutters which are better at more detailed work and creating holes — something plasma cutters struggle with.
How Plasma Cutters Work
When energy and heat are applied to a gas, the molecules travel faster and collide more violently, turning the gas into a plasma. Using compressed air or other inert gas, the plasma is accelerated out of the plasma torch toward the workpiece where it completes an electrical arc with the conductive workpiece. Similar to Electrical Discharge Machines, plasma cutting machines use electricity to melt and cut the workpiece.
Why Use Plasma Cutting For Your Parts?
Plasma cutters are a good all-around sheet metal fabrication tool, though they lack the material cutting diversity of waterjet cutters and don't have the precision of laser cutters. For larger sheet metal parts, plasma cutting machines are more cost-efficient than CNC laser cutters and can cut thicker materials easily. Plus, they are easy to operate and can cut at high speeds while maintaining precision.
Sheet metal offers a cost-effective way to fabricate product device panels, boxes and cases for a variety of applications. We build enclosures of all styles, including rackmounts, "U" and "L" shapes, as well as consoles and consolets.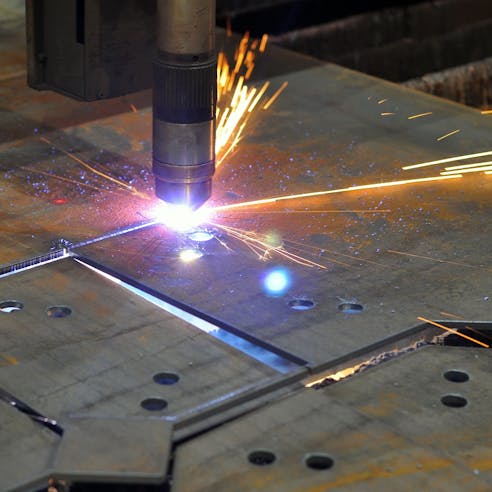 Plasma Cutting Services near Massachusetts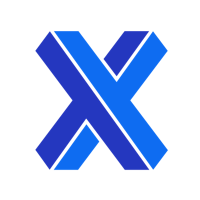 Ready to start your plasma cutting quote?