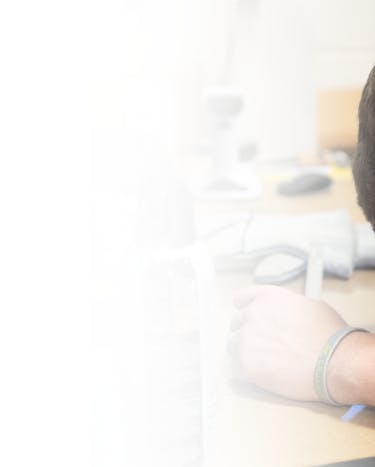 Quality Assurance
ISO 9001:2015, ISO 13485:2016, and AS9100D certified | ISO 2768 compliant | ITAR Registered
  All uploads are secure and confidential.
Job One at Xometry Is Making Your Custom Parts to Your Specifications
Xometry is ISO 9001:2015, ISO 13485:2016, AS9100D certified, ISO 2768 compliant, and ITAR-registered. Our Manufacturing Supplier Network's seamless integration, the in-house applications engineering team, and the Xometry Quality Assurance Lab enable us to back every part we ship. Our Quality Assurance Lab's professionally trained quality engineering team continuously improves the part certification documentation process and our virtual inspection process to bring you peace of mind on every single order. We are experts in metrology.
Certifications to Meet Your Need
Xometry is ISO 9001:2015, ISO 13485:2016 and AS9100D certified, ISO 2768 compliant, and ITAR-registered. Our diverse manufacturing suppliers have the certifications you require.
ITAR
ISO 9001
AS9100
ISO 13485
UL
ISO 7 and 8 Medical Clean Room
NADCAP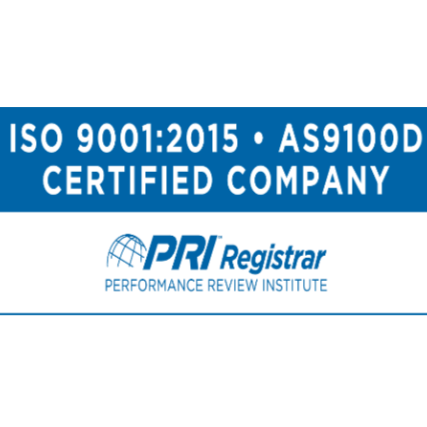 Inspection Services
Xometry inspects your parts to the degree that your projects require. Again, you can have it your way.
Standard Inspection
Standard Inspection with Dimensional Report
CMM Inspection with Dimensional Report
First Article Inspection Report (per AS9102)
Source Inspection
Additive Part Inspections
Custom Inspection: Choose this option if your part requires other inspection requirements such as, but not limited to, the following: non-destructive testing, serialization, custom sampling plan, or if you would like to provide your own inspection datasheet.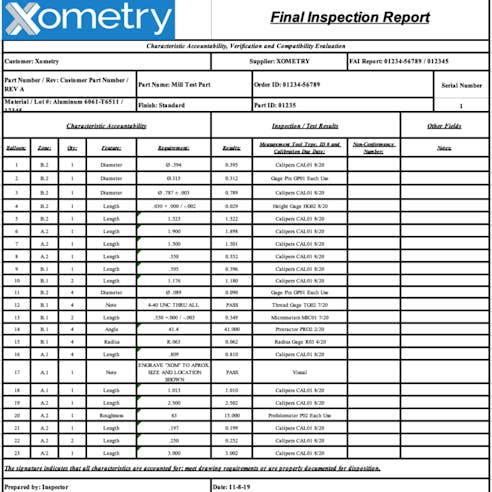 State-of-the-art Equipment
Xometry and the facilities in our Manufacturing Supplier Network have the latest equipment to perform inspections your way.
In-line CAD stations for our technicians
Part drawing creation to your datum schemes
Measuring equipment certification programs
Coordinate measurement machine (CMM) from Hexagon Metrology (Browne and Sharpe), Zeiss, Nikon, and Mitutoyo
Shadowgraph devices
Mass spectrometer (XRF) to validate material compositions
Ring and thread gauges
Gage blocks and gage pins
Assortment of micrometers and calipers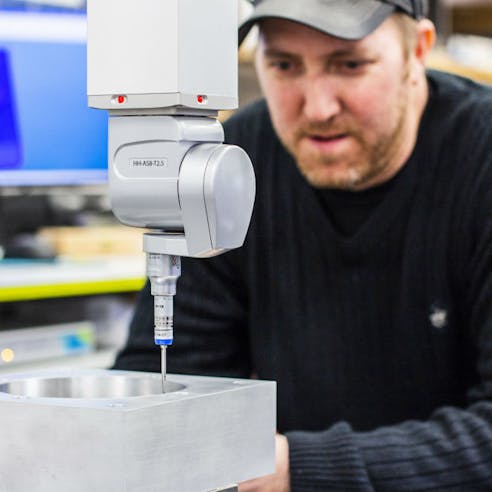 Xometry - A Leader in Quality
You will receive thorough and timely communication from our team of quality engineering professionals. Examples include design feature confirmation, tolerance and datum scheme confirmation, design value optimization (VA/VE), sharing of key quality documents, and more. With high-precision industrial manufacturing, a variety of finishes on solid metal or plastic parts, and our quality assurance capabilities, Xometry strives to make your custom parts to your specifications. See our service agreement for more details.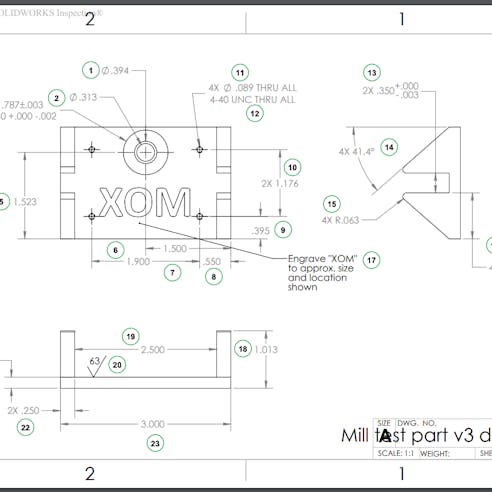 Learn What Makes Xometry the Global Leader in Manufacturing on Demand

Manufacturing Supplier Network
We have massive production capacity on demand. Tap into the power of our network.

Machine Learning Technology
We put big data to work to save you time and money in custom manufacturing.

Applications Engineering Team
Get expert design-for-manufacturing (DFM) help when you need it.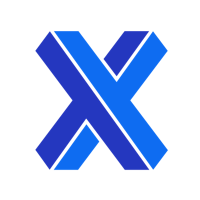 Experience It For Yourself