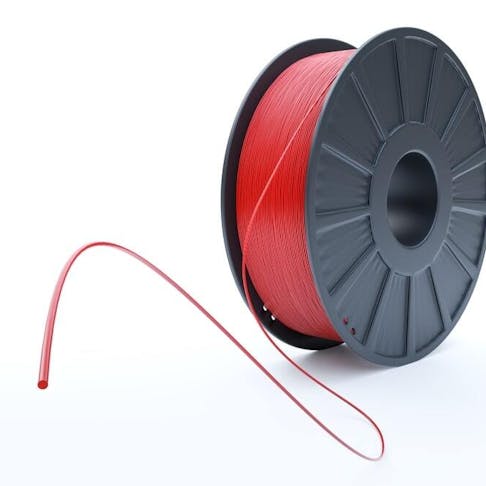 All About Flex 3D Printing Filament: Materials, Properties, Definition
Learn about flex 3D printing filament and how to use it in 3D printing.

By Team Xometry
September 19, 2022
 9 min read
Flex 3D printing filaments enable printers to build pliable and elastic parts. Compared to traditional methods of creating elastomeric parts, 3D printing is much easier, often less wasteful, and significantly faster for small batches. Flex 3D printing filaments are composed of thermoplastic elastomers (TPEs) that have been specifically designed for use in FDM (fused deposition modeling) 3D printers. These filaments combine the properties of thermoplastic materials with the flexibility of rubbers or elastomers. Aside from their flexible nature, flex 3D printing filaments also have great wear and impact resistance and are exceptional at minimizing vibrations. Several different TPEs such as TPU, TPA, or TPC are common in the market today. 
The history of flexible plastics dates back to the 1950s when TPEs were first introduced, giving manufacturers a good intermediate between thermoplastics and rubbers. Flexibility, good mechanical properties, and resistance to environmental factors make TPEs ideal for numerous applications in the automotive, medical, and consumer product industries. This article will provide an overview of flex 3D printing filaments to help you determine whether these filaments are right for your project.
What is Flex 3D Printing?
Flex 3D printing is the term used to describe 3D printing processes that use flexible filaments made from TPEs to create parts layer-by-layer. Several different types of flexible filaments can  be used in 3D printing with each type coming with its own advantages and disadvantages. The most common flexible 3D printing filament is thermoplastic polyurethane (TPU). However, thermoplastic copolyester (TPC), thermoplastic polyamide (TPA), and "soft polylactic acid (PLA)" are also common. 
According to a research article published by SVOA Materials Science and Technology, TPE processing requires 25-40% less energy than the thermoset vulcanized rubbers. Additionally, some flexible 3D printing filaments can be processed and recycled many times over, helping to reduce waste and pollution and preserving petroleum resources. Flex 3D printing has emerged as a sound alternative production method for elastomeric parts as customers demand more specialized and bespoke products. For more information, see our guide on 3D printing.
What is the Composition of Flex Filament?
Flex 3D printing filaments are made from TPEs and thus have elasticity characteristics similar to cross-linked rubbers while retaining the processing characteristics of thermoplastics. Different flexible filaments are made possible by the different plastic materials that come out as oil is refined. During the refinement process, naphtha is combined with catalysts and other chemicals in a polymerization reactor to create desired plastics. The process results in plastic pellets composed of TPEs like TPU, TPC, TPA, and soft PLA (depending on the chemicals used during polymerization). These TPE pellets are then melted and extruded to form flexible filaments to be used in FDM 3D printing.
What Are the Properties of Flex Filament?
The properties of flex filaments vary depending on the specific material. Some filaments, like TPU, are more elastic than others, like TPC. The general properties of flex filaments like TPU, TPC, TPA, and soft PLA are described in the list below:
Soft and flexible compared to thermoplastic filaments.
Excellent elasticity compared to thermoplastic filaments like PLA or ABS.
Exceptional wear, impact, chemical, and electrical resistance.
Good thermal and environmental stability.
Comparison of Flex Filament Properties
A head-to-head comparison of properties between flex filaments and more conventional ABS filaments is shown in Table 1 below:
Table 1: Comparison of TPU vs TPA vs ABS
| Property | TPU (Flex Filament) | TPA (Flex Filament) | ABS (Conventional Filament) |
| --- | --- | --- | --- |
| Property | TPU (Flex Filament) | TPA (Flex Filament) | ABS (Conventional Filament) |
| Property | TPU (Flex Filament) | TPA (Flex Filament) | ABS (Conventional Filament) |
| Property | TPU (Flex Filament) | TPA (Flex Filament) | ABS (Conventional Filament) |
| Property | TPU (Flex Filament) | TPA (Flex Filament) | ABS (Conventional Filament) |
| Property | TPU (Flex Filament) | TPA (Flex Filament) | ABS (Conventional Filament) |
| Property | TPU (Flex Filament) | TPA (Flex Filament) | ABS (Conventional Filament) |
What Are the Limitations of 3D Printing with Flex?
Despite the many advantages, one of the biggest limitations to 3D printing with flex filaments is that parts can be difficult to print. Flexible filaments tend to jam or clog print nozzles. Additionally, retraction during printing can be insufficient, leading to stringing and sometimes dimensionally incorrect parts. Moreover, the elastic nature of these filaments can cause them to buckle or slip when using Bowden extruders. Compared to conventional filaments like ABS or PLA, prints that use flex 3D printing filaments demand more fine-tuning and optimization in the design phase.
Why is Flex Used in 3D Printing?
Flexible filaments are common because 3D printers can create parts much more quickly than other TPE manufacturing methods. Traditionally, TPE-based parts are made via injection molding and extrusion. While these processes can turn out large quantities of parts in rapid succession, they are expensive to tool and often require months of lead time. 3D printers can rapidly create flexible prototypes at a fraction of the tooling cost. This capability clears the way for complete, bespoke parts to be made significantly faster than would be possible with traditional fabrication methods.
How to Use Flex in 3D printing
Using flex 3D printing filaments is a great way to build elastic parts fast. However, the flexible nature of these filaments requires users to pay close attention to their printer's configuration settings. The optimal settings for a particular print job with flexible filaments depend on the TPE material and application of the part. Listed below are some general prerequisites for printing TPE filaments:
Set a bed temperature based on the material manufacturer's recommendation.
Use a glue stick, painter's tape, or hairspray for bed adhesion.
Use a direct drive extruder rather than a Bowden extruder.
Use a cooling fan during printing.
While the items listed above are a general set of principles for printing with flex filaments, each material differs slightly. Some projects may demand that you deviate from the standard recommendations. 
What Are the Best Configuration Settings for Flex 3D Printing?
Generally, users should balance print speeds and retraction settings with extruder and bed temperatures to make sure the part comes out with the proper dimensions. In Table 2 below, recommended printer settings are shown for different TPE materials:
Table 2: Flex Filament 3D Printer Settings
| Printer Settings | TPU | TPC | TPA | Soft PLA |
| --- | --- | --- | --- | --- |
| Printer Settings | TPU | TPC | TPA | Soft PLA |
| Printer Settings | TPU | TPC | TPA | Soft PLA |
| Printer Settings | TPU | TPC | TPA | Soft PLA |
Printing the first layer of a job is often the most critical point of a print. When printing with flexible filaments, use Kapton's tape, painter's tape, Magigoo, DimaFix, or other adhesives to ensure good bed adhesion from the start of the print. Once the first layer is completed, users can fine-tune retraction settings to help prevent drooling from the hot end of the extruder. To find optimal retraction settings, users should first disable retraction to find the ideal speed, then increase the retraction distance incrementally to discover the ideal setting. Be careful not to print too fast though as the material can easily clog the nozzle.
What is the Best Flex 3D Print Speed?
Because flexible filaments are prone to bending, jamming, and buckling as they get fed into the extruder, a slower print speed can be your friend. These issues can cause unnecessary delays to print jobs and can be detrimental to the part's dimensional accuracy and quality. The best compromise between speed and quality is usually between 30-40 mm/s. However, the optimal print speed will depend on the filament that is used. Refer to the filament manufacturer's guidelines for a general idea of where to set initial speeds.
What is the Melting Temperature of Flex Filament?
The melting temperature will vary based on the material. However, in general, the melting temperature of flex filaments is between 210-260 °C. Heating flex filaments too much can cause them to string and ooze out of the nozzle during printing. This stringing causes out-of-spec and poor-quality parts. 
What is a Good Wall Thickness for 3D Printing Flex?
Flexible filaments typically necessitate thicker part walls than those of ordinary plastics. For instance, part walls made of TPU must usually be at least 2.0 mm thick. Design thick walls into your parts if you plan on using flexible 3D printing filaments.
What is a Good Wall Density for 3D Printing Flex?
Walls on 3D printed parts have two main parts: the shell and the infill. The shell is the solid exterior walls of the part while the infill consists of what's between the exterior surfaces. Infill is often constructed as a lattice to balance structural strength against weight and material use. Infill densities can be as low as 0% (hollow) or as high as 100% (solid). Flex filaments can function with any such density, though higher infill densities will reduce the overall flexibility of the part.
Is Flex Filament Hygroscopic?
Yes, flex filaments are hygroscopic. All TPEs have a high degree of hygroscopy and will pop and sizzle as they're heated if they've absorbed too much moisture. Therefore, flexible filaments must be stored correctly or dried before use.
What is the Difference Between Flex and PLA in 3D Printing?
Flexible filaments are composed of TPEs that have a high degree of elasticity and excellent mechanical, thermal, electrical, and environmental properties. PLA is a rigid, high-strength plastic derived from natural sources like sugarcane and corn. PLA can be made into flexible "soft PLA" by combining the PLA polymer with TPE components. 
What is the Difference Between Flex and ABS in 3D Printing?
Flex 3D printing filaments are made of TPEs that are exceptionally flexible and have astounding mechanical, thermal, electrical, and environmental properties. ABS is a petroleum-based plastic that has excellent mechanical properties, is slightly more flexible and ductile than PLA, and is one of the cheapest filaments on the market. 
Summary
This article presented flex 3D printing filament, explained what it is, and discussed how it compares to other filaments in 3D printing. To learn more about flex 3D printing filament, contact a Xometry representative.
Xometry provides a wide range of manufacturing capabilities, including 3D printing and other value-added services for all of your prototyping and production needs. Visit our website to learn more or to request a free, no-obligation quote.
Disclaimer
The content appearing on this webpage is for informational purposes only. Xometry makes no representation or warranty of any kind, be it expressed or implied, as to the accuracy, completeness, or validity of the information. Any performance parameters, geometric tolerances, specific design features, quality and types of materials, or processes should not be inferred to represent what will be delivered by third-party suppliers or manufacturers through Xometry's network. Buyers seeking quotes for parts are responsible for defining the specific requirements for those parts. Please refer to our terms and conditions for more information.

Team Xometry
This article was written by various Xometry contributors. Xometry is a leading resource on manufacturing with CNC machining, sheet metal fabrication, 3D printing, injection molding, urethane casting, and more.