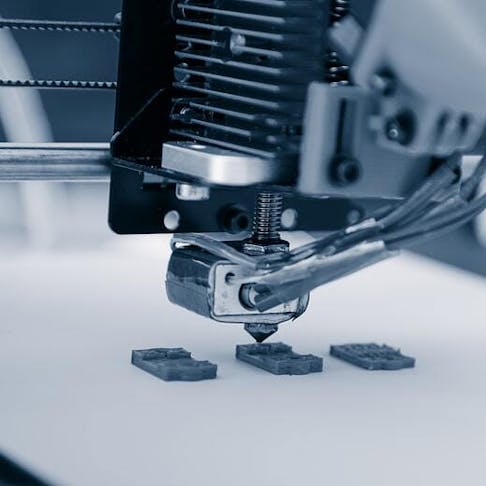 Everything You Need to Know About 3D Printing
Learn all out about this versatile manufacturing technology that continues to evolve and gain new applications.

By Team Xometry
May 4, 2022
 10 min read
3D printing has become a common way to manufacture everything from plastic trinkets to advanced aerospace components. The category of 3D printing covers a wide range of technologies, techniques, and materials.
This article will cover topics all about 3D printing including: 3D printing history, how 3D printing works, things to make with 3D printers, the pros and cons of 3D printing, examples of 3D printer uses, and some general optimization advice to help you print high-quality parts.
What is 3D Printing?
3D printing has become a common way to manufacture everything from plastic trinkets to advanced aerospace components. The category of 3D printing covers a wide range of technologies, techniques, and materials.
This article will cover topics all about 3D printing including: 3D printing history, how 3D printing works, things to make with 3D printers, the pros and cons of 3D printing, examples of 3D printer uses, and some general optimization advice to help you print high-quality parts.
Who Was the First to Invent 3D Printing?
According to the generally accepted history of 3D printing, Charles Hull is the inventor of 3D printing. He implemented and patented the process of stereolithography 3D printing in 1986. Charles Hull also co-founded DTM Inc, later called 3D systems, which is a world-leading 3D printing machine manufacturer to this day. It must be noted that Hideo Kodama first published a paper about using photopolymers to rapidly fabricate plastic parts in 1980 but was unable to secure a patent.
When Were 3D Printers Introduced?
3D Systems was founded in 1986 by Charles Hull to commercialize 3D printers. In 1987, 3D Systems developed the SLA-1. It is the first 3D printer and was based on his patented stereolithography process. An ultraviolet laser was used to harden the photopolymer to create a final part. The image below shows what the SLA-1 looked like:
What Can you Make with 3D Printer?
Modern 3D printers can create almost any type of component. Some important examples are described below to highlight some of the more advanced things you can make with a 3d printer:
Rocket Fuselages: Relativity Space is a US-based rocketry company that uses SLM metal printing techniques. They 3D-print rocket components like engine nozzles, fuel tanks, and even the rocket fuselage. 
Medical Implants: Skåne University Hospital in Sweden was one of the first to 3D print a skull implant from PEEK, an advanced engineering thermoplastic.
Boat Hulls: An entire boat hull was printed by the University of Maine using a massive gantry-mounted FDM-style 3D printer. The hull was completely watertight after printing. 
Industrial applications are the big-ticket uses, but there are many things you can make with a 3D printer at home too. Online platforms like Thingiverse maintain extensive catalogs of cool stuff to 3D print.
FREE SLA 3D Printing Design Guide
What Skills are Required for 3D Printing?
3D printing has reached the point where it doesn't require much technical know-how. You only need to understand the 3D printing basics such as how the machine works and how to add material. 3D models can be downloaded from the internet and imported into the printer's software. This software can then do most of the conversion of that model into machine instructions. The instructions tell the machine how to print the part layer by layer. Most modern machines only require that material be added to the machine's hopper or reservoir; the user then simply needs to press print. 
If, on the other hand, you're designing parts from scratch, it is important to understand DFM (Design For Manufacturing) principles for 3D printing as well as some basic CAD (Computer-Aided Design) skills.
What Are the Types of 3D Printing
The majority of 3D printers work by building up a component layer by layer. The difference often lies in the form of the raw material and the way the machine fuses each layer to make up the final part. There are 3 main styles of 3D printers:
1. Stereolithography (SLA)
Stereolithography converts a liquid photopolymer into a solid part. It traces a high-powered laser in the shape of the 2D cross-sectional image of the part. This light polymerizes the plastic layer onto the bed plate. Then the build plate moves slightly, a new coat of photopolymer is applied, and the laser proceeds to solidify it to the previous layer. The image below shows an Stereolithography (SLA) printer: 
Stereolithography digital light processing.
Image Credit: luchschenF/Shutterstock.com
2. Selective Laser Sintering (SLS)
Selective laser sintering starts by placing a thin layer of powder on the build plate. A laser then traces out the cross-section of the part and melts the plastic or metal powder so that it can harden into a solid shape. A new layer of powder is then placed over the previous one and the process is repeated. To learn more, see our guide on What is SLS Printing.
The image below is a laser sintering machine that uses metal:
Laser sintering machine for metal.
Image Credit: MarinaGrigorivna/Shutterstock.com
3. Fused Deposition Modeling (FDM)
Plastic for FDM machines is delivered in the form of filament on a spool. This filament is pushed through a cavity that is hot enough to melt the plastic. The plastic is then pushed through a nozzle which deposits it one layer at a time to build up a solid part. Below is an image of an Fused Deposition Modeling FDM printer:
Printing on 3D toy ship figurines.
Image Credit: Larina Marina/Shutterstock.com
What is the Most Well-Known 3D Printing Technology?
The most well-known 3D printing technology is FDM (Fused Deposition Modeling). It became popular because it's so common among hobbyists that want to print their own 3D printer creations. FDM printers are also the cheapest, so they present a very low barrier to entry. 
What 3D Printing Software Do I Require?
The type of 3D printing software is determined first and foremost by the associated 3D printing technology. Listed below are the most common software packages used for each 3D printing technology:
Ultimaker Cura: Cura was developed by Ultimaker and is widely used to prepare 3D models for FDM-style 3D printers. This software can be used with any brand of FDM printer.
PreForm: This software is used to prepare SLA parts for printing on any Formlabs SLA machine.
3D Sprint: This software was developed by 3D systems and is designed to prepare parts for a wide array of machines including FDM, SLA, and SLS.
For more information, see our article on The Best 3D Printing Software.
What are the Guidelines for Producing High-Quality 3D Printing?
Your ability to create high-quality 3D printed stuff depends largely on following 3D printing DFM principles. It's important to:
Limit Overhangs: Most 3D printing objects do not come out well if they have large overhangs. Overhanging components need support structures that will later have to be post-processed, thus adding steps and reducing surface uniformity.
Minimize Layer Height: The layer height will determine the size of each layer in the print. The smaller the layer height, the higher the resolution of the part. 
Reduce Speed: Lowering the printing speed will cause the print to take longer but often results in higher quality parts.
Select Appropriate Materials: Some materials produce better surface finishes and higher quality parts than others. As such, the correct material can make a significant difference.
Fit the Technology to the Application: Specific printing technologies have significant effects on part quality. FDM, for example, produces relatively low-quality parts when compared to those made using SLA or SLS.
What are the Pros and Cons of 3D Printing?
3D printing is widely used in many different industries thanks to its many advantages. However, there are some problems that thus far have prevented 3D printing from becoming a dominant manufacturing technology. Some pros and cons are discussed below:
Pros of 3D printing
Rapid Development: 3D printing aids in rapid product development and lets engineers iterate quickly on prototypes.
Can be Low Cost: Less powerful machines are available at a very low cost. However, the parts produced on these machines have limited industrial functionality.
Ease of Use: 3D printers have become very accessible and do not need extensive knowledge in order to operate. A slicing software translates the parts into printable layers and the machines are, by default, set up for optimal performance.
Cons of 3D printing
Limited Material: 3D printing has limited industrial functionality. This is because printers can only use certain materials. Metal options are especially limited. 
Low Production Volume: 3D printers can iterate quickly during R&D activities but lose their advantage when it comes to large-scale production. Established technologies like CNC machining and injection molding produce high volumes much faster.
How Much Does a 3D Printer Cost?
The cost of a 3D printer varies wildly depending on the technology and materials involved. Some examples of both low- and high-quality 3d printers are listed below:
3D Printer
Technology
Cost
Unique Features

3D Printer

Technology

Cost

Unique Features

3D Printer

Technology

Cost

Unique Features

High-quality functional prints; Can print with infused composite fibers; Dual Extrusion

3D Printer

Technology

Cost

Unique Features

Low cost; Higher quality than similarly priced FDM printers; Resolution even better than some higher-end FDM printers

3D Printer

Technology

Cost

Unique Features

Can print large-high-quality parts; Very high part resolution (25 microns)

3D Printer

Technology

Cost

Unique Features

Low-cost entry to SLS; High resolution (100 Micron); Can print functional parts

3D Printer

Technology

Cost

Unique Features

Automated material handling; High production volume; High resolution (80 microns)
Where Can I Purchase a 3D Printer?
3D printers can be purchased on 3rd party sites like Amazon or directly from supplier websites. If you are a beginner and would like to purchase one, here are the basic steps to choosing the best 3D printer:
Consider your experience level. Choose a 3D printer with a user-friendly interface, a responsive support department, and a massive community of users.
Consider the total cost. This includes: raw printing material, maintenance, capability, and electricity usage.
Check the 3D printer features including: print quality, user interface, and the type of input material.
Check the availability of support and communities. Look at the brand's contact information as well as online communities where you can ask for help if needed.
Consider the security features.
Assess the retailer's reliability.
Is 3D Printing a Type of Printing?
Yes. 3D printing is a type of printing in the sense that it incrementally builds a part by starting at the bottom and ending at the top of the part. Each individual layer is functionally 2-dimensional; it only creates a complex 3D shape by printing many successive layers.
Is Learning 3D Printing Difficult?
No. 3D printing has become extremely accessible with easy-to-use hardware and software. In addition to this, there are many sources online that explain every step of the process in detail. You can also find many 3D printer projects for beginners online that can help learn more about the process.
To learn all about 3D printing and more about optimizing your 3D printed products, contact a Xometry representative or make use of Xometry's powerful quoting tool.
Summary
This article provided a summary of 3D printing technology including what it is, how it works, and the different types of 3D printing processes that are used.
To learn more about 3D printing and to help select the perfect manufacturing process for your products, contact a Xometry representative.
Xometry offers a full range of 3D printing services for your project needs. Visit our Instant Quote Engine to get a free, no-obligation quote in minutes.
Disclaimer
The content appearing on this webpage is for informational purposes only. Xometry makes no representation or warranty of any kind, be it expressed or implied, as to the accuracy, completeness, or validity of the information. Any performance parameters, geometric tolerances, specific design features, quality and types of materials, or processes should not be inferred to represent what will be delivered by third-party suppliers or manufacturers through Xometry's network. Buyers seeking quotes for parts are responsible for defining the specific requirements for those parts. Please refer to our terms and conditions for more information.

Team Xometry
This article was written by various Xometry contributors. Xometry is a leading resource on manufacturing with CNC machining, sheet metal fabrication, 3D printing, injection molding, urethane casting, and more.