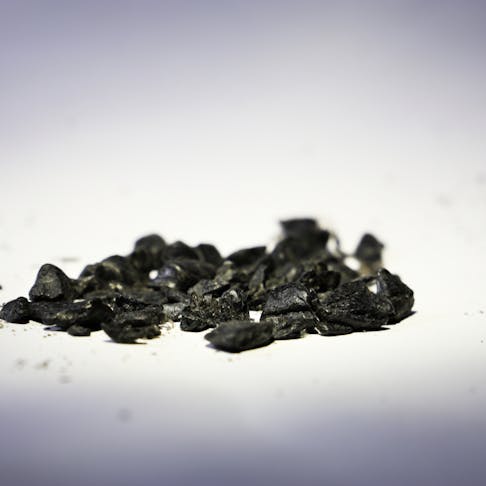 All About HIPS 3D Printing Filament: Materials, Properties, Definition

By Team Xometry
October 5, 2023
 9 min read
HIPS (High Impact Polystyrene) is made by combining polybutadiene rubber and pure polystyrene. HIPS is a thermoplastic material that possesses some unique characteristics not shared by most filaments, including: low hygroscopicity; solubility in d-limonene (a chemical solvent); and good impact resistance. HIPS has the advantage of being cost-effective, quick-printing, and durable. As an added benefit, it can serve as a support material for ABS 3D-printed parts.
HIPS was created by Johann Eduard Simon, a German apothecary. The resin of a sweetgum tree called storax was taken and synthesized. The result of the synthesis was an oily substance. Some days later, to his surprise, the substance thickened and became jelly-like. This substance he named styrene oxide. However, it took almost a century before the product was utilized in industrial applications.
Currently, HIPS is used in a wide variety of industries to produce consumer products, including: toys, electronic components, bicycle trailers, and food packaging. This article will discuss the use of HIPS for 3D printing in detail: its composition, properties, limitations, and applications, as well as some tips for successful printing with HIPS filaments.
What Is HIPS 3D Printing?
While HIPS filament can be used alone to print 3D parts, it is mainly used to print easily removed supports for overhanging structures in parts printed from other plastics. HIPS is usually paired with ABS as the main print material. Support structures printed with HIPS can be removed from the main printed component by dissolving them in d-limonene without sanding or scrubbing. This characteristic is why it is used as a support structure with ABS: ABS for the main printed part, and the easily dissolvable HIPS for temporary print supports.
To learn more, see our How Do 3D Printers Work guide.
What Is the Composition of HIPS Filament?
HIPS combines the chemical attributes of polybutadiene rubber and pure polystyrene. Polybutadiene rubber is known for its elasticity. Pure polystyrene, on the other hand, is known for its hardness. The result of this combination is a solid material that does not break easily because of its relatively high tensile strength. 
To prepare HIPS, butadiene is selectively polymerized in styrene. This process is achieved in the presence of a chemical catalyst called neodymium bis(2-ethylhexanol) phosphonate/diisobutyl aluminum hydride/diethylaluminum chloride.  The prepolymer solution should have high cis-1,4 and low styrene content of 96.6% and 1.01% respectively. The resulting chemical solution is polymerized again with styrene, but this time in a thorough way.
What Are the Properties of HIPS Filament?
Some of the properties of HIPS include:
HIPS is easily formable and machinable and works well with a range of adhesives.
It is durable and possesses good impact resistance.
It is a dissolvable support material that is soluble in d-limonene.
HIPS is food-safe and therefore can be used as a packaging product in the food and beverage industries.
One of the beneficial characteristics of HIPS is its ease of storage. Unlike most filaments, which absorb moisture when exposed to air (they are hygroscopic), HIPS remains stable when exposed to moisture.
The melting temperature falls in the range of 220-250 °C.
Comparison of HIPS Filament Properties
Table 1 below compares the properties of HIPS filaments with other filament materials:
Table 1: Comparison of HIPS vs. ABS vs. PETG vs. PLA
Property
HIPS
ABS
PETG
PLA

Property

Biodegradable

HIPS

No

ABS

No

PETG

No

PLA

Yes

Property

Recyclable

HIPS

Yes

ABS

Yes

PETG

Yes

PLA

Yes

Property

High hygroscopicity

HIPS

No

ABS

Yes

PETG

Yes

PLA

Yes

Property

UV-resistant

HIPS

No

ABS

No

PETG

Yes

PLA

No

Property

Food-safe

HIPS

Yes

ABS

Yes

PETG

Yes

PLA

Yes
What Are the Limitations of 3D Printing with HIPS?
Though HIPS has its advantages, it still has limitations. HIPS has low surface hardness: it is easy to scratch. Another drawback of the filament is its poor mechanical properties: it is hard and brittle. HIPS is known to be highly flammable so safety measures must be taken to avoid a potential fire hazard while 3D printing. HIPS tends to continue burning even after being removed from the fire.
Why Is HIPS Used in 3D Printing?
HIPS is used in 3D printing because of its high strength, good impact resistance, stability in moist environments, and durability. It is also suitable for a number of printing techniques, such as screen printing. Screen printing is a method where ink is transferred to a substrate, or flat surface through a mesh by using a squeegee or roller. Moreover, HIPS is used in 3D printing as a support structure (especially with ABS), because of its solubility in d-limonene, which allows it to be easily removed. 
How To Use HIPS in 3D Printing?
To get the most of HIPS' properties in 3D printing, some requirements must of necessity be met. Listed below are some helpful tips and tricks for 3D printing with HIPS:
Ensure that the printer's heated bed temperature is maintained at 90-110 °C.
A variety of build surfaces can be used, including: Kapton tape, PET sheets, and glass plates.
The melting temperature requirement should be about 220-250 °C.
A mixture of ABS and acetone can be made and applied to the build surface. The resulting mixture, called ABS slurry, helps to improve bed adhesion.
If HIPS is used as a support material, then a double printer extruder is needed.
What Are the Best Configuration Settings for HIPS 3D Printing?
To get excellent HIPS filament quality, the printer settings like: the extruder temperature, bed temperature, print speed, and extruder fan speed, should be set at an optimum level. To get the best results, Table 2 summarizes the recommended printer settings:
Table 2. HIPS Printer Settings
Printer Settings
Value

Printer Settings

Extruder temperature or nozzle temperature or melting temperature or printing temperature

Value

220-250 °C

Printer Settings

Bed temperature

Value

90-110 °C

Printer Settings

Print speed

Value

35-60 mm/s

Printer Settings

Retraction speed

Value

20-45 mm/s

Printer Settings

Retraction (Bowden)

Value

4-6 mm

Printer Settings

Retraction (direct)

Value

2-3 mm

Printer Settings

Flow of filament or flow rate

Value

95-105%

Printer Settings

Printer enclosure

Value

Recommended

Printer Settings

Bed material

Value

Some of them include but not limited to Kapton tape, PET sheet, and glass plate
What Is the Best HIPS 3D Print Speed?
The speed requirement of HIPS 3D printing filament falls in the range of 35 to 60 mm/s. The proper print speed depends on factors such as the filament brand and the ambient conditions. Printer speed affects print quality negatively. The optimal speed represents a balance between part quality and the rate of production. Complex parts should be printed slower than simple parts. For example, if a model consists of many complex layers, the boundaries for these layers need to be built before being filled.
What Is the Melting Temperature of HIPS Filament?
Depending on the brand of HIPS filament, the melting temperature falls between 220 and 250 °C. The hot end, which has been attached to the nozzle, is responsible for melting the filament while the extruder does the job of pushing it out. 
Is a Heated Printing Bed Required When Printing With HIPS?
Yes, a heated bed that can maintain a temperature between 90 °C and 110 °C is needed for 3D printing with HIPS filament. This temperature range applies not only to HIPS-only print but to HIPS as a support material to ABS as well. HIPS and ABS both share roughly the same bed temperature. The essence of the heated bed is to reduce the tendency for the HIPS print to warp or twist out of shape due to poor adhesion.
What Is a Good Wall Thickness for 3D Printing HIPS?
To get better parts when 3D printing with HIPS, the walls must not be too thin or too thick. If it is too thin, warping may occur and if it is too thick, cracking may occur. The recommended good minimum wall thickness for printing HIPS is 1.0 mm. Before choosing a wall thickness, certain factors must be considered, such as: the purpose of the design, the aesthetic goals, and the 3D printing process. When used as a support, the minimum wall thickness for HIPS filament is 1.2 mm. This measurement can be calculated by measuring the distance between the internal surface and the external surface of a print or 3D model.
What Is a Good Wall Density for 3D Printing HIPS?
A good and suitable infill density for HIPS thermoplastic filament is 20%. Infill density describes how much material the internal part of a 3D print is composed of. The infill density is evaluated as a percentage with 100% being the highest. It ranges from a hollow part (0%) to a partially filled and a totally filled or solid part (100%).
Is HIPS Biodegradable?
No, HIPS filament is not biodegradable. This property is the result of the high polystyrene content of the filament.
Is HIPS Recyclable?
Yes, HIPS is 100% recyclable, although it is not biodegradable. HIPS can be used to reduce plastic waste.
Is HIPS Hygroscopic?
No, HIPS is not hygroscopic, unlike most 3D printing filament materials. Many filaments, such as ABS, PETG, PET, and PLA, absorb moisture when exposed to the air. HIPS is easy to store and use, even in humid environments.
What Is the Difference Between HIPS and PLA in 3D Printing?
Polylactic acid (PLA) is a biodegradable thermoplastic filament made from renewable organic materials such as sugarcane. HIPS, on the other hand, is a non-biodegradable filament. Moreover, the fumes produced while 3D printing with PLA is non-toxic, unlike the harmful HIPS fumes. Adequate ventilation is required for safely printing with HIPS (or HIPS with ABS).
What Is the Difference Between HIPS and ABS in 3D Printing?
ABS and HIPS are similar in many ways, especially when it has to do with the printing properties. For example, ABS and HIPS have similar extrusion or printing temperatures as well as similar bed temperatures. As a result, they are used as dual extrusion partners when 3D printing and HIPS are used as support materials for ABS. When it comes to their difference, HIPS is more brittle and more dimensionally stable than ABS.
What Is the Difference Between HIPS and PETG in 3D Printing?
PETG is a thermoplastic filament made by replacing some of the glycol molecules of PET. It is food-safe, transparent, and used in the manufacture of water bottles. PETG outperforms HIPS when it comes to impact resistance. HIPS is more brittle and easily breaks compared to PETG.
Summary
This article presented HIPS 3D printing filament, explained it, and discussed its properties and comparison to other filament types. To learn more about HIPS filament, contact a Xometry representative.
Xometry provides a wide range of manufacturing capabilities, including 3D printing and other value-added services for all of your prototyping and production needs. Visit our website to learn more or to request a free, no-obligation quote.
Disclaimer
The content appearing on this webpage is for informational purposes only. Xometry makes no representation or warranty of any kind, be it expressed or implied, as to the accuracy, completeness, or validity of the information. Any performance parameters, geometric tolerances, specific design features, quality and types of materials, or processes should not be inferred to represent what will be delivered by third-party suppliers or manufacturers through Xometry's network. Buyers seeking quotes for parts are responsible for defining the specific requirements for those parts. Please refer to our terms and conditions for more information.

Team Xometry
This article was written by various Xometry contributors. Xometry is a leading resource on manufacturing with CNC machining, sheet metal fabrication, 3D printing, injection molding, urethane casting, and more.