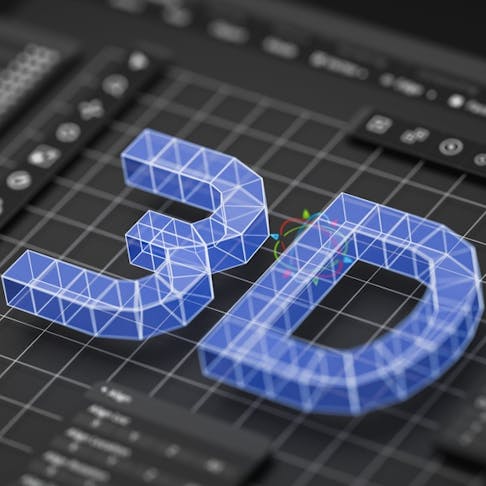 The 6 Steps in How to Preparing STL Files

By Team Xometry
June 7, 2023
 8 min read
The STL file format converts a 3D CAD model into a collection of polygons, usually triangles, that describe the surfaces of the part. By converting CAD models into STL format, the computer software can issue instructions in a language that the 3D printer hardware can understand, which enables parts to be 3D printed. STL is the industry standard file format for 3D printing and is used in both rapid prototyping and manufacturing. Without STL files, 3D printing and all its benefits as they are known today would not be possible. This article will describe six ways to prepare STL files and discuss other topics such as the purpose of STL files and the available STL converters.
1. Get the ZBrush 3D Print Exporter Plugin
Get the ZBrush 3D Print Exporter to take advantage of ZBrush, a powerful and robust STL converter for designers and artists alike. The ZBrush 3D Print Exporter Plugin enables users to optimize the polygon meshes of their models without the need for an internet connection. After the ZBrush Plugin is installed, open the program. 
2. Select 'Menu' on the ZBrush Plugin
Select "Menu" on the ZBrush 3D Printer Exporter Plugin. This will bring up several options from which users can select to take advantage of any of the program's capabilities. 
3. Click 3D Print Exporter 
Click #3D Print Exporter" after selecting Menu." Clicking 3D Print Exporter will open up the STL file converter feature of the ZBrush 3D Print Exporter Plugin.
4. Scale and Define Your Dimensions
Scale and define the part's dimensions after opening the 3D Print Exporter function. This step is important to ensure a strong and aesthetically pleasing 3D-printed part. 
Make sure there are no holes in the 3D mesh of the part. Additionally, verify the polygon count supported by the 3D printer that will be used. Some 3D printers are incapable of printing models with high polygon counts because of the degree of processing power required. More advanced 3D printers may be required to print parts with exceptionally high resolutions. In this case, use the Decimation Master Plugin to refine the model and reduce the polygon count. Afterward, update the LxWxH size information for the model by prescribing the scale of the model to ensure that the ZBrush Plugin prints the part correctly.
5. Choose STL > STL Export
Choose STL > STL Export on the dropdown menu after the 3D model's size and dimensions have been properly defined.  
6. Save
Save the file to complete the STL export. Once the file is saved, upload the file to the 3D printer. Make sure to properly prepare the particular 3D printer before printing the model. For instance, heat the print bed, apply an adhesive, and calibrate the print head if needed. 
What Is an STL File?
An STL file is a file format that turns a 3D CAD model into a series of linked triangles that describe the model's surface geometry. The STL file format allows computers and 3D printer software to communicate, which then enables parts to be 3D printed. 3D-printed parts whose STL files contain more triangles have higher resolutions than those that have fewer triangles. This is because using more triangles allows the 3D model to be more accurately represented.
"STL" stands for stereolithography, but is also sometimes referred to as "standard tessellation language" or "standard triangle language." It was developed in 1987 by 3D Systems, a company that was one of the early pioneers of the 3D printing industry. Since its introduction, STL has been commonly used in 3D printing, rapid prototyping, and computer-aided manufacturing (CAM) by hobbyists and industry professionals alike.
How to Make STL Files for Beginners
The steps in making an STL file are not difficult. First, generate a 3D model of the part to be 3D printed using CAD software such as Fusion 360®, Solidworks®, PTC Creo, or a similar program. Second, save the 3D model in an STL format. Some CAD software has STL file converters integrated into the program, while others require that 3D models be exported to a separate program to be converted. When saving a file into STL format, users will be prompted to input parameters such as angle control, chord height, and edge length, among others. Input values that will enable the desired precision and accuracy to be obtained. Next, save the STL file. Finally, import the STL file into 3D printer software and 3D print the part.
How Long Does It Take To Prepare an STL File? 
Preparing an STL file does not take long. Once the 3D model is generated, the speed at which the STL file is exported largely depends on the computer's processing power. In general, STL file formats are generated in seconds but may take up to a minute depending on part complexity and the number of triangles that are generated.
What Is the Purpose of an STL File?
The purpose of an STL file is to convert 3D models into a file format that can be used for 3D printing and rapid prototyping. STL file formats give manufacturers flexibility in the way parts are produced and developed. Manufacturers can use 3D printing to design and build jigs and fixtures that increase efficiency or build mechanical spare parts. Additionally, STL file formats enable rapid prototyping of new parts and designs which can drastically reduce the time to market for manufacturers. Meanwhile, hobbyists and consumers can use STL file formats to make tools, equipment, home decor, and more from the comfort of their homes. Without STL files, 3D printing would not be as prevalent and impactful as it is today.
What Are the Best STL File Converters?
There are several different STL file converters available on the internet. Depending on the STL file converter, users can configure settings such as chord height and edge length to obtain the desired accuracy and precision in their 3D-printed parts. The list below shows some of the best STL file converters available on the internet:
Blender: Blender is a popular, free. open-source software that is used in 3D modeling and animation. Blender natively supports 15 file formats for conversion to STL, such as OBJ, PLY, SVG, and DAE. With community add-ons, more file formats can be converted. Blender is compatible with many operating systems including Windows, macOS, and Linux. Additionally, Blender is mobile-friendly. Blender's availability for free, broad file conversion abilities, and ability to be used on various operating systems make it an excellent STL file converter. Blender may be considered the best overall STL file converter.
ZBrush: ZBrush is a digital sculpting software used by designers and artists alike. The software is used for 3D modeling but also includes an integrated STL file converter. ZBrush is a popular software program for 3D modeling, printing, and STL file conversion due to its ability to generate high-quality models with 40 million or more polygons. While ZBrush is not free (priced at $40 a month), its robust capabilities make it a great choice for STL file conversion.
Aspose: Aspose is another free, browser-based STL converter that is also mobile-friendly. With Aspose, users can convert over 20 file types, including 3DS, DAE, and FBS. Additionally, users can upload and convert files from both physical and cloud storage sources such as Google Drive, Dropbox, or directly from a URL.
Bear File Converter: Bear File Converter is a free-to-use, browser-based and mobile-friendly software used to convert over 45 file types. File formats that can be converted to STL include BLEND, 3DS, PLY, DXF, DAE, and more. Additionally, Bear File Converter allows files up to 50 MB to be converted. Its breadth of features makes it a popular STL converter.
MeshConvert: MeshConvert is a free-to-use, browser-based STL file converter. Unlike other file converters, MeshConvert supports 3D file formats commonly used for video games, such as MDL and MD3. Additionally, over 35 other file formats can be converted to STL, such as 3DS, PLY, and DXF, among others.
Summary
This article presented how to prepare STL files, explained the steps, and discussed the best STL file converters. To learn more about STL files, contact a Xometry representative.
Xometry provides a wide range of manufacturing capabilities, including 3D printing and other value-added services for all of your prototyping and production needs. Visit our website to learn more or to request a free, no-obligation quote.
Copyright and Trademark Notices
Fusion 360® is a trademark of Autodesk, Inc., and/or its subsidiaries and/or affiliates, in the United States.
SolidWorks® is a registered trademark of Dassault Systèmes SolidWorks Corp.
Disclaimer
The content appearing on this webpage is for informational purposes only. Xometry makes no representation or warranty of any kind, be it expressed or implied, as to the accuracy, completeness, or validity of the information. Any performance parameters, geometric tolerances, specific design features, quality and types of materials, or processes should not be inferred to represent what will be delivered by third-party suppliers or manufacturers through Xometry's network. Buyers seeking quotes for parts are responsible for defining the specific requirements for those parts. Please refer to our terms and conditions for more information.

Team Xometry
This article was written by various Xometry contributors. Xometry is a leading resource on manufacturing with CNC machining, sheet metal fabrication, 3D printing, injection molding, urethane casting, and more.