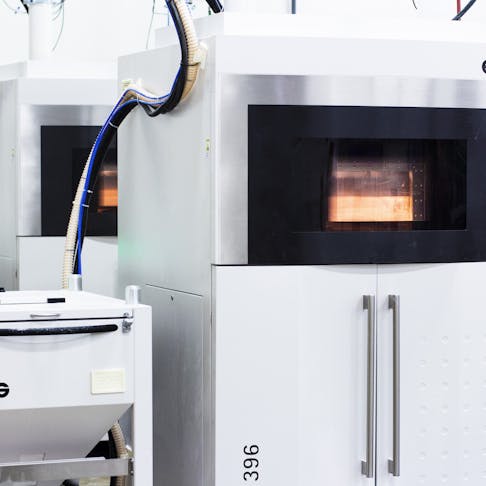 5 Things You Should Know About the Xometry Partner Network
You may have perused the Xometry homepage, been wowed by our prestigious customer list, created an instant online quote, or even ordered a few CNC machined parts. But do you know what went into creating and supporting the production of your project?

By Team Xometry
 4 min read
You may have perused the Xometry homepage, been wowed by our prestigious customer list, created an instant online quote or even ordered a few CNC machined parts. But did you know all that went into creating and supporting the production of your project?
Xometry's network of over 4,000 vetted Manufacturing Partners allows for the dynamic distribution of custom manufacturing through Xometry's online Partner Portal, also known as the Job Board. Our Manufacturing-as-a-Service (or MaaS) business model pairs ordered work with those best able to complete a project on time, and to spec. Xometry has built technology-driven infrastructure to manage a distributed manufacturing supply chain with quality, service, and communication at its core.
Keep reading to learn more about our talented and diverse network and the systems we have in place that seamlessly allow our Partners to create high-quality parts.
Our Partners' Work is Tailored to Their Experience
Xometry's Match Score automatically matches and recommends new jobs to every active Partner based on their successfully completed jobs. A higher match score (%) indicates that an available job resembles work that a Partner has previously completed. For Xometry's Partners, this means they can quickly accept a job with confidence. For Xometry's customers, it means better quality, better output, and more competitive pricing.
Our Partners are Certified
Our Partner Network is composed of highly skilled, professional machinists, fabricators, and 3D printing service companies. Many possess ITAR, AS 9100, or ISO 9001 certifications and registrations. Xometry Partners have many years of experience and are trained to administer and document the most-requested quality criteria such as geometric dimensioning and tolerancing (GD&T), certificate of conformance (CoC), raw material traceability, and first article inspection reports (FAI). Learn more about Xometry's inspection and sampling options.
Our Partners are Supported
Xometry supports our Partner network and customer base with teams trained to provide coaching, customer service, and problem-solving for each step of the journey through on-boarding and part creation.
Partner Management on-boards and recruits Partners. The team maintains relationships, including coaching and training on the job board, quality systems, and shipping procedures.
Customer and Partner Care (CPC) is the first stop in the Xometry experience. Whether it is the online chat, inbound calls, or support emails, this team will make sure you get a response.
Post-order support teams are ready to advise Partners on technical fabrication questions. Orders are reviewed for manufacturability and any concerns or special needs are communicated. Xometry's case managers will review job statuses with manufacturers to ensure timely delivery as well as triage if a project is at risk of being delayed.
Our Parts are Tracked
All eyes are on the parts. Every single Xometry part is tracked from the time the order is made until it is successfully delivered. With our sophisticated Partner Portal, the status of each ordered line item is tracked and updated. Documentation, such as images and inspection reports, is digitally attached for auditable accountability.
A Xometry Partnership Has its Benefits
Xometry sells and quickly delivers raw material and manufacturing tools through Xometry Supplies. Manufacturing Partners have even more opportunities to leverage Xometry Supplies features with discounts and innovations like the Quick Buy tool and Buy Now Pay Later programs. With Quick Buy, Partners can order materials like Aluminum 6061-T6 right when they are accepting an offered job. With Buy Now Pay Later, qualified Partners can deduct their supplies costs from their active projects, freeing up cash flow. In most cases, this means the material for the accepted project arrives quickly, allowing for the project to get started as soon as possible.
Each Partner earns a Partner Success Score which provides timely feedback on part quality, timeliness of shipments, engagement, and communication. Along with the job board's online project tracking, the success score creates an end-to-end feedback loop for manufacturers. Partners who maintain a high score will see higher revenue work and be eligible for bonuses.
Ready to have some great parts made by amazing manufacturers, with quality backed by Xometry? Try our instant online quoting and ordering. Interested in joining Xometry's Partner Network? Learn more and apply here.

Team Xometry
This article was written by various Xometry contributors. Xometry is a leading resource on manufacturing with CNC machining, sheet metal fabrication, 3D printing, injection molding, urethane casting, and more.