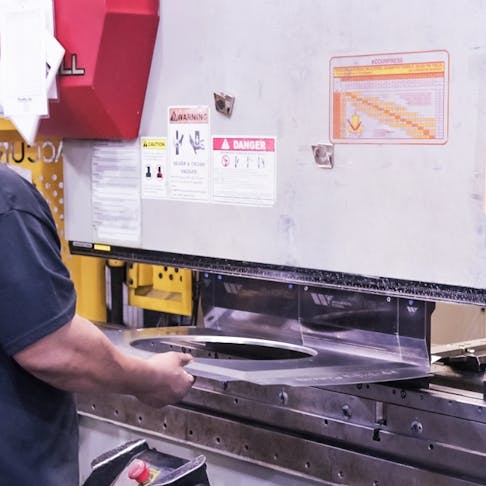 60% of Small Manufacturers Unlikely to Hire in Upcoming Quarter Citing Difficulty in Finding Skilled Employees
Xometry's Q1 2019 Small Manufacturing Index finds manufacturers unlikely to hire in mid-2019 despite steady business confidence and strong U.S. economy.

By William Krueger
September 21, 2020
 3 min read
Xometry, the nation's largest on-demand manufacturing platform, released the findings of its quarterly Small Manufacturing Index finding that the inability to find skilled employees is beginning to have an impact on overall business and growth despite a majority of respondents optimistic about the market with 67% of those surveyed expecting a mild to a strong increase in business this quarter compared to 60% last quarter.
Of those expecting a mild to a strong increase in business, 70% cite improved business confidence — including more new and returning customers, more frequent orders, and higher average order values — as the number one factor impacting their anticipated business. Forty-seven percent of respondents also pointed to a strong U.S. economy as a major factor in their business outlook.
However, the ability to find skilled employees is a point of common concern among those surveyed with 51% identifying it as impacting their business with one respondent saying "it's very hard to find employees with the skills we need."
Of the 14% surveyed anticipating a mild decline in business this quarter, over 90% of them cited the higher costs of doing business and increases in material prices as playing a role with one respondent saying "customers are unwilling to accept the higher costs of materials." Other factors impacting those anticipating a decline in business are increased trade tensions and supply chain issues.
Compared to Q4 2018, small- to mid-sized manufacturers are planning on hiring less in the upcoming quarter, with only 37% of respondents plan on hiring compared to 48% last quarter. Despite overall improved business confidence and a strong U.S. economy, of those planning on hiring, they plan on hiring fewer than 5 new employees this quarter. Again, nearly half of respondents, 49%, cited the difficulty in finding skilled employees as the number one factor impacting hiring. According to one respondent, "it's getting harder to find skilled labor. We are willing to train but finding employees that want to work is increasingly difficult."
About the Small Manufacturing Index
Xometry's Small Manufacturing Index, which takes the pulse of hiring and optimism of small- to mid-sized manufacturing shops every quarter, surveyed manufacturers both inside and outside Xometry's partner network on whether they expected to see growth in business and hiring compared to previous quarters and years. These small- to mid-sized manufacturers represent more than 190,000 companies in an over $50 billion market. The index aims to highlight trends over time to provide analysis and predictions on the national outlook for small- to mid-size manufacturers.

William Krueger
As a digital marketing specialist, William works with all forms of media from photography and video to content writing and graphic design to tell the story of American manufacturing. He holds a B.A. in Communication from Wittenberg University.