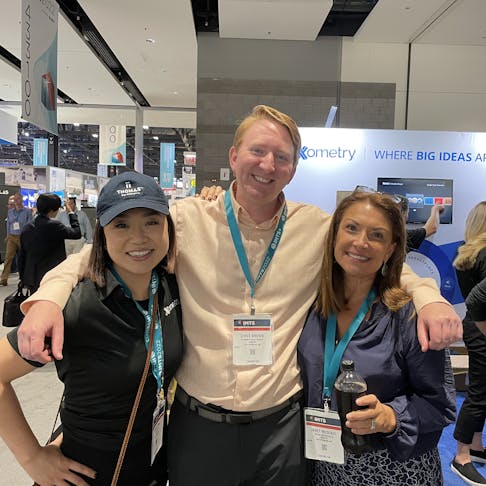 IMTS 2022 Recap
Thank you to everyone who saw us at our booth and our presentations! We look forward to seeing you again next year!

By Team Xometry
September 28, 2022
 2 min read
It has been  4 years since we last visited IMTS, and a lot has happened at Xometry since then. We have greatly expanded our suite of manufacturing processes and material options. We have further optimized the machine learning within the Xometry Instant Quoting Engine®, and we have greatly increased the size of our global supplier network. Needless to say, we had a lot to talk about.
Thankfully, Xometry was able to speak at multiple locations throughout the event. Greg Paulsen, Xometry's Directory of Application Engineering, led a session titled "A New Era in Manufacturing: Digital Marketplaces," where attendees learned how digital marketplaces are increasing supply chain resilience in today's economy. In addition, Greg also spoke at the Autodesk Booth and demonstrated how the Xometry Add-in for Fusion 360 helps engineers and designers simplify their product development processes.
Cathy Ma, Vice President of Platform Engagement and Growth for Xometry and Thomas, also spoke with The Onshoring Project at the smarter sourcing symposium, where she led a discussion about onshoring and how to best access the existing capacity within American manufacturing by using technologies like Xometry's digital manufacturing marketplace.
We are grateful for all of those that visited our booth and gave us the opportunity to show our on-demand manufacturing solutions. Thank you to all of the designers and engineers using Xometry's services to enhance their supply chain, and thank you to our suppliers, who serve as the bedrock of Xometry's global supplier network. We also want to give a special shout-out to Will and Alex Bales of Hypershock BattleBot team, who loaned us their BattleBot vehicle and helped us host a Hypershock hexbug raffle. 
The future of American manufacturing is here, and we are grateful that we get to build it together.

Team Xometry
This article was written by various Xometry contributors. Xometry is a leading resource on manufacturing with CNC machining, sheet metal fabrication, 3D printing, injection molding, urethane casting, and more.