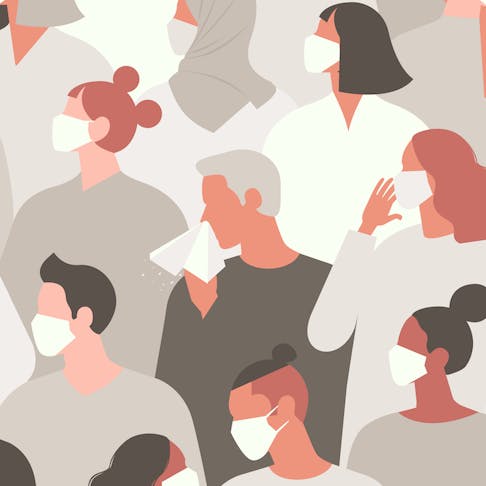 Lessons Learned in Manufacturing from COVID-19 Innovations (March 2020)
What lessons can we learn from innovations in the age of Coronavirus (COVID-19)? Synchrony between stakeholders, open-source collaboration, and the power of a network will redefine future manufacturing.

By Serena Ngoh
October 9, 2020
 5 min read
COVID-19, a virus that began spreading across the world just 3 months ago in late December 2019, has disrupted life in all the ways that we know it. It has infected hundreds of thousands of people around the world, wedged distance between friends and family, and disrupted supply chains by creating unprecedented demand for medical equipment and supplies.
The responses by engineers around the globe have been tremendous, with thousands volunteering their 3D printers and design skills, others working to develop medical devices for patients and medical staff, and still more working to develop software to track infection rates.
What lessons in manufacturing can we learn from the crisis response? Here are some takeaways we'd like to highlight:
Clear Project Definitions Lead to Efficient Medical Device Prototyping
Efficient medical device development can occur when the project's goals and process steps are clear to all parties involved. In the age of COVID-19, this means establishing clear medical use cases and rapidly aligning prototyping and development specialists with medical professionals and health authorities.
Personal protective equipment (PPE), gloves, gowns, and disposable respirators or face masks, and face shields, are needed to combat the transmission of COVID-19 from patients to healthcare providers. Other medical supplies like mechanical ventilators are in high demand, which has been underscored by a worldwide shortage as hospitals have scrambled to procure sufficient numbers of ventilators to aid patients' compromised respiratory systems. These items, typically taken for granted, are critically bottlenecked as each individual healthcare entity scours its supply chain for supplies. In the 3D printing community, this need has given rise to critical teamwork between patients, medical staff, and engineers. Clear face shields enable more trustworthy communication between patients and frontline medical staff, and pairs visors with laser or die-cut clear plastic that can be easily assembled in the field.
The 3D printing community has also worked on building face masks, which are in short supply. However, since 3D printed parts are often rigid, a face mask may have air gaps between the face and mask, which allows non-filtered air to enter. 3D printed parts may also contain micro-gaps or pores which are difficult to control and clean. These are issues which medical professionals, engineers, and manufacturers must identify and overcome to qualify respirators or N95 devices. When it comes to small items like ventilator airflow splitters, engineers can help medical professionals harness the scaling power of industrial 3D printing. Using HP Multi Jet Fusion, airflow splitters can be nested to create the hundreds per build.
Medical devices require FDA regulatory clearance; however, the current situation has relaxed these rules for many external components, particularly with PPE. Clearer project parameters and close communication between product developers, manufacturers, and healthcare professionals have led to efficient medical device development in the past few months and may change the way we think about medical device development for years to come.
Close Collaboration Powers Progress
Open source projects have the power to save lives when development timelines are compressed. A group of anesthesiology residents of Massachusetts General Hospital has launched the CoVent-19 Challenge, in which they work with engineers, innovators, designers, and makers across the world to lead the creation of a rapidly deployable mechanical ventilator. With their ventilator solution, they aim to close the gap between actual hospital ventilator capacity and the current need. They have partnered with Stratasys, a 3D printer manufacturer, to secure dedicated printing capacity.
Perhaps one of the best-known examples of fast and furious collaboration has been exemplified by a worldwide group of over 300 engineers, medical professionals, and researchers led by Irish entrepreneur Colin Keogh and Breeze Automation CEO and co-founder Gui Calavanti. The two put out a call on Facebook for help to design a ventilator and were able to turn around a mechanical ventilator within a week. The product's speedy development was aided by 3D printing and is currently undergoing validation by the Irish healthcare organizations.
Xometry has been following open-source projects and has compiled CAD designs for organizations to download. You can find CAD files for contactless door openers, face masks, and hand gel dispensers, and face shields on Xometry's COVID-19 response page.
Medical Materials Are Key
Engineers are currently maximizing medically grade industrial materials to fight COVID-19. These materials may satisfy any number of US requirements for product certification and registration like ISO 9001, ISO 13485, UL, ISO 7, and 8 Medical Clean Room production. Machined medical grade materials and 3D printed or molded plastics like Ultem, TPEs, Radel, PSU, Lexan vary in their characteristics but are chemically insert, nonporous, and easily sanitized.
An example of a company that's using medical-grade industrial materials for a life-saving product is Feevr, which has developed a non-contact thermal imaging system to screen and detect elevated temperatures of individuals in a crowd. According to Chief Security Officer, Jasun Tate, the product has been designed with materials that minimize microbial adhesion and are durable enough to withstand a variety of outdoor and indoor environments with varying levels of humidity and foot traffic. The product is easily cleaned in accordance with WHO and CDC standards.
More exploration and R&D of medical-grade materials will be essential as innovators and medical professionals continue to develop life-saving products.
Custom Manufacturing Can Save Lives
Behind each success story about a newly developed and quickly distributed PPE or mechanical ventilator is a network of manufacturers around the globe, who are using their manufacturing design and production expertise, as well as utilizing the nearly limitless capacity of distributed manufacturing networks, to get supplies out to affected populations.
With the growing tide of COVID-19 cases in the US and Europe, many states and leaders have deemed medical supply manufacturers as essential businesses that should remain open. Xometry, with its network of over 5,000 global manufacturers and expert applications engineering team, is committed to building your medical solutions with engineers, designers, innovators, and more to combat COVID-19 in the coming months. Visit our 3D printing service page today.

Serena Ngoh
I write about Xometry and all things manufacturing. You might also see me hosting webinars, designing infographics, producing videos, and working directly with customers to tell their manufacturing success stories.