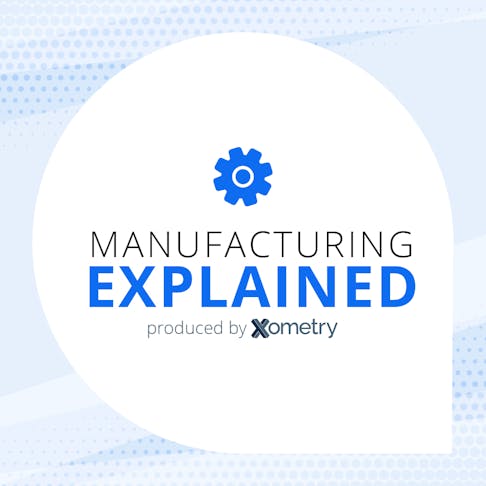 Manufacturing Explained Episode #2: Part 2, Explaining the Injection Molding Process with Scott Benson
Today, Greg Paulsen continues his conversation with Molding Master Scott Benson to explain the key benefits of plastic injection molding.

By Nathaniel Miller
December 29, 2021
Listen and Subscribe:
Spotify, Google Podcasts, Stitcher, Amazon Music, Buzzsprout, RSS Feed
Welcome back to Manufacturing Explained! In today's episode, Greg Paulsen continues his conversation with Senior Project Engineer and injection molding expert Scott Benson. Their discussion will illuminate the critical benefits of plastic injection molding—namely, the ability to create hundreds or even thousands of identical parts exceptionally quickly.
By the end of this episode, you will be able to answer questions like:
What is the minimum quantity you can make with injection molding, and why would someone ask to mold only a handful of pieces?
What do molders look out for when checking part models for design for manufacturing, review?
Can you modify your design after tooling is made? How and when can you communicate potential design changes to your molder?
Manufacturing Explained is a Xometry production. Xometry offers instant quoting to over a dozen processes, from 3D printing to sheet cutting, CNC machining, and injection molding. Xometry is your one-stop shop for manufacturing.
Scott Benson, Senior Project Engineer at Xometry 
Scott Benson brings over 13 years of experience in the injection molding industry to today's conversation. He has experience in various injection molding roles, including time as a quality manager of ISO9001 certified quality management system and as a lean manufacturing engineer for multiple injection molding plants. His experience working with different materials and in various industries designing products with different end-uses makes him an expert in injection molding. 
Host, Manufacturing Explained - Greg Paulsen
Greg leads Xometry's Application Engineering team with 14 years of experience in advanced manufacturing. His expertise includes additive manufacturing, machining, sheet metal, injection molding, casting, and quality assurance.

Nathaniel Miller
Hi, I'm Nathan, and I'm the Marketing Content Writer for Xometry. I write and edit a lot of the content produced by Xometry. I'm also the lucky guy who gets to share the accomplishments of engineers working to change their industries and our lives.