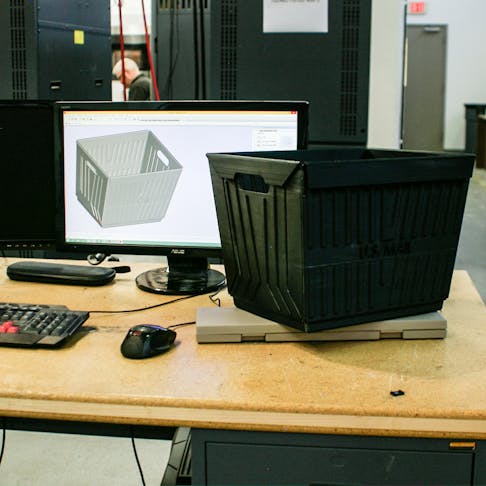 On-demand Webinar: Costing Parts with the Xometry Add-in for Fusion 360
In this on-demand webinar, you'll learn how to drive down product development costs while increasing design aesthetics and utility with the Xometry App for Fusion 360.

By Serena Ngoh
April 12, 2021
For this webinar, Xometry manufacturing expert, Greg Paulsen, teamed up with Autodesk CAD design expert, Jason Lichtman. The two show companies and creators alike how to save money on producing/manufacturing designs by using the Xometry Instant Quote Add-In in Fusion 360.
As Autodesk experts describe it, the Xometry Add-in for Fusion 360 is like having a "manufacturing expert looking over your shoulder, making sure you nail that balance between aesthetics and cost." The Xometry add-in provides instant pricing as you make design tweaks in Fusion 360, and can be the difference between soaring or plummeting product margins.
In addition to instant pricing and design-for-manufacturing feedback, this free add-in for Fusion 360 provides lead times, and together, these three manufacturability checks help you order affordable prototypes or even mass production parts.
Watch this on-demand webinar to learn how to drive down product development costs while increasing your part's design aesthetics and utility with the Xometry Add-In for Fusion 360. You can also download the Xometry add-in for Fusion 360 or see all of our free CAD add-ins.
Speaker Biographies
Jason Lichtman, Senior Technical Specialist at Autodesk Fusion 360
Jason Lichtman has a B.S. and an M.S. in mechanical engineering. He is a seasoned product design engineering professional with 15 years of experience in taking ideas and turning them into industry-leading mass production products for well-known brands. As a technical specialist for design and manufacturing, Jason helps customers realize their full potential.
Greg Paulsen, Applications Engineering at Xometry
Greg Paulsen leads the Applications Engineering team at Xometry, working directly with customers on special case projects. He's an expert in all things manufacturing, from 3D printing to CNC machining, to injection molding and beyond. He spends a lot of time helping Xometry customers design for manufacturing and get the most out of their projects.

Serena Ngoh
I write about Xometry and all things manufacturing. You might also see me hosting webinars, designing infographics, producing videos, and working directly with customers to tell their manufacturing success stories.