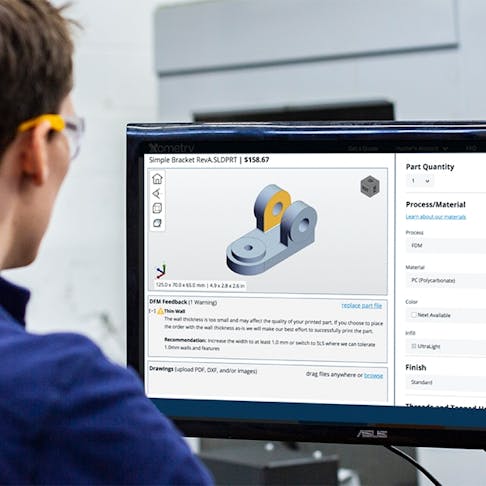 On-Demand Webinar: How to Use the Xometry Instant Quoting Engine
Our latest webinar details how to make the best use of our new and improved quoting engine. Join Xometry Greg in an in-depth demonstration to learn about our latest manufacturing options, engineering support resources, and engineering design resources.

By Serena Ngoh
October 9, 2020
With the help of millions of data points, data scientists, product managers and designers, and a robust team of application engineers, the Xometry Instant Quoting Engine gets faster and more sophisticated each year.
Our instant quoting platform allows you to get prices and lead times within seconds. It also offers design-for-manufacturability feedback using intelligent CAD file analysis to help you optimize your part for price and lead time. You can choose from over 10 processes, 200+ material and finish combinations, and add tapped and threaded holes, tolerances, surface roughness requirements, and more.
Join Xometry's Director of Application Engineering, Greg Paulsen, for an in-depth demonstration of our all-new quoting platform by watching the webinar recording above.
Some key points from this webinar include:
What's new at Xometry
Economy and expedite options
New inspection and certification options
An updated check-out experience
An Instant Quoting demo
Xometry's CAD add-ins
Xometry's online resources
FAQs and live engineering support

Serena Ngoh
I write about Xometry and all things manufacturing. You might also see me hosting webinars, designing infographics, producing videos, and working directly with customers to tell their manufacturing success stories.