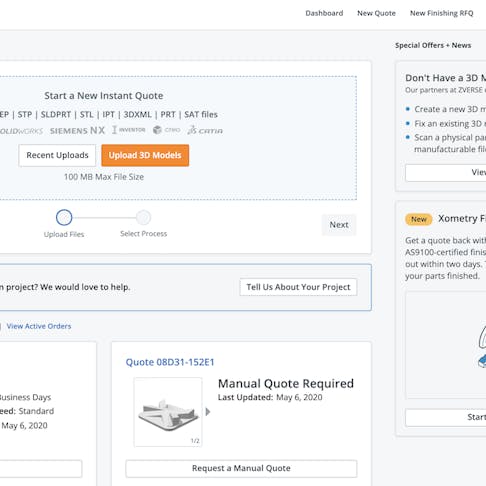 Product Update: Your Personalized Dashboard in the Xometry Instant Quoting Engine℠
We've created a home base where registered users have a personalized view of Xometry's services all in one place.

By Serena Ngoh
October 9, 2020
 3 min read
By now, Xometry customers are familiar with the streamlined quoting and ordering experience in the Xometry Instant Quoting Engine℠. Our product team decided to take this user experience to the next level by creating a home base where registered users can view the full range of Xometry's services all in one place. In the new Dashboard view, users can start a new quote, see their active orders, view their quoting history, and find other Xometry services.
Registered users can find this section in the Xometry Instant Quoting Engine℠ under Dashboard. (If you're not yet registered, it's free and simple. Register here.) The gif below shows you where you can find your Dashboard.
The following Xometry services are now available in your Dashboard to provide you with the ultimate digital manufacturing experience.
This feature is located in the top left of your Dashboard and enables you to start a new quote at any time. You can choose from parts that you've previously uploaded to the Xometry Instant Quoting Engine℠ (stored in a secure, encrypted form to reduce upload times) or upload new 3D CAD models for our quoting engine to analyze and price.
As the name of this feature suggests, you can now pick up where you left off by viewing your two most recent quotes. You can also click to view all your quotes at once or narrow your selection to just your active orders.
If you need to get a manufacturing quote but don't have a 3D CAD model, simply hop to this section of your Dashboard, which takes you to our CAD design service partners. Our partners can help you create a new 3D model, fix an existing model, or create a legacy part via a CAD scan.
Get Direct Quotes on Post-Processing Services
Beneath the CAD model sourcing section of your Dashboard, you'll find a shortcut to Xometry Finishing Services, which allows you to source finishing services for parts that you made elsewhere or at Xometry (that did not get finished in the order). Our finishing suppliers are a select group of manufacturing partners who offer a total of over 50 finishes. You can open a quote up for bidding, select your supplier, and transact directly with them on this platform.
Other Xometry Capabilities and Services
At the bottom of the page, you'll find shortcuts to even more manufacturing services that are popular at Xometry. This section is personalized to you and shows the services that are most relevant based on your quoting and ordering history.
Like what you see? Stay tuned for more updates. Your personalized Xometry Dashboard is a dynamic platform. As we debut new manufacturing technologies, services, and special offers, we'll keep you updated through your Dashboard.
Ready to experience your personalized Dashboard? Try it now.

Serena Ngoh
I write about Xometry and all things manufacturing. You might also see me hosting webinars, designing infographics, producing videos, and working directly with customers to tell their manufacturing success stories.