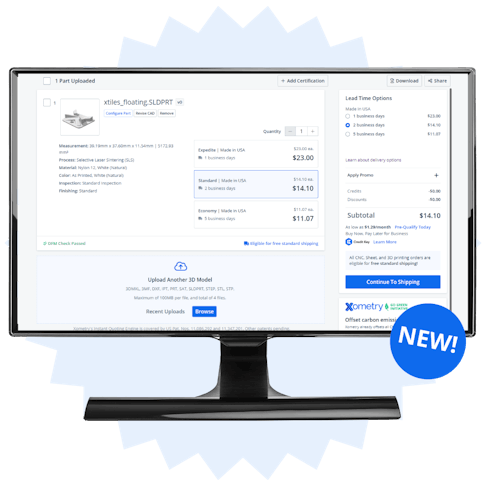 Product Update : The Xometry Instant Quoting Page Has a Fresh, New Look
The Xometry instant quoting page has a fresh new look! Tour the changes and learn about how this update sets the stage for ongoing improvements.

By Joel S.
November 7, 2022
 5 min read
A Fresh New Look
The quoting summary page is the heart of our instant quoting experience. Our product development team has been hard at work expanding the capabilities and features of the Xometry Instant Quoting Engine®, such as adding manufacturing processes including laser tube cutting, tube bending, die casting, and more. Alongside under-the-hood updates, our team has focused on keeping the look and feel of the customer quoting experience up to speed. With that, we are proud to announce the Xometry Instant Quoting Engine® has a brand-new layout that is ready to be experienced firsthand!
The redesign features a fresh look that is easier on the eyes and easier to navigate. The aesthetic aligns with our part configuration page, which received its overhaul earlier this year. Various tweaks and changes improve the usability of the quoting engine, a reflection of our continuous efforts to improve the customer experience. Keep reading to see what's changed, or explore the changes by starting a quote today!
The center pane of the quoting interface.
What's New?
Let's start with the center pane of the page, which displays your part information. A focal point of the redesign was to provide more real estate for displaying information to users while maintaining a clean and clear appearance to make that information easy to review. Here are a few key areas you'll see in this portion of the page:
1.) Part Detail Cards:
Each uploaded line item displays on its own card. Thanks to changes we've made elsewhere, the cards are larger, so information such as part size, process, material, and more are easier to read.
2.) Line Item Cost and Lead Times:
Each line item's pricing and lead time options are more prominent and easier to read. You can quickly change the order lead time by clicking on the boxes.
3.) Free Shipping Icon:
You may notice an icon of a truck next to the lead time options; this represents options that are eligible for free shipping. The icon helps users quickly understand which options come with free shipping benefits.
4.) Certifications Button:
We repositioned the button to add certifications so it's more clearly displayed and easy to access. Use this button to apply certifications across all line items simultaneously. You can add certifications at a line-by-line level in the part configuration screen.
5.) DFM Check:
At a glance, you receive a confirmation if the line item has DFM concerns. If a potential DFM issue is detected, you can click the link to the part analysis screen, where you can review the feedback with our 3D viewer.
6.) Part Modification Buttons:
We've relabeled the buttons associated with part modification so users can more clearly understand their function. Click "Configure Part" to go to the part configuration screen to edit the manufacturing process, material, features, etc. "Revise CAD" will open a pop-up that allows you to upload a revised version of the current part. "Remove" will allow you to remove the line item from the quote.
The right pane of the quoting page.
To the right of the page, you'll find the pane which contains additional lead time controls, checkout functions, and more. This section is individually scrollable and allows for a cleaner look in addition to opening up more vertical room elsewhere on the page. The critical aspects of this section are summarized below:
A.) Order Lead Time Options:
The overall order lead time options are displayed from top to bottom. Quickly select the lead time you desire using the radio buttons. The ship date and a reminder of how soon you need to order to receive that ship date are visible below the options.
B.) Apply Promo Button:
We added a button to apply account credits or special promotion codes from the quote summary page. This change also means discounts can be reflected in the shareable copy of your quote so colleagues and purchasers can easily see overall pricing and savings.
C.) Financing Options:
You'll see your financing options if you've qualified for and set up business financing.
D.) Carbon Offset:
Applying carbon offsets via Xometry's Go Green Initiative is easier to find and use. Choose your offset amount and the project you'd like to fund.
E.) Share Quote Buttons:
The buttons to download a copy of your quote or share it with a purchaser are more prominent. Click "Download" to receive a PDF copy of the quote, or click "Share" to send the quote to a colleague or purchaser.
How to open the user side menu, app switcher, and live support.
Finally, we added a few buttons that open and close additional user menus. The buttons function as follows:

Upper Left Menu Icon:
The sidebar menu allows users to start a new quote, return to their dashboard, review their quote history, order history, parts library, and more.
Upper Right App Icon:
The app switcher provides access to other applications and pages on our website related to purchasing supplies, supplier services, and more.
Right Side Chat Bubble:
Clicking on this bubble will expand our live chat support box, enabling you to quickly get in touch with Xometry customer support and receive real-time assistance.
Future Improvements
Aside from the listed improvements and visual overhaul to the page, this update includes a new backend environment for our product and website development team. With an updated backend, our developers have more versatile tools, enabling them to rapidly create and deploy new features, continuously improve the interface, and ultimately tailor a more customized user experience. Stay tuned; this update is just the beginning of more to come!

Contact us with any questions or feedback!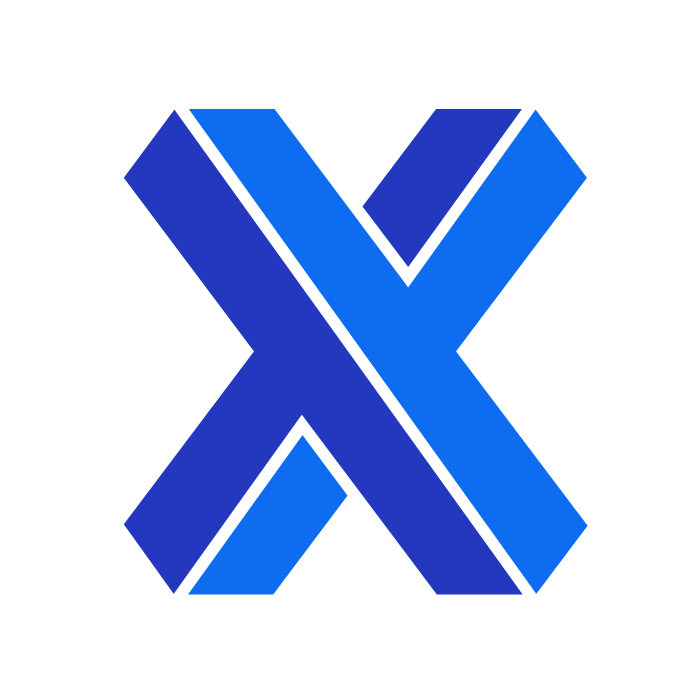 Try the Newly Designed Quoting Experience for Yourself

Joel S.
Hey, I'm Joel and I'll be your guide for everything Xometry! From my time as an Additive Technician in our 3D printing facility to operating a team of case managers as a Business Unit Manager, I have made it my personal mission to help customers like you you get the most out of the Xometry Experience. Now, as a Technical Writer, I am here to help you by providing expert advice to help you excel and achieve success on your projects.