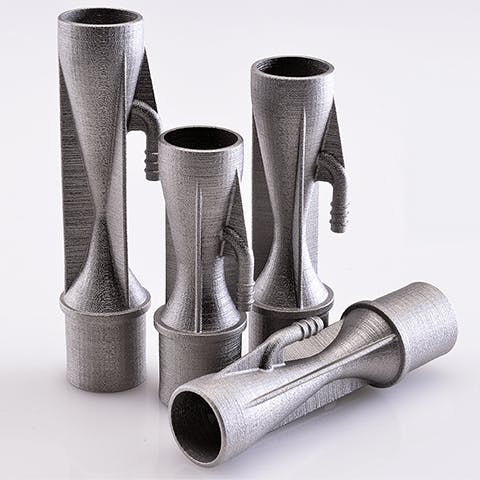 Binder Jetting 3D Printing is Now Available for Instant Quotes
We've added binder jetting, a metal 3D printing process, to the Xometry Instant Quoting Engine℠. Learn about the binder jetting process, its benefits, and design for manufacturing best practices.

By Serena Ngoh
 2 min read
Xometry now offers binder jetting, a high-speed metal 3D printing process, in addition to direct metal laser sintering and six plastic 3D printing technologies. Customers can quote and order this process through the Xometry Instant Quoting Engine℠, with lead times of 10 days. Read on to learn more about this technology and how it can benefit your project development cycle.
How Does Binder Jetting Work?
Binder jetting is a cost-effective way to 3D print metal prototypes and production parts. With binder jetting, an inkjet printhead selectively deposits a binding agent onto a layer of powdered metal. This process is repeated, layer-by-layer, until the object is complete.
The build box then goes through curing in order to fully solidify the binding agent. Parts are removed and all unbound powder is removed from the parts.
The bound parts, or "green parts" are then sintered in a furnace. To increase density for some metals, bronze is added to infiltrate and fill the pores in the powdered metal body to create a metal matrix composite with a final density of around 95%. Binder jet prints in a variety of metals and metal composites.
Benefits of Binder Jetting
Optimizing Designs for Manufacturability
See our binder jetting design guide, which contains tips on tolerancing, post-processing, and how to design various features such as holes, font sizes, pockets and cavities, knife edges, fillets, ribs, self-supporting structures, and more.
Prototyping in binder jetting for the first time can sometimes produce parts with unexpected results because of known shrinkage or potential warping during the furnace stage. This guide offers important instructions to help mitigate these outcomes.
Get Started With Your Binder Jetting Instant Quote
Upload your CAD file now to get a binder jetting quote.
This blog post was originally published in August 2020 and was updated in June 2021 to reflect our latest binder jet offering.

Serena Ngoh
I write about Xometry and all things manufacturing. You might also see me hosting webinars, designing infographics, producing videos, and working directly with customers to tell their manufacturing success stories.