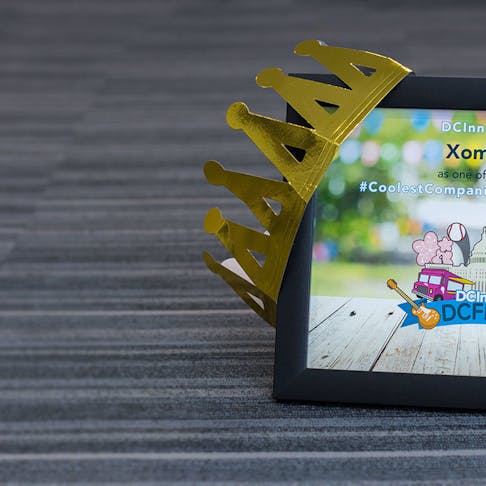 Xometry Crowned One of the Coolest Companies in DC!
But the real winners here are our amazing customers... we love making custom parts for all sorts of people who are even cooler than us!

By Team Xometry
October 8, 2020
 2 min read
Have you ever wondered which companies have that special X-factor? If you have, you will be pleased to hear DC Inno recently hosted their annual competition, DC Fest, to see which DC area companies are in fact the coolest.
And... Xometry was honored to win Readers' Choice for "Coolest Companies in DC"! 
We were flattered to be among the 100 nominated "coolest" companies in the area, including Wedding Wire, Taoti Creative, The Motley Fool, and more. Readers voted for the companies based on attributes like office culture, perks, and how retweetable you are. Winners were unveiled at the event in DC last Thursday night.
At Xometry, we pride ourselves on our close-knit culture, manufacturing enthusiasm, and being able to maintain both through rapid expansion. But most of all, we are constantly inspired by all the things we help our customers make. 
The coolest part of our job is that we get to be a part of so many projects, products, and businesses we could only dream of!
In fact, one of the coolest and funniest things that has happened is when one of our customers recently equated Xometry to having "the brain of Nikola Tesla, the charisma of Emma Watson, the charm of Ryan Gosling and would smell like Scarlett Johansson." (Thank you Josh Haldeman, E.D. Bullard Company!)
Want to help transform the world? Join our team and help build parts for engineers and entrepreneurs way cooler than us!
Though we are flattered by this new prestigious title, we are proudest of helping our customers make projects happen through providing a solution for making custom parts. Of course, we love that we're helping make the DC area one of the hottest hubs for startups in the US. One hundred impressive companies entered the competition and displayed how robust DC's startup scene has become. We are looking forward to improving our coolness and connecting with other startups again next year. Until then, thanks for the authentic gold crowns DC Inno, congrats to our fellow Coolest Companies, and thank you to our amazing customers for rocking our world! 

Team Xometry
This article was written by various Xometry contributors. Xometry is a leading resource on manufacturing with CNC machining, sheet metal fabrication, 3D printing, injection molding, urethane casting, and more.