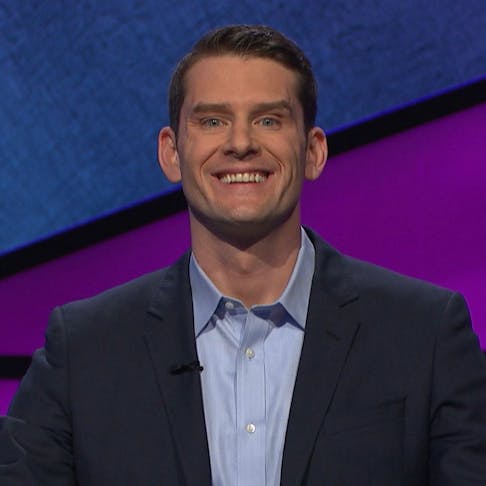 Xometry Marketer Aaron Lichtig To Compete on Jeopardy! on Jan. 24
Xometry Vice President of Growth Marketing, Aaron Lichtig, will compete on Jeopardy! on January 24. Read about his journey to the stage, his experience playing the game, and his thoughts on meeting host Alex Trebek.

By Serena Ngoh
October 9, 2020
 5 min read
BETHESDA, MD., January 2019 -- The call came in late October 2018 during an after-hours brainstorming session at Xometry. Seeing that the number was from Culver City, California, Vice President of Growth Marketing Aaron Lichtig told fellow colleagues, "I gotta take this call." From inside the meeting room, Bill Cronin, Chief Revenue Officer, and Danny Chang, Vice President of Relationship Marketing, heard him say, "I've been waiting for this call my whole life."
Aaron broke it to colleagues that, no, he was not being recruited elsewhere, and yes, he would appear on the long-running quiz show Jeopardy! To prepare, Aaron began strategically quizzing himself with the help of questions from the Jeopardy! archives and sought out advice from past Jeopardy! winners. He also watched shows and studied specific categories he perceived as his weak spots: literature and movies. "You've heard it in the office," Aaron tells me, when we sit down to discuss the experience. "Everyone makes fun of me because I don't watch a lot of movies."
On Nov. 27, Aaron flew out to Culver City, California to prepare for his taping on Nov. 28. Once at Sony Pictures Studios, Aaron and about a dozen other contestants, including the defending champion and alternates, got ready to compete. When asked about the high number of contestants Aaron explained that they film five episodes in one day.
After arriving at Stage 10, Aaron and his fellow contestants were coached on show rules, went over gameplay, and were styled by production staff. "They put a lot of makeup on us because many people have HDTVs now and you can see everything." The contestants were then led out to the stage where they took headshots and filmed their "Hometown Howdies." 
Then they got to work practicing playing the game, and most importantly, learning how to push the buzzer at the right moment. "Using the buzzer is difficult, even for the best players, because it's a lock-out system." He tells me that once the host finishes reading a question, a light goes on. A contestant can buzz in once the light is on, but if they buzz in before the light goes on, they are locked out for a short period of time. If this happens, the other contestants have a chance to buzz in.
"Even if you know the answer, the odds are that at least one of your competitors knows, too. Getting the timing right on the buzzer is a big part of the game."
During pre-filming time, Aaron also had the opportunity to talk to fellow contestants. "They were a fun and interesting group of people, and I still keep in touch with a number of them." He discussed their qualifications with me as well: "You're playing against people who are really good. Everyone has made it through the audition."
The audition Aaron mentions is one part of Jeopardy!'s multi-step tryout process. Since 2006, the entry point for Jeopardy! has been a 50-question online test announced just once or twice a year. After the test, contestants may be invited to audition in person for the show, where they take a second test, participate in a personality interview, and play a practice game.
Aaron has been taking the test on and off since they began offering it. In 2010, he was called to audition in person in Chicago but did not make it onto the show. "I was living in Cincinnati, Ohio, at the time, so I drove five hours to get there on a Wednesday night [after work] and auditioned Thursday morning."
Aaron kept taking the test between 2012 and 2018. Then, in February 2018, he got an email inviting him to an audition at the W Hotel in Washington, DC, on a Saturday—only a 25-minute metro ride for the Silver Spring, Maryland, resident. From there, he auditioned and was told, along with all of the other potential contestants, that he could get a call within 18 months inviting him to the show. "They told us to watch for a call from Culver City, California."
Aaron tells me his experience meeting the famed host Alex Trebek was short but sweet. "The first time you really get to talk to him is when you answer your first question." Aaron also witnessed Alex Trebek pivoting on a dime and fielding questions from the audience. "He's so quick on his feet. He has that really calm, grandfatherly way of talking. Very soothing. And he doesn't look a day older than he did 20 years ago. I don't know what he does, but he looks good."
Courtesy ofJeopardy! Productions, Inc.
He adds, "The whole experience of meeting him was very surreal. You've heard him asking questions on television since you were a little kid and then all of a sudden, you're up there and he's asking them to you."
Before the show airs, Aaron isn't allowed to divulge any of the results. When asked whether or not his colleagues at Xometry would be seeing him in multiple episodes, he said, "You'll have to watch and see."
To watch Aaron's Jeopardy! debut on Thursday, January 24th, click here to find out at what time Jeopardy! airs in your local market.

Serena Ngoh
I write about Xometry and all things manufacturing. You might also see me hosting webinars, designing infographics, producing videos, and working directly with customers to tell their manufacturing success stories.