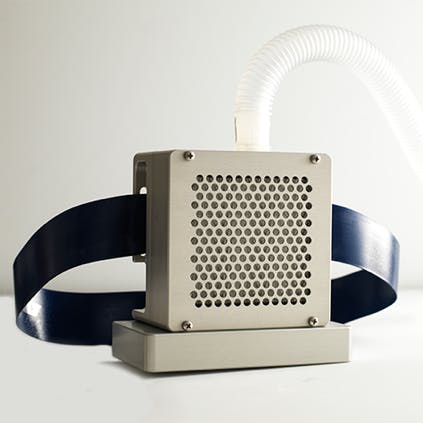 Case Study: American PAPR Creates NIOSH-approved Respiratory Device
American PAPR is a Brooklyn-based startup that brought a 99.97% effective, NIOSH-approved powered air purifying respirator system to market during the COVID-19 pandemic. They worked with Xometry to save time and money on American-made parts, consolidate suppliers, and achieve a stringent quality of parts.

By Serena Ngoh
October 11, 2021
 5 min read
At a Glance
Industries
Manufacturing Services Utilized
Project Brief
Solution

Industries

Medical and Consumer Electronics

Manufacturing Services Utilized

Project Brief

New York City engineers sought to create a highly effective PPE device to combat skyrocketing COVID-19 death rates. They designed a powered air purifying respirator (PAPR) that can achieve a 99.97% particulate filtration rate. The team needed to create consistent, high-quality parts as quickly and cheaply on a lean startup business model.

Solution

Xometry CNC milled various housing panels for the main filtration component of the American PAPR unit. Xometry tapped into its network of American suppliers to provide competitive pricing and lead times, manufacturing guidance, and a level of quality assurance required for NIOSH approval.
A High-Impact Respiratory Device Emerges from the US Epicenter of COVID-19
In February 2020, biomedical researchers living in New York City, the epicenter of the COVID-19 virus, looked around and saw tragedy. New Yorkers were dying at extremely high rates due to coronavirus transmission. Coveted N95 masks, which filter out at least 95% of all particulates, saw an untenable surge in demand and were often sold out when healthcare providers needed more. On top of that, all masks including N95 masks may have gaps between the nose and mouth that expose users to infectious particulates.
Dan Cohen, CEO of 3DBio Therapeutics, and the engineering team at 3DBio Therapeutics, jumped into action to design a reusable, sanitizable respiratory device that could dependably filter out infectious particles. The team formed American PAPR, LLC, and rolled out two products: the FELIX100 and FELIX200, two battery-powered machines that actively filter out 99.97% of particulates while the user is protected under a hood. In the FELIX200, a "half hood" allows easier use of a stethoscope. 
In April 2020, the newly formed American PAPR LLC team filed the FELIX100 PAPR for National Institute for Occupational Health and Safety (NIOSH) approval. This was closely followed by the December 2020 submission of the FELIX200 PAPR, which received full NIOSH certification. "We wanted to get a respiratory system to market as fast as humanly possible." said Daniel Weisman, General Manager and SVP of Sales at American PAPR.
Xometry components for American PAPR
The Search for the Right CNC Machining Supplier
The American PAPR products use a HEPA filter, tightly sealed aluminum housing panels, breathing tubes, and various attachment pieces that keep the respiratory system secure against a healthcare worker's body. As with most new inventions, the aluminum housing panels did not exist in commercial markets and had to be custom made through an on-demand CNC machining shop. It was critical to American PAPR's that, in line with its mission to reshore the US PPE supply chain, it sourced all of its components in the US, using US labor and materials. It is estimated that 70-90% of mask production is currently offshore.
Upon Cohen's recommendation, American PAPR turned to Xometry, who had previously used Xometry for 3D printed prototypes. After securely uploading parts to the Xometry Instant Quoting Engine℠ and speaking with a Xometry account leader, Weisman soon decided to send their next order of parts to Xometry. "It was clear upon the first call that Xometry was the dream partner we needed. They spoke with the urgency and personalization that got us to the point where we were comfortable with what they were providing. We needed to know that Xometry had the technical know-how and quality systems in place."
With Xometry as a partner, American PAPR kept the manufacture of one of its most critical components in the US at a low cost and to a high quality standard. This differentiates American PAPR units with a NIOSH certification and competitive price point compared to the largest PPE manufacturers who continue to have a bill of materials and assembly overseas. 
The Xometry-made parts fit together without any gaps so particles can't get past the filter or cause device failure. Jason Mazza, lead mechanical design engineer, explained, "In the past we have struggled with getting parts that fit properly. We don't allow for much variance, so it's extremely important that Xometry could meet this rigorous standard of consistency." Weisman adds that the parts unexpectedly met a new standard of quality. "The parts we sourced from Xometry are beautiful. They're sandblasted aluminum, and we have increased our visual quality of parts to match Xometry's quality. The attention to detail is second to none."
Xometry also solved the sticky logistics of using multiple specialized vendors."It was always up to us to get the parts to another finishing vendor and then back to the machine shop. All of those were on the backend of every discussion and that added complexity to the equation," said Weisman.
Since the December 2020 NIOSH approval of its second PAPR design, American PAPR has used Xometry to deliver hundreds of just-in-time shipments, with close communication on delivery schedules. This has enabled American PAPR to reduce their capital investment risk from customers' NET 30 or NET 50 terms.
Components of FELIX 200 PAPR including CNC machined housing parts made by Xometry
"The urgency with which Xometry works is part of their DNA. Sometimes we find ourselves begging other companies to sign a PO, but with Xometry, our account manager gets us what we need and in two hours we have an answer to present to our board. Xometry's attitude is 'let's go to work and make it happen.'"
Daniel Weisman,
General Manager and SVP of Sales
Xometry's CNC Machining Solution for American PAPR
Over the past few months, as American PAPR has scaled up its operation, it has continued to work with Xometry, appreciating the flexibility, speed, and trust that the on-demand manufacturing platform has brought to the table. "Xometry allowed us to communicate with various manufacturing specialists while ensuring we keep our supply chain onshore, which is core to our ethos and mission. The flexibility was incredibly important to us. We also had weekly meetings with our account manager to steward the process. When there was a Xometry team transition, we worried that the amount of customer service would drop. He reassured us that that would not be the case, and it absolutely wasn't," said Weisman. 
The benefits of working with Xometry are clear to Weisman, who will continue to work with his team to iterate on the design of future PAPR units. "Building a relationship with Xometry is not static to one machine shop. We will continue to explore how Xometry's manufacturing network can expand across our bill of materials. Through Xometry, we can efficiently scale our output."
American PAPR plans to grow its product offerings, pushing the envelope on innovative design, features, and price to ensure that those who require the highest level of protection have competitively priced options manufactured in the US. "When healthcare workers put on our PAPR system, there is a clear health risk where they are living and working. Our system has the highest level of efficacy available." 
"Building a relationship with Xometry is not static to one machine shop. We can continue to explore how Xometry's manufacturing network can expand across our bill of materials. Through Xometry, we can efficiently scale our output."
Daniel Weisman,
General Manager and SVP of Sales

Serena Ngoh
I write about Xometry and all things manufacturing. You might also see me hosting webinars, designing infographics, producing videos, and working directly with customers to tell their manufacturing success stories.