Resources
Case Studies
Case Study: How Autodesk Molded Complex Electronic Smart Badges in Just 3 Weeks with Xometry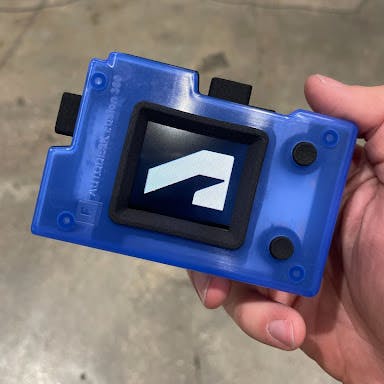 Case Study: How Autodesk Molded Complex Electronic Smart Badges in Just 3 Weeks with Xometry
Learn why Autodesk trusted Xometry to produce an intricate electronic smart badge that wowed attendees of the Autodesk University conference, gave them a memorable keepsake, and delivered a "hands-on" manufacturing learning experience.
By Nathan Miller
June 29, 2023
 10 min read
At a Glance
Industries
Manufacturing Services Utilized
Project Brief
Solution

Industries

Manufacturing Services Utilized

Project Brief

The factory experience at Autodesk University is a chance for attendees to learn how modern products are made. To educate conference attendees, the Autodesk team needed a reliable manufacturer that could work alongside them to produce a complex, high-quality electronic smart badge within three weeks. 

Solution

Xometry produced all the mechanical components for the Autodesk team's smart badge. And, thanks to the Xometry App for Fusion 360 and insights from Xometry's molding design experts, the Autodesk University team received the crucial design feedback, material sampling, and low-volume production they needed to deliver the final product in a matter of weeks versus months.
The Factory Floor Experience: Product Development Show and Tell
Autodesk is an all-in-one software company that helps empower creators from every industry to build projects using collaborative and innovative digital tools. From greener buildings to smarter products to mesmerizing blockbusters, Autodesk software helps its customers to design and make a better world for all.
To help foster a culture of learning, collaboration, and creativity, Autodesk hosts an annual conference called Autodesk University, which drew over 10,000 attendees to New Orleans in 2022. Autodesk University (AU) is your opportunity to learn and connect with industry experts who are progressing in architecture, engineering, construction, design, manufacturing, media, and entertainment.
Every year, the conference includes an immersive  "factory floor experience." This section of the show floor highlights the industrial processes powering the manufacturing industry and how Autodesk software like Fusion 360 can help creators build better products. 
"The whole vision is to get some machines actually onto the factory floor so we can show people the full workflow," Peter Simpson, a customer advocacy manager at Autodesk, said of the factory floor experience, which has been running since 2016. Recognizing the need to keep it customer-focused, he said, "Quite often, people only work on a finite section of that workflow. We want people to go away with a better understanding of how products are made."
The last stop on the factory floor was the Xometry booth, manned by Xometry's director of application engineering, Greg Paulsen. He revealed to attendees how our custom manufacturing solutions help engineers, designers, and procurement professionals build their big ideas. While Xometry offers a full suite of manufacturing services, from CNC machining to laser cutting and urethane casting, Paulsen was able to speak directly to the benefits of our 3D printing and rapid injection molding services. 
In fact, to see physical evidence of our manufacturing excellence, attendees could simply look down at the smart badge given to them on the factory floor.
The Autodesk team wanted to create a product that would be useful, memorable, and packed with nuances that would demonstrate key product design principles to conference attendees.
We wanted our customers to walk away with something they would remember. We wanted it to be actually interesting — something that really shows a lot of different aspects of the industrialized world we live in
Peter Simpson,
Customer Advocacy Manager at Autodesk
The smart badge was a sustainable way for attendees to keep and share their contact information. The electronic badge came packed with many features, including a contactless handshake feature, which gave participants the ability to share their professional information with other attendees using two-way ports on the top or side of the plastic badge.
"The idea was to create a real consumer product, created with a production process as close to the real production process that our customers go through, explained Jonathan Odom, community manager and Fusion 360 specialist at Autodesk, who led the design team that brought the smart badge to life.
The factory floor experience gave attendees a chance to put the badges together for themselves; by assembling and studying the various components of the smart badge, attendees  were able to learn more about the manufacturing processes, materials, and design considerations used to fabricate the badge.
The smart badge enclosure was created using Xometry's injection molding service. The molded part consisted of two parts in one, a front and back half of a similar size, connected by a shared runner. They were made with a smokey gray polycarbonate material, with an SPI-B2 finish for the cavity and an SPI-C3 finish for the core part. 
Xometry produced more than 400 sets for the conference. Unlike many manufacturers, we are  equipped to excel at any level of molding production, from small batches like those used for Autodesk University to high production orders consisting of up to millions of parts. Xometry offers an array of injection molding solutions, from prototype molding to production molding, to meet your needs no matter the product or your development stage. 
With Xometry's vast manufacturing network, you can receive injection molded parts very quickly. Our fastest option, quick turn injection molding service, can achieve lead times as low as five business days.
In addition to its main casing, the smart badge also had five button features. These tiny parts would have been prohibitively expensive to produce with injection molding, so Autodesk turned to Xometry's Multi-Jet Fusion(MJF) 3D printing service instead. The Autodesk team chose MJF for its ability to create durable yet flexible rubber parts. 
As an added bonus, the unique design capabilities of MJF allowed them to nest hundreds of parts together in the same file, helping them produce the parts within their desired timeframe. Xometry produced 2,000 black TPU  parts, which were made in less than a week.
Engineers and designers that partner with Xometry have access to multiple manufacturing technologies, which is invaluable as you iterate on your designs. When you design a product, particularly one with 3D-printed components, you will quickly find that components printed from different processes come with their own unique advantages: some produce highly accurate and rigid parts; others are flexible; while still others can be made from thousands of vibrant color choices. 
By ordering different kinds of 3D-printed parts from the Xometry Instant Quoting Engine®, you can quickly do multiple rounds of product testing to determine the manufacturing process that is the ideal fit for your next big idea.  
This wasn't the first time that Xometry and Autodesk have worked together to help creators of all kinds build their big ideas. Since 2021, Xometry and Autodesk have worked together to create complementary software to help engineers and designers working in Fusion 360.  The Xometry CAD Add-in for Fusion 360 enables users to instantly get price and lead time estimates and design-for-manufacturability feedback from Xometry, allowing design engineers to see the direct impact of design changes on their part's cost and manufacturability without leaving Autodesk® Fusion 360™. This instant feedback allows creators to make better parts and increase speed to market.
Still, while Xometry and Autodesk have partnered together in the past, this was the first time Xometry was a headline manufacturer for the factory floor experience.
"For example, we really wanted this smoky look for our injection molded parts," he said. "During our product development sprints, we went through two different rounds of finishes. One of the batches was a little too opaque; you couldn't really see the circuit board inside the badge. We asked, 'Can you cut that down just a little bit?' And then a few days later, I had more samples that were just a little bit less opaque."
"Xometry is better at everything. Your costs are significantly lower than other companies I've worked with before. I don't know how you do that. It's a noticeably big difference."
Jonathan Odom,
Community Manager and Fusion 360 Specialist at Autodesk
Design, Iterate, Repeat — How Xometry's Molding Experts Guide You Through the Product Development Process
The Injection Molding Simulation and the Product Design Extension within Fusion 360 was leveraged to produce the initial CAD file for the prototype of the AU Smart Badge. Once they began collaborating with Xometry, both companies iterated on the product every two months in product development sprints. These sprints were especially helpful given the complex nature of injection molding design.
"Injection molding is shrouded in mystery," Simpson explained. "There's a dark art to injection molding design. We had our first chat with Xometry in terms of the actual production part that we were making, and they said, 'If you make this slight tweak and this slight tweak, it would be better.'"
Originally, the Autodesk team designed the badges with two flat faces that interface together. Xometry's molding experts, however, advised that, due to the shrinkage of the plastic that can occur during the injection molding process, the part would look more aesthetically pleasing if they altered their design by adding inside lip and outer lip design features.
"That's the thing with injection molding design: even though it was the tiniest little tweak, it actually made our parts so much better. We wouldn't have been able to get to that without Xometry," said Simpson.
If you want to learn more about the many intricate design decisions that brought this smart badge to life, watch our webinar: From Design to Manufacturing in Weeks: Building the Autodesk University Smart Badge. Here, Paulsen and Simpson walk through the development and manufacturing of the smart badge.
The Modern Engineers Essential Digital Toolkit
Modern manufacturing has given engineers incredible tools, from easy-to-use CAD software to flexible manufacturing processes that can build products once thought inconceivable. But with these new tools come new challenges. Chief among them is the need to stay competitive in an increasingly crowded and turbulent global economy.
To stay ahead, engineers need to use the most efficient tools possible to move through the product development cycle and stay ahead of their competition. We recommend that every engineer have at least a few tools in their digital toolkit.
Tool #1: The Right CAD Software
First, an engineer should consider their choice of CAD software. Ideally, this software will be the right balance of tools that make product development more efficient and allow collaboration between stakeholders more seamlessly — all at a competitive price. 
For example, Autodesk Fusion 360 is a cloud-based 3D modeling, CAD, CAM, CAE, and PCB software platform for professional product design and manufacturing.
Odom explained why he is so passionate about their team's software and how it is especially useful for engineers and designers who need to fabricate injection molded parts: "We want to help our customers get as close to the finished product as possible before they hand it off to the guy that's going to make the mold. It's about making things more efficient and making the experience a lot better for everybody in the pipeline. Just having one place to look at all of your parts, a place where they're all numbered and ordered, makes it really easy to manage complex projects."
Thanks to Fusion 360's built-in collaboration tools, the Autodesk design team and Xometry's injection molding expert were able to stay connected as they went through product development sprints. And with Xometry's App for Autodesk Fusion 360, the Autodesk team was able to purchase custom-manufactured parts from within their CAD workspace easily. If you have never tried Fusion 360 before, you can download a free trial to see how this integrated software platform can help your team seamlessly build projects together. 
But CAD software can only take you so far; at a certain point, you need a skilled manufacturer to help you bring your big idea to life.
Tool #2: An Integrated Manufacturing Solution
Once you have a CAD file of your product, you will need to find a way to build it. While it is possible for larger companies to build internal manufacturing capacity, this process can be extremely expensive and time-consuming. It also can limit the design of the final product as it is often extremely cost-inefficient to have internal resources for each of the many different kinds of manufacturing processes one could use to build the optimal product.
Xometry's digital manufacturing marketplace offers an integrated manufacturing solution so you never have to be limited when you want to build your big idea. With Xometry, you can instantly access 19+ manufacturing processes and the production capacity of more than 10,000 manufacturers across 46 US states, Europe, and Asia straight from your desktop. Our AI-powered platform makes it easy to build your next big idea by giving you instant pricing, lead times, and DFM feedback for your custom parts.
Tool #3: Free Educational Resources
Last but certainly not least, a sharpened mind is any professional's greatest tool, especially when designing parts for complicated manufacturing processes like injection molding. We encourage you to explore our resource library and watch our webinar with Autodesk detailing the fascinating production of this smart badge. 
Come see us at this year's Autodesk University; you can register for the conference here. We will be collaborating with Autodesk again to produce an even more intricately designed part. Autodesk University 2023 will take place at The Venetian Resort in Las Vegas from Monday, November 13 to Wednesday, November 15, 2023. We look forward to seeing you then!
Nathan Miller
Hi, I'm Nathan, a Marketing Content Writer at Xometry; I help tell the stories of our customers and how Xometry helps them build their big ideas.