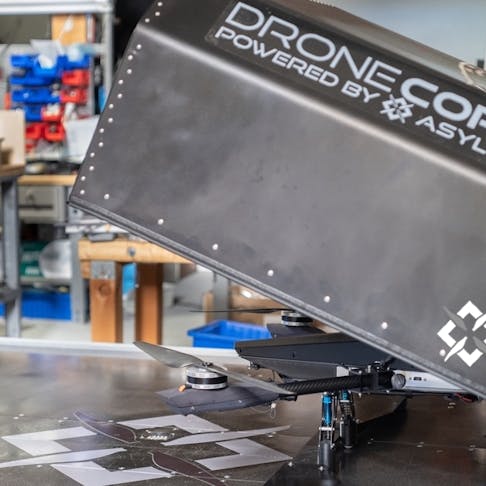 Case Study: Asylon's Autonomous Drones Secure the Skies with Help from Xometry
Asylon, an aerial infrastructure provider, uses Xometry sheet metal fabrication services to create tactical battery transfer and payload management stations for their autonomous drone systems.

By Serena Ngoh
October 9, 2020
 5 min read
Asylon is an aerial infrastructure company that provides real-time video and analytics for companies in industries ranging from defense to manufacturing and logistics. The company uses Xometry's sheet metal fabrication services to create a crucial component of their DroneCore product: the outer shell of a tactical drone base station. This shell houses and protects a battery-transfer robot as well as the drone. Xometry's unique manufacturing capabilities, fast turnaround times, and competitive prices allow Asylon to develop robust solutions for its clients and scale their business.
A Surveillance Challenge
Human-powered surveillance is expensive and time-consuming. When, for example, a person triggers a camera or motion sensor at a factory danger zone, the company must assess and confirm the threat level—often with a security guard—before deploying the appropriate security or medical personnel. When a company needs visual confirmation of a broken wind turbine on the outer reaches of an energy farm, or needs thermal information on dark mine tunnels, human access requires travel time and specialized equipment.
This is where drones come into the picture: they can venture into difficult-to-access places in a fraction of the time humans can. According to Jackson Siu, Lead Mechanical Design Engineer at Asylon, drones are the "eye in the sky," or the first line of defense against any threats or contingencies. Asylon's drones augment security systems to provide additional visual information for corporate and educational campuses, correctional facilities, logistics centers, entertainment venues, mining center, farms, and more.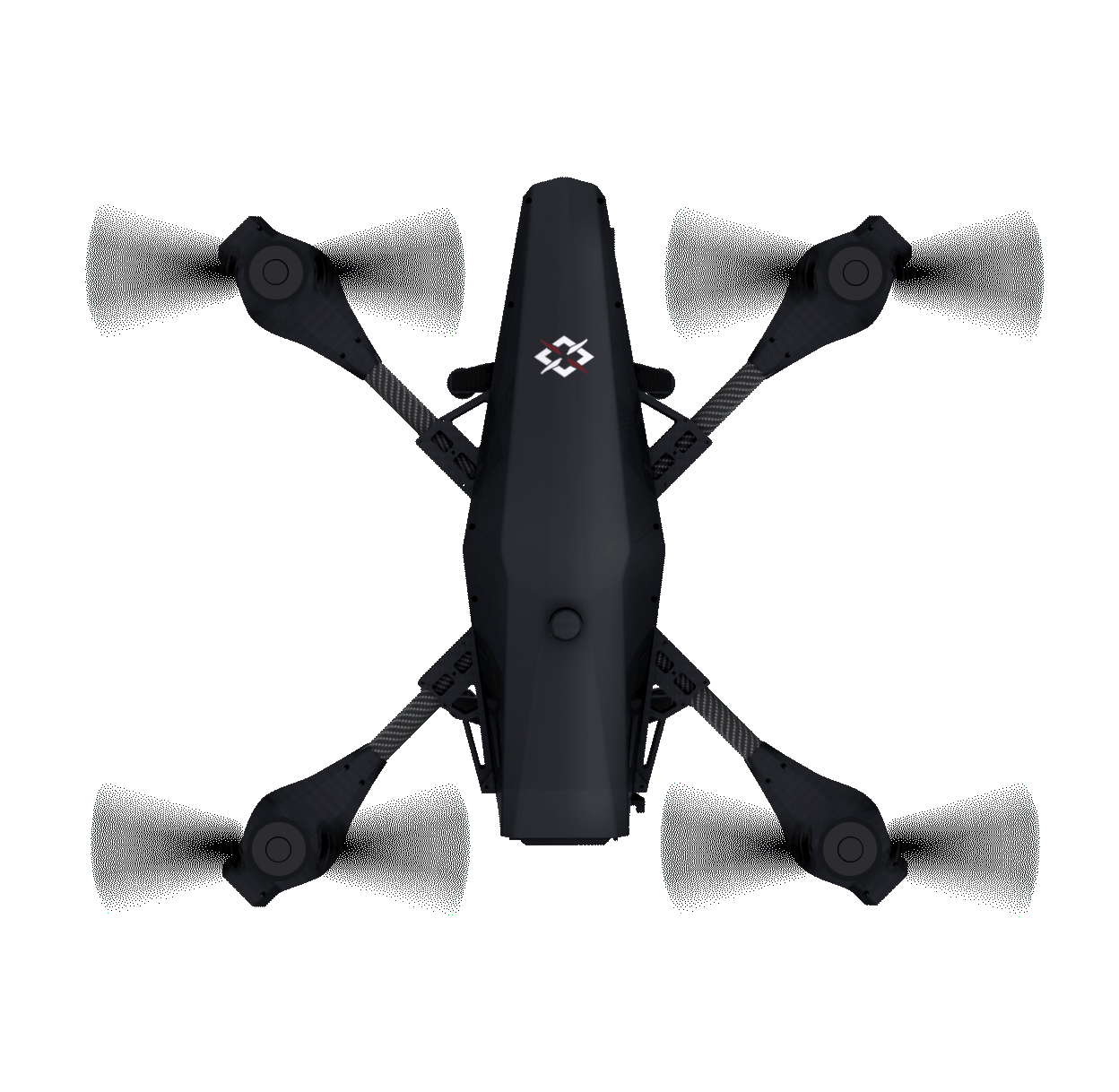 To create this infrastructure, Asylon provides its customers with an integrated product called DroneCore. It consists of an autonomous drone with client-customized drone tracking software and a landing base station for battery and data transfers. How Asylon stands out is encapsulated in the word "autonomous." This may be a mere buzzword to some, but is a boon to companies who normally surveil their premises with manually piloted drones. Autonomous drones can fly to critical locations at a moment's notice using preprogrammed, GPS-based flight paths.
More importantly, Asylon's drones can fly almost continuously with the help of an autonomous drone base station, DroneHome. When a drone's battery is low, the station calls the drone back, lands the drone, and swaps the battery out, courtesy of a robotic arm. While there, the drone transfers data to a customer's information network and then returns to the air in minutes. An autonomous drone station is essential to the consistent flow of surveillance data. With the addition of the DroneHome station, Asylon is able to provide customers up to 50 minutes of real-time video and data for every hour of usage.
To create this innovative drone station technology, Asylon designed a weather-proof, stable sheet metal shell and manufactured it with Xometry. Through Xometry's on-demand manufacturing service, Asylon attains a flexible supply chain, can deliver its customers reliable products, drives their bottom line, and has the freedom to meet design challenges head on.
A Xometry Solution: Flexibility, Reliability, Cost-Savings, and Freedom to Focus
Flexible Supply Chain
Xometry manufactures parts for Asylon as the startup needs them, allowing the growing company to quickly adapt to changes in demand and maintain high confidence in the saleability of existing units. Siu describes Asylon's product development process as "creating aerospace-quality designs with startup agility."
A Reliable, High-Quality Drone Product
Xometry manufactured production-grade sheet metal parts for Asylon's drone station. The station is large in size, measuring approximately 72" wide, 72" long, and 36" tall. (This size accounts for larger sized drones measuring up to 48" from wingtip to wingtip.) Since the sheet metal parts Siu designed are very large, other manufacturers were unable to provide an anodize finish. A vast partner network allowed Xometry to source a suitable machine shop for the job, thereby ensuring DroneHome's durability against precipitation-based corrosion.
Xometry-manufactured sheet metal parts assembled into an all-in-one electronics housing, stable landing strip, and shell for the drone.
Xometry manufactured the DroneHome shell with precision tolerances to protect internal hardware against weather damage. More importantly, the precise and fitted sheet metal shell allows the base station to function without hindrance. Since the robotic is programmed to move in a coordinated path, Xometry's ability to fabricate repeatable parts within tolerance allows DroneHome to extract and replace drone batteries without fail.
The robotic arm that allows a quick drone battery change.
Xometry has always given us exactly what we needed. We've received parts with holes in the right places, with the right finish, and on time. Even having a user-friendly website, with options laid out in a logical way, translates to a faster turnaround time for us.
Jackson Siu,
Asylon
Freedom to Focus
Since Asylon's customers make up a variety of industries, the company is often challenged to produce a broad range of surveillance solutions. By handing off manufacturing challenges to Xometry, the group of talented engineers can capitalize on their design experiences in defense, civil engineering, and aerospace. Likewise, key stakeholders can focus on driving sales instead of procurement. Xometry's ability to produce small runs of quick turn parts due to a high production capacity frees Asylon to pivot quickly and respond to customers' varying needs.
At the end of the day, we're not specialists in manufacturing. Part of having a successful business is recognizing where we need to allocate resources.
Jackson Siu,
Asylon
A Successful DroneCore Product
The DroneCore product, with its customized tracking software and autonomous DroneHome station, allows companies to focus surveillance efforts in critical zones and spend the minimum cost surveying certain low-risk or low-access areas. By automating the process of information capture, Asylon's drones make it easy for companies to assess risks, make business decisions, and understand their physical landscape better.
Xometry is proud to help Asylon bring a reliable product to market and revolutionize aerial infrastructure by manufacturing highly precise, anodized sheet metal parts for Asylon's drone base station. To learn more about manufacturing custom prototypes and production parts, get an instant quote with Xometry today.

Serena Ngoh
I write about Xometry and all things manufacturing. You might also see me hosting webinars, designing infographics, producing videos, and working directly with customers to tell their manufacturing success stories.