Resources
Case Studies
Case Study: Xometry's Supply Chain Solutions Help ClearMask Assemble and Distribute Millions of Masks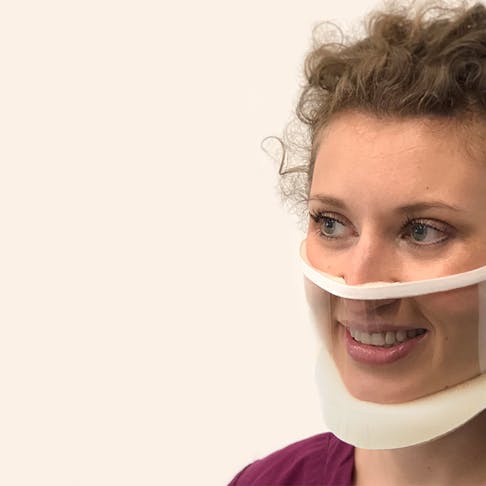 Case Study: Xometry's Supply Chain Solutions Help ClearMask Assemble and Distribute Millions of Masks
The ClearMask™ is a fully transparent, FDA-cleared surgical mask produced by Maryland-based medical company ClearMask LLC that provides strong protection while improving communication and human connection. ClearMask used Xometry to scale up the production of their product by millions of masks, which has increased safety and quality of care during the fight against COVID-19.

By Serena Ngoh
October 9, 2020
 5 min read
Step 1: How Can Hospitals Care for All COVID-19 Patients?
A few years ago, Allysa Dittmar, co-founder and President of Baltimore, Maryland-based medical supply company ClearMask LLC, headed into surgery. She soon found out that the sign language interpreter she had requested had not shown up, and as doctors covered their faces with masks, Dittmar felt powerless. Dittmar is one of 455 million people worldwide who is deaf and heavily relies on facial expressions, visual cues, and lipreading to communicate every day. In typical healthcare settings, doctors use opaque surgical masks that can impede communication and lead to a patient experience filled with discomfort, confusion, and anxiety.
In response to this experience, Dittmar and business partner Aaron Hsu, alongside a team of fellow Johns Hopkins University alumni, created a fully transparent surgical mask. Having received full FDA clearance in April, ClearMask effectively blocks infectious particles or droplets through its plastic barrier. Since the plastic barrier is fully transparent with an anti-fog coating, the mask provides high visual clarity to allow communication in a variety of settings. In addition to its functionality, the ClearMask also features comfortable foam cushioning on the nose bridge and chin along with high breathability.
Dittmar knew that in creating this mask, she would help alleviate stress and complications for not only other deaf and hard of hearing individuals, but also for many others who rely on visual facial cues. This includes children, older people with hearing loss or who experience dementia, those who are neurodiverse or immunocompromised, those who speak a different language, those who work in retail and customer service, and so many more.
Step 2: How Can ClearMask Produce and Distribute Enough Masks To Take On COVID-19?
The exponential rise in COVID-19 cases caused medical supply chains—and those across all industries—to break, with a sudden surge in demand for PPE leading quickly to shortages in PPE. This put pressure on medical supply companies like ClearMask to ramp up production and distribution of their life-saving products. ClearMask, with its newly acquired FDA clearance, was now tasked with producing millions of masks for a variety of end users including state emergency management agencies, hospitals, essential workers, and different communities in need. But the company needed a manufacturing partner who could meet the demand.
In early April, ClearMask found a supply chain and assembly partner through Xometry's 4,000 Manufacturing Partner-strong network. After Dittmar and Hsu spoke with representatives at Xometry about their needs to scale production quickly and cost effectively, Xometry quickly identified a Manufacturing Partner who could assemble high volumes every day and ship consistent volumes of completed assemblies weekly. Amidst global supply chain crises, ClearMask's increased mask production and distribution by over a hundredfold and has the potential to exponentially reduce the spread of the pandemic.
"Xometry helped us to achieve incredibly efficient scaling of our product for mass manufacturing while adhering to strict quality guidelines."
Allysa Dittmar,
Co-founder and President of ClearMask LLC
Step 3: Xometry's Ongoing Supply Chain Solution for ClearMask
In the few months since the pandemic hit, the Xometry has assembled and shipped millions of ClearMask units in the midst of PPE production shortages. The team at ClearMask has been impressed by Xometry's responsiveness and agility. "We greatly appreciate Xometry's ability to adapt quickly to any situation. With so many unknowns and ever-changing circumstances in the global supply chain and production as a result of the pandemic, Xometry has been a fantastic partner in entering this unchartered territory. They were willing and able to respond to the nimbleness that we needed and to address the PPE shortage," said Dittmar.
For ClearMask, Xometry takes the roles of a reliable supply chain partner, logistics expert, and engineering consultant, by managing and coordinating between the ClearMask team and its manufacturing facility to ensure production goals are met as well as providing feedback on mask materials and construction. These services reduce the amount of oversight ClearMask needs on a supplier and frees the company to focus on the business and distribution outputs.
With the COVID-19 global pandemic showing no signs of stopping, ClearMask will continue to work with Xometry to provide different organizations with mask quantities as low as a box of 24 masks to hundreds of thousands of masks in bulk. Xometry and ClearMask's ongoing, powerful partnership is helping to keep millions of healthcare and essential workers safe. Especially during a time marked by fear and uncertainty due to overflowing hospitals, high transmission (R0) rates, and long vaccine development timelines, ClearMask has brought much-needed relief by adding reassuring smiles and familiar faces to stressful situations.
"Xometry has provided us with excellent service. They have brought valuable expertise to quickly identify solutions for ClearMask and meet our manufacturing needs."
Aaron Hsu,
Co-founder and CEO of ClearMask LLC
ClearMask's Solution for Individuals of All Abilities
As more ClearMask products make their way forward from Xometry's production and assembly facilities, the standard for mask design is changing to accommodate not only individuals who are deaf and hard of hearing but individuals of all abilities. Since over 55% of communication is visual—with many relying on critical visual cues like facial expressions and lip-reading—ClearMask and other transparent facial PPE are paving the way for improved communication and a higher quality of care. This pioneering technology can also help doctors and healthcare workers avoid costly errors and adverse outcomes.
ClearMask, LLC is an American-based medical supply company that focuses on improving communication while making connections more human. Its products may help reduce errors and increase satisfaction by facilitating visual communication for all. For more information, please visit www.theclearmask.com.

ClearMask was recently featured on the Today Show. View the video spotlight here.

Serena Ngoh
I write about Xometry and all things manufacturing. You might also see me hosting webinars, designing infographics, producing videos, and working directly with customers to tell their manufacturing success stories.