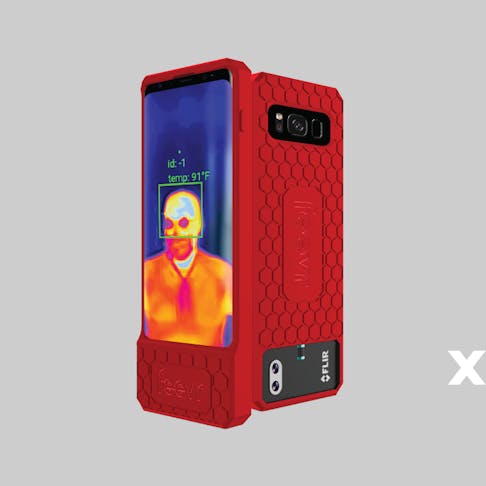 Case Study: Combating COVID-19 with a Contactless, AI-Based Thermal Imaging Device
Xometry manufactured various housings and mounts for X.Labs, a startup developing a thermal imaging device to identify individuals in a crowd with elevated temperatures, in just one month. The device comes at a pivotal moment in the COVID19 outbreak.

By Serena Ngoh
October 9, 2020
 4 min read
At a Glance
Project Brief
Manufacturing Services Utilized
Solution

Project Brief

X.Labs, a startup R&D firm specializing in advanced sensing and warning technology, needed to fabricate housings and mounts for their contactless heat detection product, Feevr. They looked for a manufacturer that could deliver a bespoke, sterilizable, and durable manufacturing solution.

Manufacturing Services Utilized

Xometry produced prototype and end-use parts with: HP Multi Jet Fusion using Glass Filled Nylon, and TPU 95A, Selective Laser Sintering using Nylon 12, Injection molding using ABS, and Compression-molded rubber.

Solution

Xometry rapidly manufactured parts for X.Labs—moving through the full hardware development cycle from prototyping to production—within one month. Xometry met X.Lab's strict manufacturing criteria for durable and medical-grade parts to deliver unique solutions for government entities worldwide.
The Challenge: The Race Against a Global Pandemic
When COVID-19 began to spread in December 2019, CEO and founder of X.Labs Barry Oberholzer realized that a former defense project that harnessed AI-based heat detection technology would pivot easily into a tool used to fight the spread of the coronavirus. The heat detection technology could be used to identify people in a crowd with elevated body temperatures of 37°C, signaling a fever, which is one symptom of the highly contagious coronavirus. By rapidly identifying those with symptoms, discreetly notifying medical authorities, and testing them for the virus, public health officials can curb the rates of COVID-19 infection.
An early prototype of the Feevr technology phone case, printed in-house by X.Labs on a desktop FDM printer.
Oberholzer worked with a team of engineers and deployment specialists including Jasun Tate, the current CSO and chief information security officer of X.Labs, to launch Feevr, a contactless heat detection device that can be installed in public spaces to scan forehead temperatures of passing foot traffic. With governments reporting exponential growth in the number of COVID-19 cases each passing day, the team worked to rapidly design and prototype their threat detection device. "We are in the business of saving lives and preventing catastrophes," says Tate. "That's what we do and we have to do it fast."
X.Labs turned to Xometry not only for its speed, but because Xometry could deliver on every feature and material requirement with its vast range of manufacturing and customization options.
Rapid Product Development with Help from Xometry
Because of Xometry's vast range of capabilities and fast lead times, X.Labs turned to Xometry to manufacture various housings and mounts for Feevr. Their manufacturing criteria were based on 3 major factors: the device would have to be sterilizable, durable against a variety of environmental conditions, and custom-designed for governmental healthcare and public safety organizations.
Xometry employed 3D printing technologies—specifically, Selective Laser Sintering (SLS) with Nylon 12, and HP Multi Jet Fusion with TPU 95A—as well as injection molding and compression molding to meet the design requirements of various end-use environments. For example, the air is often dry in Middle Eastern countries and more humid in Southeast Asian countries, which means Feevr devices in more humid conditions must be molded to eliminate microbial adhesion potential. Tate says the designs of the Feevr device, which are currently available for pre-order, are bespoke. "Each device is ordered en masse and made to the client's specifications. The only company that can offer this level of uniqueness is Xometry. That's why [the company] is a perfect match for us," said Tate.
It's beautiful to see how fast Xometry can get things done. We're two companies with passions for saving the world during an emergency situation.
Jasun Tate,
Chief Security Officer at X.Labs
In close collaboration with the Xometry application engineering team, the X.Labs team finalized their designs and had their parts in hand within days.
Tate was astounded by the speed of product development, spurred by the close unity of prototype specialists at X.Labs with manufacturing experts at Xometry. "It's beautiful to see how fast Xometry can get things done. Technology has allowed us to get solutions on the ground to impacted areas with minimal problems. We're two companies with passions for saving the world during an emergency situation," said Tate.
Xometry: A Quickturn Supplier During Critical Situations
Xometry and X.Labs worked together to produce a robust medical device to combat COVID-19 in just one month's time. The housing and mounts, which are integral to providing flexibility and durability for the device, were manufactured with medical-grade materials with meticulous manufacturing design feedback from Xometry staff.
The end use parts manufactured by Xometry for X.Labs. Xometry custom 3D printed the Feevr battery case (top) with selective laser sintering (SLS) Nylon 12, paired with secondary process screen printing. Xometry compression-molded in rubber a case for the core Feevr technology (bottom).
Since Xometry has a network of over 4,000 global manufacturing partners, many of which are currently classified as essential businesses during government-mandated lockdowns, X.Labs was able to source their prototype and end-use components during a pivotal moment in time—before any vaccine was developed and before COVID19's peak infection rate in many countries. The Feevr device can be used to curb the initial outbreak of COVID19, as well as in months to come as individuals begin to venture back into public spaces. Feevr will be a tool to combat recurring waves of COVID-19 infection as well as any future health crises. The company will continue to work with Xometry on future iterations of Feevr and well as on other life-saving technologies.
Tate describes Xometry as an adaptive, innovative, and timely manufacturing service that can change the world. "The ability of Xometry to take what was developed in the mind and manifest a solution in the real world was exemplary. Simply unprecedented."
We made each device to the client's specifications. The only company that can offer this level of uniqueness is Xometry. That's why [the company] is a perfect match for us.
Jasun Tate,
Chief Security Officer at X.Labs

Serena Ngoh
I write about Xometry and all things manufacturing. You might also see me hosting webinars, designing infographics, producing videos, and working directly with customers to tell their manufacturing success stories.