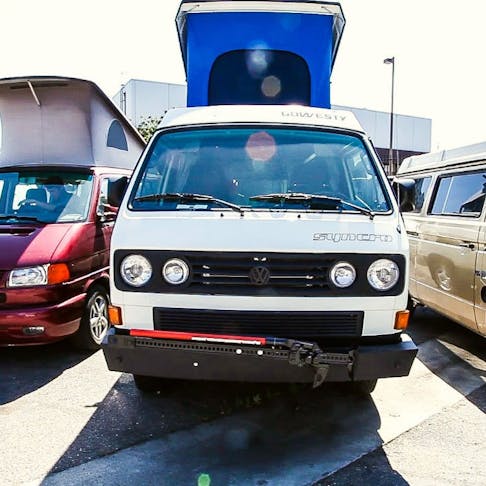 Case Study: GoWesty Engineers VW Parts that Last a Lifetime
GoWesty stands out as a key player in the Volkswagen aftermarket by designing innovative solutions to keep the beloved vintage vans on the road. When GoWesty works with Xometry, they can create end-use parts that not only meet their quality standards but are competitively priced as well.

By Serena Ngoh
October 9, 2020
 4 min read
GoWesty is an innovative company in Los Osos, California that specializes in aftermarket parts for vintage Volkswagen camper vans. Working mainly with Vanagons and Eurovans, GoWesty prides itself on providing high-tech solutions to keep the vehicles on the road, "In better shape than when they came off the factory line." Owned by Segismundo "Lucas" Valdes since 2001, the company has gone through several iterations, starting with repairing and refurbishing VW vehicles and then transitioning fully into engineering — designing aftermarket parts for a widespread community dedicated to vintage vehicle restoration. Fueled by the "van life" lifestyle and social media phenomenon, GoWesty has become a widely-known symbol of personal freedom and environmental responsibility.
GoWesty takes pride in supplying its market with affordable, quality parts that address the myriad intricacies of refurbishing a vintage vehicle. They remain eco-friendly and American-made when possible, "so we have full control of the quality from start to finish," explains Valdes. The company maintains a high volume of both conceptualized and finished part designs, aiming to provide technical solutions and engineer unique part designs that improve on the original, off-market designs. Focusing on mechanical engineering instead of just buying and selling parts is the niche that sets the company far apart from competitors.
By providing innovative engineering solutions, GoWesty is keeping the adventure alive for thousands of explorers around the world. Part of the solution involves sourcing reliable manufacturers to produce their in-house designs. Katya Lemak, purchasing and inventory manager at GoWesty, chooses Xometry to produce parts that will withstand camping conditions and keep the vans, already 20-50 years old, running smoothly.
Xometry manufactures various end-use parts for GoWesty using CNC Machining and Sheet Metal Fabrication technologies. These parts include roller bearings used on the sliding doors of the vans, window cranks, parts that go into the electronic fuel injection (EFI) system, and bushings in the suspension system.
Xometry-made parts in the EFI system...
Xometry's delivery of consistently high-quality parts is the most important distinguishing factor for the team at GoWesty since these parts must sustain long-term, daily wear and tear. The bushings for the suspension systems in the Vanagons, for instance, are carefully designed to provide a feeling of lubricated strength and support.
Functioning within the upper arm control, this multi-material bushing consists of a stainless steel outer sleeve with a Delrin AF bushing in the middle and another stainless steel inner sleeve. The middle portion absorbs impact and vibration from other suspension system parts while the outer and inner layers provide strength.
Upper arm control bushings. Images courtesy of GoWesty.
GoWesty choses Xometry to produce their redesigned Vanagon window cranks to break the cycle of constant part replacement. "The force exerted on the old window crank caused it to snap over time. We were selling people plastic ones that would snap every six months, so we designed some with Xometry out of aluminum that are very heavy duty and industrial."
These have been working really well for our customers to provide the strength they need.
Katya Lemak,
GoWesty
GoWesty was first introduced to Xometry through MakeTime, an on-demand manufacturing platform that Xometry acquired in July 2018. Previous to MakeTime, GoWesty was working with a small local machine shop with low capacity and rising prices over the years.
Now when GoWesty works with Xometry, they can get parts that not only meet their quality standards but are competitively priced as well. "Xometry's sales rep, John, often reaches out to us directly if he has any questions about pricing. He's really good about looking at the quote and saying, 'If we produced it this way, could it better? Or if we produced a couple hundred more, could it be better?' We get pretty competitive pricing that way."
Our parts need to be high-quality industrial strength for everyday use, and Xometry provides that for us.
Katya Lemak,
GoWesty
For Katya and her team, Xometry's speed — 50 percent faster quoting than other machine shops — and online experience also help bring them back to Xometry each time. "It's nice that when we log on, there's a clear visual reference as to what's currently processing, what's been ordered, and what parts are on file."
GoWesty offers their customers the ability to restore their prized vans with a selection of over one thousand automotive parts, with about 200 parts designed in-house. When they make parts with Xometry, they know these parts will meet or exceed quality standards at a competitive price.

Serena Ngoh
I write about Xometry and all things manufacturing. You might also see me hosting webinars, designing infographics, producing videos, and working directly with customers to tell their manufacturing success stories.