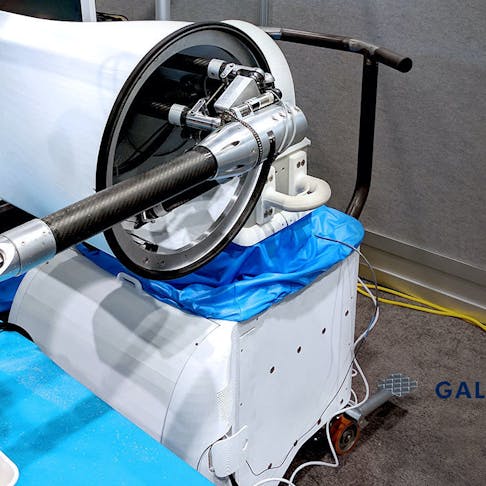 Case Study: Medical Robot Built by Galen Robotics Prototyping With Xometry
With manufacturing services from Xometry, this California-based start-up is changing the medical device and robotics industries with a robot that steadies hand tremors during surgery.

By Serena Ngoh
October 9, 2020
 4 min read
At a Glance
Industry
Manufacturing Services Utilized
Project Brief
Solution

Industry

Manufacturing Services Utilized

CNC Machining
Sheet Metal Fabrication
3D Printing

Project Brief

Galen Robotics needed to make parts for a robot that can stabilize hand tremors during ENT (ear, nose, and throat) surgeries. They needed a mix of medically certified parts at low production volumes and with high precision.

Solution

Galen Robotics used Xometry's CNC machining, sheet metal fabrication, and 3D printing services in various metals and plastics to create medical grade, high precision parts for a clinical version of the Galen Robot. The parts seamlessly assemble with the help of accurately manufactured tapped holes and complex geometric planes.
The Challenge: Creating an Ultra-Precise Medical Device
A survey of doctors by the late Dr. Kevin Olds, a Johns Hopkins PhD student at the time, showed that there were no devices available on the market to help prevent or mitigate hand tremors during otolaryngologic surgeries, or those that focus on the ear, nose, and throat (ENT). ENT doctors are faced with a degree of uncertainty as they navigate hard-to-see or sensitive areas with microscopic cameras or the naked eye. Even slight hand tremors pose a great safety risk to patient outcomes.
Advised by Dr. Russell Taylor, Director of the Laboratory for Computational Sensing and Robotics, Dr. Kevin Olds began the development of a robot that would steady a surgeon's hands for laryngeal, otology, and various other forms of surgery around sensitive anatomy.
Components of the Galen Robotics
The robot is designed to move with a flexible range of motion—in coordination with the hand's natural movements—while providing stabilization. This system, referred to by Galen Robotics as a "cooperative control paradigm," has a force sensor to detect how the surgeon is exerting pressure on the tools, then exerts minute counterforces to steady tremors as the surgeon moves. The robot also provides the surgeon with important coordinate information for surgical navigation.
As the design moved from a tabletop prototype to a clinical version, the growing team of graduate and undergraduate student members formed a partnership with medical device startup Galen Robotics Inc.
Working with Xometry to Make Medically Validated Parts
Throughout the development process, the team worked with Xometry to produce robot parts for prototyping and end-use. Galen Robotics used the Xometry Instant Quoting Engine℠ to get quotes within seconds, reducing the amount of time lost to back-and-forth communication.
Importantly for Galen Robotics, Xometry was able to leverage its range of sterilizable and medically approved manufacturing methods like SLS 3D printing (selective laser sintering), CNC machining, and sheet metal fabrication; medical grade materials like aluminum 6061, aluminum 7050, steel 4041, and Nylon 12; and certifications like ISO 13485, ISO 9001, UL, ITAR, ISO 7 and 8 Medical Clean Room production.
Since the robot consists of various parts from sensor mounts to end effector housings, it is important that Xometry can produce high-mix, low volume production runs for Galen Robotics. To find the perfect shops to fabricate this mix of parts, Xometry worked with its network of over 3,000 US-based suppliers to find open capacity at a competitive cost and lead time. This manufacturing model allows Galen, a startup company, the flexibility to keep a low inventory and scale up to meet demand at any time.
Yunus Sevimli, Lead Hardware Engineer, also worked with Xometry application engineers to incorporate direct manufacturing feedback into the parts.
"We loved the attentive customer service we received from Xometry. Our main contact, Bobby, always asks great questions and even referred us to technical specialists when we had specific questions. That dedication and commitment to high quality parts can't be beat."
Yunus Sevimli,
Lead Hardware Engineer
Galen and Xometry: A Partnership for High-Precision, Turnkey Parts
With the help of Xometry's flexible, on-demand manufacturing service, the team at Galen Robotics was able to source parts that assemble precisely, with various tapped holes and complex geometric planes connecting tightly. These medical-grade parts, certified as inert and biocompatible materials, work together to make a successful medical device. The Galen Robot is now undergoing FDA review and achieves the intended stabilization in test trials.
The incorporation of multiple manufacturing processes in one robot has enabled the Galen design team to create a robot with a geometry and build exactly customized to its end-use. Xometry made it easy for Galen Robotics to quote and order parts from multiple processes without having to track and manage the parts from multiple suppliers.
Galen will continue to work with Xometry as it iterates on the original Galen Robot, citing the customer service, quality of parts, and variety of manufacturing options as reasons to come back to Xometry.
The Galen Robotics System
The Galen Robotics System is on its way to becoming a platform to aid surgeons to perform more confidently. The team at Galen Robotics, with the help and services from manufacturing experts at Xometry, have created a system that has the potential to make a powerful difference in the medical industry.
Learn more about Galen Robotics by visiting their website. To start developing your own project and take it from prototyping to production, get an instant quote or contact our team at 240-252-1138 or support@xometry.com.
"We incorporate components built from many different processes into one robot, which makes Xometry's service as a one-stop shop especially valuable."
Yunus Sevimli,
Lead Hardware Engineer

Serena Ngoh
I write about Xometry and all things manufacturing. You might also see me hosting webinars, designing infographics, producing videos, and working directly with customers to tell their manufacturing success stories.