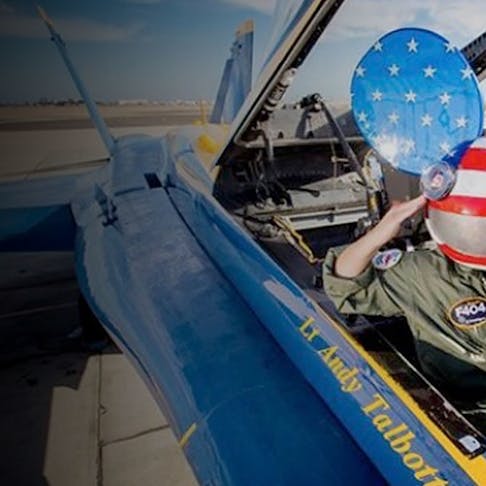 Case Study: Meet the Guy Who Builds Amazing Props for Hollywood
From deadmau5 helmets to MTV's Pimp My Ride to replica R2D2s, Tom Bostic is building incredible things in his garage, with machining, 3D printing, and casting help from Xometry.

By Team Xometry
September 23, 2020
 6 min read
Tom Bostic didn't purposefully embark on a career path that would lead to him building props for Hollywood studios and superstar musicians. He stumbled into it after his stepdad issued him an ultimatum when he was a teenager. "He bought this old beat up Jeep and sold it to me," Bostic recalled in an interview. "When I first got it he handed me an $80 service manual and a car note. Since I was a 17 year old kid an $80 book seemed like a lot but I also knew this old jeep was going to need some work so chances are I'm going to need this book. He told me his tools were in the basement and to put them back when I'm done."
Sure enough, the Jeep broke down a short time later, and so he grudgingly got to work learning how to repair it. But then something curious happened: Bostic realized he enjoyed the work, and it began snowballing beyond simple repairs. He and his friends became obsessed with installing bigger and better sound systems into the Jeep, and other kids at his high school began to take notice. "They were bringing me their cars and paying me to work on them, and I just started getting more and more cars," he said. "I was doing all this work out of my parents' garage, and then it got to the point where I realized that if I just rented a shop I could do this full time." And this is how Bostic ended up running his own shop by the age of 21. 
Bostic was soon known all around as the go-to guy if you wanted a high-end sound system installed in your car, and in the early 90s he became heavily involved in the audio competition scene, a then-thriving subculture where enthusiasts would compete for who could install the loudest and most impressive stereo systems. "It was like a sound version of drag racing," said Bostic. "You put two cars next to each other and basically you see whose is the loudest." Most other participants merely propped their speakers on cheap plywood, but Bostic, ever the perfectionist, used fiberglass and a custom paint job to make it look professional. "The first event we took it to was the spring break nationals in Daytona, and they literally stopped the event and said, OK, I will give everybody 10 minutes to take pictures of this car. These are what these cars should look like. They shouldn't look like these over here with just raw plywood and a bunch of woofers screwed to a box."
Tom developed custom car audio systems
Within the world of car audiophiles, Bostic was a celebrity. After he sold his shop, he went on to work for MTX Audio, a manufacturer for high performance car audio systems. "I built show cars for them and then traveled to the events where the cars were being shown," he said. This is when he first got involved in the entertainment industry. In 2004, MTV debuted a show called Pimp My Ride. MTX Audio would provide the equipment and labor for said ride pimping. "We weren't characters on the show, but you would see the backs of our heads a lot as we worked on the cars," he explained.  "For the last season, I think they did 15 episodes and we were in 9 or 10. We were out there as much as we were able to be."
Eventually, however, the custom audio scene died down after vehicle manufacturers began offering better sound systems. It was around this time that Bostic reconnected with an old friend, Andy Cohen, who had been one of his original auto shop customers. Cohen began pestering him to come take on some projects in his own garage. "I went over there and started doing a project for him, and that snowballed into another project, and then before I knew it he had all these other ones lined up." Bostic suddenly found himself taking on odd jobs like refurbishing former military helicopters and reconstructing a B-52 drop tank.
Tom developed a Landspeeder replica for Junkyard Empire
This is how Bostic's second plunge into the entertainment industry came about. A network had shown interest in working with his friend Cohen, and after some back-and-forth deliberation, it settled on a show called Junkyard Empire in which Cohen, Bostic, and their team—took on custom repair auto work.
The rights for the show were then scooped up by the car channel Velocity. For one episode Bostic came up with the idea to build a scale replica of the Star Wars Landspeeder. To recreate many of the original parts for the speeder, Bostic relied heavily on 3D printing. He was doing a lot of in-house 3D printing; however, as with many smaller 3D printers, his printer had limitations.   
Two years ago, he found Xometry's instant-pricing platform. One of his customers wanted a custom version of the signature deadmau5 helmet that included the Marine eagle, globe, and anchor insignia. "Xometry was able to get that out for me within a couple of days and have it nickel plated so it looked like the real deal," he recalled. "I polished it all up and then did a gold overlay on it."
Bostic finds himself returning to Xometry over and over again because it can take on virtually any job he throws at it. "You have everything," he said. "Pretty much every option you can think of. Most places I had been getting quotes from only had a couple of materials to choose from, but with Xometry I had access to all the machines and all the materials. I'm just looking forward to some of the bigger projects I have coming up and being able to just utilize some of the cool stuff [Xometry has]."
If you ask Bostic what his biggest challenge is today, he'd say it's figuring out what to say no to. He receives so many business inquiries from people who stumble across his social media posts and doesn't have the time to take on even a fraction of the jobs offered to him. In some cases, like when deadmau5 decided to use one of Bostic's deadmau5 heads for his stage show, saying yes is a no-brainer. But for every R2D2 replica he makes for a client, he has to turn 10 other clients down for the same replica simply because he doesn't have the time.
"It is tough when you have the skills to build so many different things," Bostic said. "Hopefully one day we will find the right balance between projects that are both good for my budget and fun to do. Some of these projects I take on are just not money makers, but then again they're too cool to pass up."
A custom deadmau5 helmet CNC machined by Xometry

Team Xometry
This article was written by various Xometry contributors. Xometry is a leading resource on manufacturing with CNC machining, sheet metal fabrication, 3D printing, injection molding, urethane casting, and more.