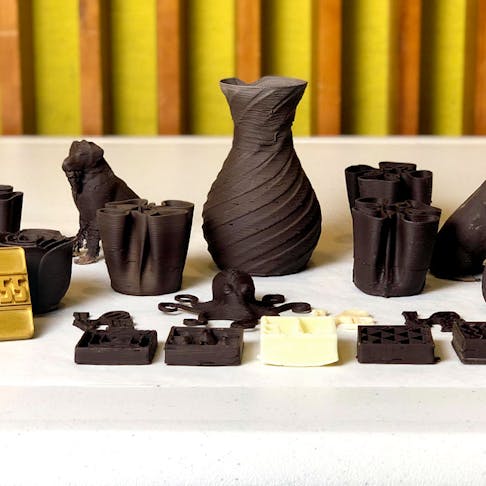 Case Study: The First Commercial 3D Chocolate Printer
From a high school project to a commercial-grade product, Ellie Weinstein's Cocoa Press will allow bakeries, chocolatiers, and consumers to print their sweetest desires.

By Serena Ngoh
September 29, 2020
Xometry helped Ellie Weinstein, a new graduate of the University of Pennsylvania, manufacture a consumer-ready 3D chocolate printer by fabricating high-quality sheet metal parts. The sheet metal frame of the printer—incorporating design feedback from Xometry engineers—is a stable solution to the previously warped and misaligned plywood frame. With the help of a precise and highly finished structural foundation, Cocoa Press can produce custom chocolate creations in minutes.
Ellie Weinstein graduated last month with a degree in Mechanical Engineering and Applied Mechanics from the University of Pennsylvania. But a degree is only the start of her journey into the adult world. In the next few months, Weinstein will fine-tune and finalize her product, Cocoa Press, at a startup incubator. Her goal is to make sure her 3D chocolate printer can seamlessly print edible creations—from animals to complex shapes to a scan of your face—for the consumer and commercial market.
How the 3D Chocolate Printer Began
In her junior year of high school, Weinstein combined her love of food and 3D printing by building a 3D chocolate printer. She cobbled together her first prototype with plywood, nuts, and bolts and paired it with an extrusion head, motor, and cooling system. At the time, however, it was unpredictable: it could only build 5-10 chocolate layers tall, melting as it grew because of an inefficient cooling system. Then, the plywood was held together loosely and at irregular angles, causing the machine to bend and flex as it printed.
The first prototype of the chocolate 3D printer
Product Development Challenge
Weinstein gave up the project for the next two years, saying on her blog, "I have to realize that all great projects must come to an end." However, she never fully gave up her passion project. In her third year, Weinstein applied her new engineering skills by improving the cooling system and the extrusion components. It successfully printed higher layers and accurate shapes. Emboldened, Weinstein brought the second prototype to Maker Faire in New York City. Onlookers were amazed by the custom chocolate creations, which made Weinstein realize the project was worth pursuing further.
Weinstein went back to the drawing board. She knew she would need a full redesign of her machine and a team to make it work seamlessly. She asked the group of friends who had gone with her to MakerFaire to become a formal team, and they soon began researching and developing the printer for their capstone project in their Senior Design Class.
Although the team had the first prototype to reference, the 3D chocolate printer was wholly dismantled and rebuilt from the ground up. All the major systems were redesigned, including motion, cooling, heating, and extrusion. For the frame, they knew they would need an enclosure that eliminated all flexing. With further research, they decided sheet metal would be a cost-effective and highly stable structure.
Weinstein also based her research on the frame on feedback from various bakeries and chocolatiers, who said they would likely display a 3D printer in the shop's front for customers to participate in the chocolate creation experience. Weinstein knew a finished aluminum sheet metal frame would produce the most professional-looking machine.
Assembled sheet metal parts manufactured with Xometry
The team considered manufacturing the sheet metal parts in-house at the University of Pennsylvania's student workspace, but the school lacked advanced sheet metal equipment. It would have taken the team approximately two weeks to manufacture a part of the same size, and even then it would have lacked the same precision (with much larger tolerances) and anodize coating. 
Weinstein's team decided to quote with Xometry and discovered they could receive parts a week sooner than other manufacturers. They also received a call from a Xometry sales representative, who provided design-for-manufacturability feedback. This was instrumental to the success of the order since no one on Weinstein's team had ever designed for sheet metal.
"The time the Xometry sales reps and engineers took to sit down with us and go through our parts in detail was invaluable. Other manufacturers would have made great parts but would have manufactured exactly what we had on the page."
Ellie Weinstein,
Founder of Cocoa Press
Cocoa Press Unveiled: The Final Product
Xometry manufactured the 3D chocolate printer frame out of Aluminum 5052 Sheet Metal, a rigid material that provides stability to the machine. In total, the frame measures 21" wide by 15" deep and 20" tall. The were manufactured with precisely positioned inserts that allow a secure assembly and perfect alignment. This precise fit not only ensures stability but eliminates the possibility of food particles getting stuck in crevices. Lastly, a black anodize finish ensures the machine will not corrode and can be easily cleaned.
The completed parts exceeded the team's expectations in both function and aesthetic. The solid structural base allows the motion system to maintain greater printing consistency. The sheet metal parts have helped reduced the print fail rate from 50-75% to under 10% of the time.
The final 3D chocolate printer, Cocoa Press
"The parts we got look really good. They take Cocoa Press to the next level in terms of looking like a consumer-ready product."
Ellie Weinstein,
Founder of Cocoa Press
In addition to the new frame, the final product implements design improvements that allow chocolate walls as high as 6 inches, or approximately 200 layers. The insulated cooling system lowers the enclosure's temperature to 15 degrees Celsius, allowing for 50% faster printing than the previous prototype. The extrusion system is more reliable and is powered by air pressure instead of a motor.

The printer can print in white, milk, and dark chocolate and will be able to handle any brand of chocolate bean bar. Most importantly, all the components are safe for food contact, since the final design ensures the chocolate only touches the syringe and nozzle, then prints directly onto parchment paper. The walls are made of Delrin and polycarbonate, both food-safe plastics, and the electronics are housed separately in the non-refrigerated area.
Chocolate creations printed on the final printer
The Sweet Future of Cocoa Press
Weinstein's dedication and hard work on the Cocoa Press machine led to an award of $15,000 through the Miller Innovation Fellowship with the Penn Engineering Entrepreneurship Program. This award will fund her continued research at NextFab's Makerspace in South Philadelphia. In the fall, Weinstein will apply to their startup accelerator program.
What once was a high school project is now a full-time professional pursuit. Weinstein hopes that with continued refinement and the attainment of food safety certifications, Cocoa Press will be the first chocolate printer commercially available in the US.
"The printer will be an open platform for creating delicious desserts and foods. Hopefully you'll see [Cocoa Press] at weddings, bar mitzvahs, and even malls in the coming years."
Ellie Weinstein,
Founder of Cocoa Press

Serena Ngoh
I write about Xometry and all things manufacturing. You might also see me hosting webinars, designing infographics, producing videos, and working directly with customers to tell their manufacturing success stories.