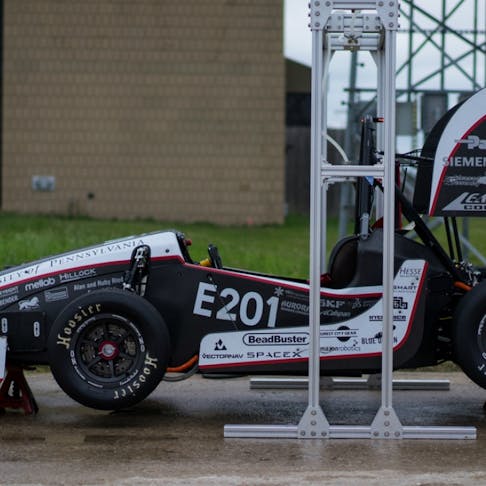 Case Study: UPenn Racing Team Hopes to Shatter Records With Xometry's Help
Xometry helps Penn Electric Racing produce complex CNC Machined production parts so they can focus on their core competency: designing innovative race cars for competition.

By Serena Ngoh
October 9, 2020
 6 min read
The Penn Electric Racing team currently holds the record for the fastest student-built race car in the Western Hemisphere with an acceleration of 0-60 mph in just 2.65 seconds. "When we set the record, we were the fastest car in the world. Now we're just behind Tesla's fastest speeds at 0-60 in 2.4 seconds," said Conner Mitchell, Mechanical Team Lead.
Who Is Penn Electric Racing?
The Penn Electric Racing team is a group of 106 students from various departments across the University of Pennsylvania united in one mission: to design and build electric race cars from scratch. On their website, they're proud to say they're "bringing the next generation of engineers and leaders together."
The 2018-2019 Penn Electric Racing Team.
These students, organized into teams of electrical engineering, mechanical engineering, and operations, commit anywhere from 5 to 20 hours a week to electric car racing—a huge undertaking since most maintain a full academic course load. But the commitment has the chance to pay off every year at the annual Formula SAE competition, where university students from around the world compete for the best race car design and build. The cars are judged in eight categories: acceleration, autocross ability, endurance, efficiency, skid-pad ability, design, sales presentation, and cost.
This year the competition will be held in Lincoln, Nebraska from June 19-22. Penn Electric Racing is on its "talk year" of its two-year design schedule, meaning the team will go through smaller, iterative changes to work out the bugs from last year's major architectural changes, then move to production.
On the design slate is the improvement of their car's four-wheel drive. To do so, the team will need to design and manufacture a wide variety of parts, ranging from a custom 3D printed motor housing for the drivetrain to method blocks in the accumulator to hold together their car's battery pack.
Why and How Penn Electric Racing Uses Xometry
The University of Pennsylvania team will continue to use Xometry to create critical car components for production, since last year, their order for an accumulator substack end plate went extremely well. At the last minute, the team had issues with their in-house manufacturing so they searched online for a quick solution and found Xometry. They ordered a small quantity of the specialized part and received it just ten days later. Ayrton Kessel, Operations Team Lead, said,
Xometry got us out of a tight place by being there and being able to manufacture that part exactly how we wanted it, in very little time. It was a very streamlined experience; it was very smooth and fast.
The team used Xometry's 3D printing service to create the set of high precision parts for the accumulator substack endplate, which, in last year's car, provided structure for the car's custom battery pack. The part was designed with tight interfaces and tolerances that were narrow for the part's application in, Conner emphasized, a "very high-precision car." "It was very important that Xometry produce the parts we needed to the specifications we gave. And even better, they did it in very little time."
This year, Xometry is sponsoring the team, which will again use the online platform to make two major parts. One part is a method block, which will link together 720 cylindrical lithium-ion cells to make an entire battery pack. A total of 14 CNC machined method blocks will hold the battery together and give the car the durability and power to accelerate at 2.5G laterally or 0-60 mph in 2.65 seconds longitudinally.
3D printed substack endplace
The other part is a bellcrank, a CNC machined part which will help dictate how much the wheel moves relative to the spring damper system, and, therefore, how effective the suspension system is. This then determines the overall behavior of the car on the road. "I always get excited when I see these parts. They're cool-looking pieces of machinery—very light and lean, and very emblematic of what a race car should be," Conner remarks.
The car will have a total of four bell cranks, and the team will send Xometry the two more complex parts. Creating these parts in-house on the school's ten machines is too time-intensive for the select students who have been trained on CNC machining through a course on machining and mechanical design. Machinists in Xometry's Partner Network, on the other hand, have 10-30 years of machining experience, allowing them to do the same work in less time. "It's this trade-off between 'How much can we reasonably do?' and' Is there a better way to do it?'" explains Ayrton.
[Complicated parts] can be done better out of house so we can focus on our core competency: the innovative design that separates our race car. Outsourcing work to Xometry helps us be better students, better teammates, and better engineers overall. Xometry is helping us bridge the gap between supply and demand.
Overall in-house capacity is also limited for the team because all students at the University of Pennsylvania share the shop. Shop priority often goes to students who have senior design projects, students in integrated product design courses, and more, so the demand for machines is high and the supply is low.
Looking to the Future
Penn Electric Racing is excited to hit the ground running this year with their work on Rev 5, or, as the team likes to call it, "Revolution 5." Their shared passion for engineering and futuristic ethos is woven into the team's history. It started as a solar car racing team in the late 1980s, dabbled in gas race cars, and transitioned to an electric car racing team in 2013.
"We had a gas car team that competed in a parallel competition and—how do I say this—they're no longer with us," Connor said. "We like to say, "Gas is dead, and electric is the future. We're proving that electric isn't just sustainable; it's better in almost every conceivable way. It's the next logical step—a revolution if you will."
Looking ahead, the Penn Electric Racing team hopes to bring autonomous driving to its next major design change since many students on the team are studying robotics. With regard to taking the next steps, there is clearly no lack of passion to propel the team forward. Ayrton says of incoming team members, "We believe if you're interested in the work and you're willing to put in the time, there will be amazing things you can do."
Conclusion
Penn Electric Racing uses Xometry to increase their competitive edge. With Xometry, they can:
Create production parts using Xometry's 3D printing service and CNC Machining service
Make high-precision car parts with tight interfaces and narrow tolerances
Source parts faster with Xometry's fast lead times
Outsource parts to skilled machinists to resolve in-house overcapacity
Have more time to focus on their core competency: innovative car design
Xometry is a proud sponsor of Penn Electric Racing. You can find more information about the team here.

Serena Ngoh
I write about Xometry and all things manufacturing. You might also see me hosting webinars, designing infographics, producing videos, and working directly with customers to tell their manufacturing success stories.