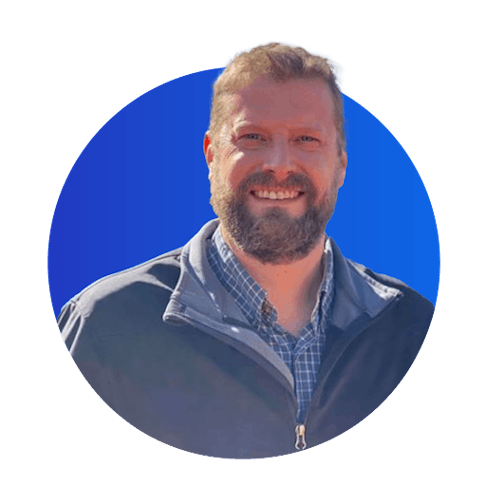 Scott Benson, Injection Molding Engineering and Business Unit Manager
"We don't turn away customers and partners. We don't run from challenges. We're willing to push the envelope of manufacturing and what's possible to support both our customers and our partners."
By Megan Conniff
August 10, 2023
 3 min read
Get to Know Scott
I'm our business unit manager and engineering manager for injection molding. Not just injection molding -- all of the tooling that we do. Die casting, extrusion, urethane casting, and then injection molding. 
I got a Bachelor's of Science degree in mechanical engineering from Texas Christian University in Fort Worth, Texas. I worked in manufacturing for four years prior to attempting to go to med school. I finally decided to go back to engineering and started my career in plastics. Around 2013, I held various roles within a manufacturing company that included quality manager, project engineer, lean manufacturing manager, etc., and I ran programs for the plant, as well as production lines. I achieved RJG master molder training, as well as got a Master's in business administration from Texas Tech University.
I've been able to gain knowledge of molding and plastics, as well as managing projects and people, all the way from the financial side to the project side. 
"Keeping a Focus on the Customer – and the Parts"
We have [team members] with strong tooling backgrounds, from tooling design to part design, that add up to more than 50 years of experience working in a manufacturing facility. We also have people on the team that come straight from the automotive industry, so they understand the internal approval processes and can support the quality and documentation required for those automotive programs. We have members on the team that come from medical device companies, where the requirements are much more stringent. With the experience of working with those major industries, we can be agile and work within customer requirements.
"We Don't Run from Challenges"
We don't turn away customers and partners. We can work with a customer from concept all the way from prototype to high-volume production. Oftentimes people look at us as more of a prototyping house or a company that can help with low-volume manufacturing. But everybody on our team comes from high-volume manufacturing and production-tooling backgrounds, so we can truly support a customer all the way through with our expertise.
Sometimes in the process, you will use a prototype tool to gain a little bit more knowledge about how the molding process will affect the part dimensionally and cosmetically. It's great to utilize that knowledge and take it into a bridge tool. Ultimately, you can turn it into a high-volume, high-cavitation tool. Our team has the ability to ask the right questions upfront on the prototype side, do the bridge tooling for validation, and scale to the high-volume tool.
Sometimes those pieces are missing at the parent company or it's a huge expense for the company to maintain. By working with a company like Xometry, you're able to decrease your overhead internally and replace it with a team of experts that have proven themselves time and time again.
To hear more from Scott about injection molding, listen to our podcast, "Manufacturing Explained": Episode 1 and Episode 2.
Megan Conniff
Megan is the Content Director at Thomas and Xometry.