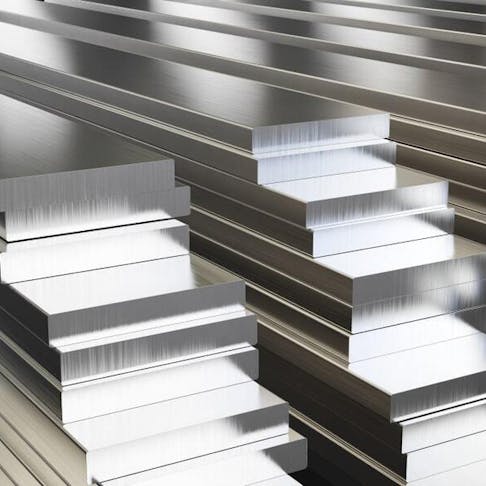 All About 2024 Aluminum Alloy
Learn more about this aluminum alloy and its properties.

By Team Xometry
October 24, 2022
 6 min read
2024 aluminum is a versatile aluminum alloy, characterized by diverse tempers (or variants) of the grade, which constitute a group of materials. This material type is used widely in the aerospace sector—most often in aircraft wing and fuselage structural parts (ribs, frames, ties) under tensile load—and also in automotive applications. In some temper conditions, 2024 aluminum offers good tensile strength and good resilience under cyclic loading (fatigue resistance). Introduced by Alcoa in 1931, it was the first high-strength aluminum alloy and was then marketed as Dural.
The selection of aluminum alloys is often highly specific and based on a mixture of small property advantages and extensive experience in applications and validation. In aircraft, for example, fatigue is a major complicating factor in part design and materials selection.
This article will discuss 2024 aluminum alloy, its properties, applications, and processing methods to provide a broad review of when and how to specify this grade for component, subassembly, or product manufacture.
What Are the Characteristics of 2024 Aluminum?
The characteristics of 2024 aluminum are: high strength, good response to heat treatment, poor corrosion resistance (unless coated/plated), poor response to welding and brazing, good workability, good fatigue resistance, good abrasion resistance, and fair machinability. 2024 aluminum covers a wide range of tempers, and material conditions (sheet, bar, plate, rod). The state of temper, and the shape and size of the material sample, can affect some properties markedly.
Table 1: 2024 Aluminum Alloy Properties
Property
2024-T3
2024-T4
2024-T851

Property

2024-T3

2024-T4

2024-T851

Property

2024-T3

2024-T4

2024-T851

Property

2024-T3

2024-T4

2024-T851

Property

2024-T3

2024-T4

2024-T851

Property

Brinell hardness - 500g weight, 10 mm ball

2024-T3

2024-T4

2024-T851

Property

Elongation at break (12.7 mm test piece)

2024-T3

2024-T4

2024-T851

Property

2024-T3

2024-T4

2024-T851

Property

2024-T3

2024-T4

2024-T851

Property

2024-T3

2024-T4

2024-T851

Property

Thermal expansion coefficient

2024-T3

2024-T4

2024-T851

Property

2024-T3

2024-T4

2024-T851

Property

2024-T3

2024-T4

2024-T851

Property

2024-T3

2024-T4

2024-T851

Property

2024-T3

2024-T4

2024-T851

Property

2024-T3

2024-T4

2024-T851

Property

2024-T3

2024-T4

2024-T851

Property

2024-T3

2024-T4

2024-T851
Where is 2024 Aluminum Alloy Used?
2024 aluminum alloy is commonly used in the aerospace and automotive sectors. It is a key construction material in the aerospace sector because of its good strength-to-weight ratio and appropriate levels of fatigue resistance (when good design disciplines are followed). It also has specific applications in the automotive sector in the manufacture of truck wheels, hydraulic manifolds, and high-stress components in which weight saving is desired. The family of alloys also finds general application in the manufacture of gears, fuse parts, couplings, bolts, drive shafts, clocks, and computer components and cosmetic uses because of its ability to polish to a good finish.
How Strong is 2024 Aluminum?
2024 aluminum grades have a typical tensile strength of greater than 450 MPa with a density of 2.78 g/cm3. 304-grade stainless steel has a tensile strength of 621 MPa and a density of 8 g/cm3. So 2024 aluminum has ~ 70% of the strength of 304 stainless steel and ~ 1/3 of the weight. An equivalent weight of 2024 is therefore around twice the strength of an equal mass part made from 304 stainless steel.
What Are the Common Trade Names of 2024 Aluminum?
Some of 2024 aluminum's common trade names are: UNS A92024, UNS A82024, UNS A82024, AA2024-T3, Al2024-O, Al2024-T4, Alclad 2024-O, Al2024-T3, Alclad 2024-T3, Alclad 2024-T4/T351, and Alclad 2024-T851. This alloy is marketed in various forms—sheet, bar, plate, and rod. These are offered in a variety of tempers from T0 (annealed) through to T5 and T351 to denote the type of heat treatment applied.
How Do I Tell What Grade My Aluminum is?
You can tell the aluminum grade by looking at the numerical classification on the manufacturing spec or the supplier delivery information. Other than that, the general softness and flexural strength can also be considered. The form of the material will offer some clues: some grades are poor at extrusion, for example, so an extruded tube is unlikely to be 2024.
What is the Operating Temperature Range for 2024 Aluminum?
Operational upper-temperature bounds for 2024 alloys are not clear-cut. There will be progressive loss of tensile strength and changes in the yield behavior with increased temperature, which must be accounted for in the design. For example, the tensile strength of wrought aluminum 2024 components will typically reduce by approximately 20–25 % at high temperatures from their expected room temperature values. Therefore in aerospace applications, a general guide is that a maximum service temperature of 120 °C is recommended. Typically, 2024 is recommended to have a lower temperature limit of -195 °C, though it can be used at still lower temperatures, with careful design allowance.
Is 2024 Aluminum Good for Welding?
No, aluminum 2024 is considered poor in weldability because of its tendency to suffer microcracking, which propagates under load and fatigue conditions.
What Are the Things To Consider When Choosing an Aluminum Grade?
Factors to consider in the choice of aluminum grade are:
Cosmetics: Some grades are better suited to making aesthetically pleasing surfaces and parts.
Construction: Only certain alloys are suited to structures that require welding to form the assembly of parts.
Strength: Can the design accommodate the volume of material required to deliver the required strength?
Damage resilience: Some grades offer considerably higher elongation at a break, along with high strength.
Summary
This article presented 2024 aluminum alloy, explained what it is, and discussed its different properties. To learn more about 2024 aluminum alloy, contact a Xometry representative.
Xometry provides a wide range of manufacturing capabilities and value-added services for all of your prototyping and production needs. Visit our website to learn more or to request a free, no-obligation quote.
Disclaimer
The content appearing on this webpage is for informational purposes only. Xometry makes no representation or warranty of any kind, be it expressed or implied, as to the accuracy, completeness, or validity of the information. Any performance parameters, geometric tolerances, specific design features, quality and types of materials, or processes should not be inferred to represent what will be delivered by third-party suppliers or manufacturers through Xometry's network. Buyers seeking quotes for parts are responsible for defining the specific requirements for those parts. Please refer to our terms and conditions for more information.

Team Xometry
This article was written by various Xometry contributors. Xometry is a leading resource on manufacturing with CNC machining, sheet metal fabrication, 3D printing, injection molding, urethane casting, and more.