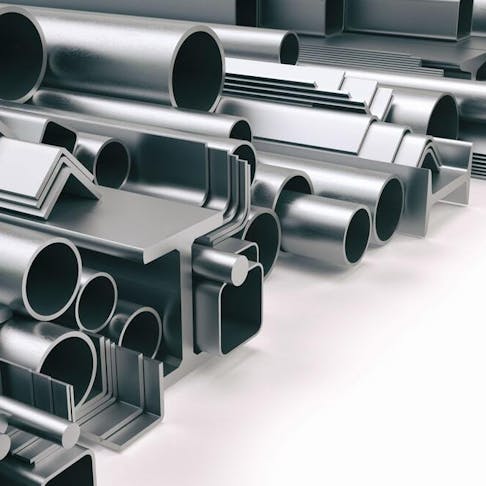 All About 6060 Aluminum Alloy
Learn more about this aluminum alloy and how it's used in manufacturing.

By Team Xometry
October 24, 2022
 6 min read
6060 aluminum alloy is an aluminum-based material with magnesium and silicon as the main alloying elements. This alloy is heat treatable and is known for its good resistance to corrosion, excellent formability, and weldability. Aluminum 6060 is ideal for structural applications where surface finish is important, for example, extruded frames for architectural elements like doors and windows. 
This article will discuss the composition, grades, applications, characteristics, and properties of 6060 aluminum.
What is Aluminum Alloy?
An aluminum alloy is a mixture that consists mostly of aluminum, with other elements added. Elements like copper, magnesium, zinc, or silicon are added to pure aluminum to create different aluminum alloys. Together, these elements can account for 15% (of wrought alloys) and more (for casting alloys). To make aluminum alloys, pure aluminum is melted. While the aluminum is still in its molten state, the alloying elements are added in the desired amounts. The mixture is then cooled in a controlled way to develop the desired microstructure for that alloy. When compared to pure aluminum, alloys of aluminum are stronger. Alloys made of aluminum are lightweight and corrosion-resistant. 
What is the Alloy Composition of 6060 Aluminum?
The alloy composition of 6060 aluminum is (97.9-99.3%) aluminum, (0.35-0.5%) magnesium, (0.3 to 0.6%) silicon, (0.1-0.3%) iron, (0.10%) manganese, (0.05% max) chromium, (0.1% max) copper, (0.1% max) titanium, (0.15% max) zinc, and (0.15% max) residuals). The composition of 6060 aluminum can generally vary depending on the combination and amount of alloy metals added. The number of alloy metals added will depend on the desired properties of the aluminum.
What Are the Characteristics of 6060 Aluminum?
The most important characteristics of aluminum alloy 6060 are its moderate strength, excellent cold formability, corrosion resistance, and weldability, especially in temper T4. Aluminum 6060 is a heat-treatable alloy frequently used for complex cross sections. 6060 aluminum also responds quite well to anodizing.
Table 1: Material Properties and Temper Conditions of 6060 Aluminum Alloy
Properties
6060-O
6060-T1
6060-T4
6060-T5
6060-T6

Properties

6060-O

6060-T1

6060-T4

6060-T5

6060-T6

Properties

Electric conductivity, % IACS

6060-O

6060-T1

6060-T4

6060-T5

6060-T6

Properties

Thermal conductivity, W/m·K

6060-O

6060-T1

6060-T4

6060-T5

6060-T6

Properties

Specific heat capacity, kJ/kg·K

6060-O

6060-T1

6060-T4

6060-T5

6060-T6

Properties

6060-O

6060-T1

6060-T4

6060-T5

6060-T6

Properties

6060-O

6060-T1

6060-T4

6060-T5

6060-T6

Properties

Linear thermal expansion coefficient, 10-6/K

6060-O

6060-T1

6060-T4

6060-T5

6060-T6

Properties

6060-O

6060-T1

6060-T4

6060-T5

6060-T6

Properties

6060-O

6060-T1

6060-T4

6060-T5

6060-T6

Properties

6060-O

6060-T1

6060-T4

6060-T5

6060-T6

Properties

6060-O

6060-T1

6060-T4

6060-T5

6060-T6

Properties

6060-O

6060-T1

6060-T4

6060-T5

6060-T6
How Strong Is 6060 Aluminum?
6060 aluminum is considered to be an alloy of moderate strength. Its mechanical properties vary depending on the product form (example: bars versus tubes) and the temper condition. For example, 6060-T4 has a tensile strength of ≥120 MPa while 6060-T5 has ≥160 MPa.
What Are the Common Trade Names of 6060 Aluminum?
The common trade names of 6060 aluminum are: UNS A96060, AA6060, and Al6060. The primary elements added to this 6000-series aluminum alloy are silicon and magnesium. It is designed for use in wrought products. The Aluminum Association (AA) gives this substance the reference designation 6060. It will appear as EN AW-6060 (European standards), AlMgSi (EN chemical name), A96060 (UNS number), and A-GS (AFNOR (French) classification),
How Do I Tell What Grade my Aluminum Is?
To determine what grade your aluminum is, look at its numerical classification. Both cast and wrought aluminum alloys are named and classified according to the type and amount of the alloying metals added to pure aluminum. The Aluminum Association (AA) uses a four-digit naming scheme for cast alloys, with the third and fourth digits separated by a decimal point. It looks like this: (XXX.X). The most significant digit is the first one, which will reveal the principal alloying metals for each aluminum alloy. It helps distinguish between various alloy "series" or "grades."
For instance, grade 2xx.x alloys are the name given to all aluminum alloys that begin with the number 2. Any number between 1 and 8 can be used for this digit, with the exception of 6, which is not used for cast alloys. The main alloying elements for each cast aluminum series are: 99.xx% pure aluminum (1xx.x), copper and trace amounts of magnesium (2xx.x), Silicon, copper, and/or magnesium (3xx.x), silicone (4xx.x), magnesium (5xx.x), zinc (7xx.x), and tin (8xx.x). 
The naming and classification of wrought aluminum alloys are similar to cast alloys. On the basis of the primary alloying elements, they are arranged in series. The first digit in their names, which have four digits but no decimal point, list the primary alloying elements. The main alloying elements of the wrought aluminum series are: 99.xx% pre aluminum (1xxx), copper (2xxx), manganese (3xxx), silicone (4xxx), magnesium (5xxx), silicone and magnesium (6xxx), and zinc (7xxx). 
What is the Operating Temperature Range for 6060 Aluminum?
6060 aluminum alloys perform well at temperatures below 200 °C. The alloy is sensitive to high temperatures. It loses some of its strength at temperatures above 200–250 °C (392–482 °F).  But at subzero temperatures, aluminum alloys don't get brittle, making them ideal for low-temperature applications.
Is 6060 Aluminum Good for Welding?
Yes, 6060 aluminum is good for welding when the right filler wire, such as 4043 (Al-5 Si) and 5356 (Al-5 Mg) are used.
What Are the Things to Consider When Choosing an Aluminum Grade?
The following factors should be considered when selecting an aluminum grade:
Weldability: Weldability is the ability of metals (or alloys) to weld with similar metals. 
Formability or Workability: Are you able to shape or bend the metal without causing damage? 
Corrosion Resistance: If the material is corrosion resistant it means that the material is able to withstand corrosion. 
Machining: How well can the material be shaped using machinery? 
Strength: Is the object strong and able to withstand the pressure? 
Heat Treating: Heat treatability is the ability of a material to withstand high-temperature treatment and chilling to achieve hardness. Do you require a material that is very hard? If so, choose an aluminum grade that has been heat-treated. 
End-Use Applications: Consider the end-use application. What properties should the material have?
Consider the requirements of your application, then consider which aluminum grade can best meet all of your specifications.
Summary
This article presented 6060 aluminum alloys, explained what it is, and discussed its different properties. To learn more about 6060 aluminum alloy and other alloys, contact a Xometry representative.
Xometry provides a wide range of manufacturing capabilities and other value-added services for all of your prototyping and production needs. Visit our website to learn more or to request a free, no-obligation quote.
Disclaimer
The content appearing on this webpage is for informational purposes only. Xometry makes no representation or warranty of any kind, be it expressed or implied, as to the accuracy, completeness, or validity of the information. Any performance parameters, geometric tolerances, specific design features, quality and types of materials, or processes should not be inferred to represent what will be delivered by third-party suppliers or manufacturers through Xometry's network. Buyers seeking quotes for parts are responsible for defining the specific requirements for those parts. Please refer to our terms and conditions for more information.

Team Xometry
This article was written by various Xometry contributors. Xometry is a leading resource on manufacturing with CNC machining, sheet metal fabrication, 3D printing, injection molding, urethane casting, and more.