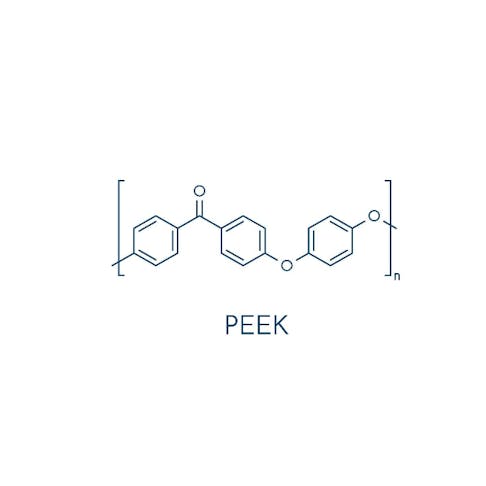 Polyether ether ketone (PEEK): Characteristics, Features, and Process
Learn about the material's grades, characteristics, advantages, limitations, and toxicity.

By Team Xometry
May 25, 2022
 9 min read
Polyether ether ketone (PEEK) plastic is a highly coveted engineering material, thanks to its superb blend of strength, resistances, and workability. PEEK plastic is a semicrystalline engineering thermoplastic of the polyaryletherketone (PAEK) family with high-temperature tolerances, strength, and stability across harsh environments. It is manufactured using stiff aromatic units, which contribute to its high melting point of 343 °C/649 °F. PEEK comes in numerous grades of either highly pure PEEK or reinforced with carbon fiber, glass, or other engineering plastics.
PEEK plastic is exceptionally resistant to high temperatures and also to wear, chemicals, fatigue, and creep. Its strength-to-weight profile is high enough to rival metals like aluminum, and it will not degrade in chemically or physically harsh environments as metals do. PEEK also has unique properties like total biocompatibility, UV resistance, pure radiolucency, gamma-ray resistance, and low/no toxicity in all forms.  These properties allow PEEK plastic to be implemented in many engineering applications, from automotive engine parts to medical implants, bearings, chemical equipment, and even radioactive applications.
This article will provide more details about the specifics of this amazing material.
What Is Polyether Ether Ketone (PEEK)?
Polyether ether ketone (also known as PEEK) is a semicrystalline performance thermoplastic with high temperature, chemical, wear, and creep resistances and excellent strength properties. PEEK is part of a much larger class of polyaryletherketone (PAEK) polymers which include polyether ketone (PEK), polyether ether ketone ketone (PEEKK), polyether ketone ketone (PEKK), and others. However, PEEK is the most well-known polymer among variants.
How Is Polyether Ether Ketone (PEEK) Made?
PEEK can be made using different organic synthesis methods, but a standard process is a step-growth polymerization generated by the dialkylation of bisphenolate salts. For example, PEEK can be created via the nucleophilic substitution of 4,4' – difluorobenzophenone with hydroquinone in the presence of an anhydrous carbonate salt conducted in a polar aprotic solvent with a high melting temperature (commonly diphenyl sulfone). Despite being a mouthful, this is a simplified version of the complete synthesis, and many companies use proprietary mechanisms to enhance specific materials characteristics for intended applications. Regardless of the particular mechanism, PEEK is built using a stiff aromatic polymer base, contributing to its high temperature and wear resistances compared to other polymers.
What Are the Grades of Polyether Ether Ketone (PEEK)?
There are both general and brand-specific grades of PEEK; however, there are four primary PEEK grades across industry:
Unfilled PEEK,
30% glass filled PEEK
30% carbon filled PEEK
Bearing grade PEEK (also known as PTFE PEEK, carbon fiber-reinforced with graphite PEEK, Ketron® HPV, etc.).
Unfilled PEEK is the general-purpose form of PEEK plastic and is, therefore, the most common grade. Unlike other grades, unfilled PEEK is highly pure and is unreinforced with other constituents. Unfilled PEEK has the highest elongation, toughness (not to be confused with strength), and fatigue resistance of all PEEK grades. Unfilled PEEK complies with FDA regulations and is approved for repeated food contact and medical applications inside and outside the body. Unfilled PEEK comes in various color options but is primarily found in white, light brown/tan, and black.
30% glass-reinforced PEEK is impregnated 30% with glass fibers that reduce PEEK's expansion rate and increases its flexural modulus. Glass-reinforced PEEK is, as a result, a stronger and stiffer version of the unfilled grade, making it ideal for structural applications that need stability (especially in high-temperature environments). Despite being stronger, glass-reinforced PEEK will wear more when mated to other parts. 30% glass-reinforced PEEK comes in either natural/tan or black colors.
30% carbon-reinforced PEEK is impregnated 30% with carbon fiber, increasing its stiffness and compressive strength and significantly lowering its expansion rate. Carbon-filled PEEK is optimally formulated for wear resistance and load carrying and is also up to 3.5 times more thermally conductive than unfilled PEEK. These properties allow carbon-reinforced PEEK to be an ideal material for plastic bearings. 30% carbon-reinforced PEEK comes in black color due to the introduction of carbon fiber.
Bearing grade PEEK differs across manufacturers, but it is generally impregnated 20% with PTFE and carbon fiber reinforced with graphite. Bearing grade PEEK offers the lowest coefficient of friction and highest machinability of all PEEK grades and sports excellent wear characteristics when mating, in friction, in load-bearing applications, etc. For these reasons, this PEEK grade is designated as 'bearing grade,' as it is an ideal material for bearings across industries. Bearing grade PEEK is typically found in grey or black colors.
What Are the Characteristics of Polyether Ether Ketone (PEEK)?
The characteristics of PEEK plastic are its high-temperature performance, wear and chemical resistances, stability in water-bound environments, and outstanding strength/toughness properties. PEEK was invented to be used in high-temperature environments and, as a result, can remain operational in temperatures beyond 500 °F. Even when melted, PEEK displays low smoke and toxic gas emission and does not readily catch fire. PEEK has an exceptional strength-to-weight ratio and excellent thermal conductivity and lubricity needed for bearing applications compared to other plastics. It has good wear and abrasion resistances and excellent fatigue, stress-crack, and UV resistances. PEEK is a stiff material but can still exhibit flexibility comparable to other plastics (but this will depend heavily on the specific PEEK grade). PEEK has a flexural modulus most like human cortical bone and, combined with its biocompatibility, makes PEEK ideal for medical implants and devices. PEEK has pure radiolucency (cannot be seen under MRI, CT, or X-ray scanners) and is even resistant to gamma rays. PEEK is chemically resistant to almost all organic and inorganic chemicals and resists attacks by solvents, oxidation, and acids.
The table below presents the various properties of general-purpose, unfilled PEEK plastic—note that these values are not for reinforced grades or manufacturer-specific PEEK, where each of these varieties has unique values for the below specifications:
Property
Metric
English

Property

Metric

English

Property

Metric

English

Property

Flexural Strength (@ ambient temperatures)

Metric

English

Property

Metric

English

Property

Metric

English

Property

Metric

English

Property

Thermal conductivity (average)

Metric

English

Property

IZOD Impact, Notched (ISO, @ ambient temperature)

Metric

English

Property

Water absorption at saturation (@ ambient temperature)

Metric

English

Property

Metric

English
What Are the Uses of Polyether Ether Ketone (PEEK)?
PEEK plastic is widely found in industry and finds uses in the following applications and beyond:
Ball bearings
Piston/pump components
Cable insulation
Fasteners for electronic devices
Automobile components
Medical implants and surgical devices
FDA-compliant food contact equipment
Injection molded parts
Aerospace components
Semiconductor manufacturing equipment
and more.
What Are the Advantages of Polyether Ether Ketone (PEEK) in Plastic Injection Molding?
The advantages of PEEK plastic in injection molding are that it is among one of the strongest and most resistant plastics that is readily injection molded. Its inherent self-lubricity allows PEEK to slide easily into molds and helps reduce friction effects during the injection phase. It exhibits good fluidity when molten and will produce parts that rival the strength of metal parts with half (or even less) their weight. PEEK plastics allow the highly complex geometry of injection molding to meet a high-performance, low-weight material not found in many (if any) other available plastics.
What Are the Disadvantages of Polyether Ether Ketone (PEEK) in Plastic Injection Molding?
The disadvantages of PEEK plastic in injection molding are its tricky processing parameters; PEEK requires high temperatures to injection mold, but it also experiences anisotropic shrinking during cooling, which means mold pressure must be actively managed, or unwanted shrinking can occur. Also, while PEEK is readily machined, it requires additional setup steps and working considerations like other machined plastics to prevent damage from machining stresses. Finally, to be effectively injection-molded, PEEK pellets must be dried to <0.02% moisture content, as any additional moisture will adversely affect the final injection molded part.
How Does Polyether Ether Ketone (PEEK) Affect Human Health?
PEEK is an FDA and medical device-approved material, meaning it is not only used for repeated food exposure applications but also for internal and external medical implants. There are minor (if any) health consequences from PEEK exposure in any form, and even when heated, it does not produce significant fumes or hazardous smoke as with other plastics. As noted in recent studies, the only known health concern is the risk of burns from hot or molten PEEK during processing, which is treated like other thermal burns (i.e., there are no special considerations for PEEK burns apart from typical burn treatment protocol).
Is Polyether Ether Ketone (PEEK) Toxic?
Most safety data sheets show no physical hazards or hazardous statuses from OSHA or other regulatory bodies, nor do they suggest any toxicological threats. PEEK has not been shown to leach harmful chemicals and will only cause mechanical irritation if ingested, inhaled, or exposed to skin/eyes (i.e., no toxicological effects when inhaled, ingested, or exposed to skin/eyes).
Can Polyether Ether Ketone (PEEK) Plastic Be Injection Molded?
Yes, PEEK can be injection molded using standard IM machines. Depending on the specific PEEK grade, operators must set the processing temperatures correctly to account for PEEK's high melting temperature, which is usually around 350 °C-400 °C (662 °F-752 °F). PEEK grains/pellets must be sufficiently dry before injection molding due to their tendency to absorb moisture from the atmosphere, where operators aim for a <0.02% moisture content. It is also essential to ensure that no residual materials from previous injection molding operations are mixed with PEEK; due to PEEK's high melting temperature, any contamination of other plastics will quickly degrade and leave unsightly marks (or worse, negatively affect) the final injection mold. This contamination can occur in the IM machine itself or the regrinding process.
What Is the Difference Between Polyether Ether Ketone (PEEK) and Ethanol?
PEEK is a high-performance engineering thermoplastic, while ethanol is a colorless, volatile liquid used as a solvent and fuel source. While PEEK exists at ambient temperatures as a solid, ethanol is a liquid at room temperature. Ethanol is the principal component of alcoholic beverages, where it is created via anaerobic fermentation of sugars into ethanol and CO2. In contrast, PEEK is created using aromatic monomer units in a step-growth polymerization process.
What Is the Difference Between Polyether Ether Ketone (PEEK) and Polyether Ketone (PEK)?
PEEK plastic and Polyether ketone (PEK) plastic are of the same class of polyaryletherketone (PAEK) polymers and are both engineered to withstand and operate in elevated temperatures. While similar in many ways, the table below compares the fundamental differences between PEEK and PEK:
PEEK
PEK

PEEK

Is Exceptionally reliable across a wide range of temperatures.

PEK

Has a higher operating temperature by up to 30 ˚C.

PEEK

Exceptionally resistant to harsh environments while maintaining dimensional stability, leading to better results in high pressure/high-temperature applications.

PEK

Higher strength and thermal degradation resistance lead to better results in cyclical/vibrational loading applications.

PEEK

Additive manufacturing PEEK parts have better mechanical, chemical, and thermal properties when compared to amorphous plastics.

PEK

May be more amorphous than PEEK, leading to better behavior in additive manufacturing but overall less strong prints.
Summary
This article summarized the characteristics, uses, advantages, limitations, and toxicity of Polyether Ether Ketone (PEEK).
About Xometry
Xometry offers plastic injection molding, 3D printing, and other manufacturing services for all of your project needs. Visit our website to learn more or to request a free, no-obligation quote for your part manufacturing requirements.
Disclaimer
The content appearing on this webpage is for informational purposes only. Xometry makes no representation or warranty of any kind, be it expressed or implied, as to the accuracy, completeness, or validity of the information. Any performance parameters, geometric tolerances, specific design features, quality and types of materials, or processes should not be inferred to represent what will be delivered by third-party suppliers or manufacturers through Xometry's network. Buyers seeking quotes for parts are responsible for defining the specific requirements for those parts. Please refer to our terms and conditions for more information.

Team Xometry
This article was written by various Xometry contributors. Xometry is a leading resource on manufacturing with CNC machining, sheet metal fabrication, 3D printing, injection molding, urethane casting, and more.