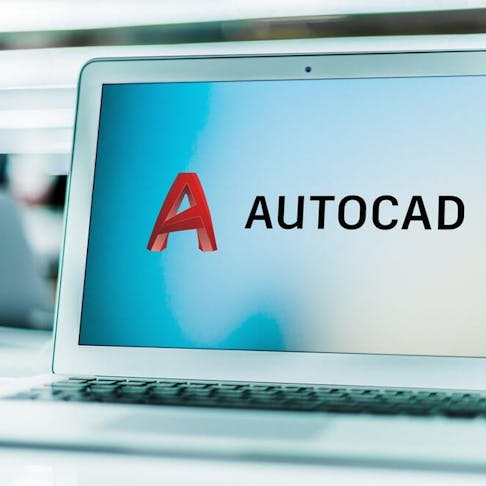 AutoCAD® vs. Solidworks® — Software Comparison
Learn more about these two software options and when to use them.

By Team Xometry
November 11, 2022
 10 min read
AutoCAD® is a primarily 2D-based drafting software program used for civil construction plans, floor plans, and piping and instrumentation diagrams. Solidworks® is an engineering tool that is primarily used for the 3D modeling of complex parts and machinery assemblies. Solidworks can be used to simulate how loads affect individual components, in addition to  preparing these parts for manufacturing. Solidworks offers more fully developed 3D modeling tools than AutoCAD, and the Solidworks features are easier to use. It also has a vibrant, engaged user community that can provide help to beginners. On the other hand, AutoCAD excels at the production of fully developed 2D drawings with all of the required elements for construction/manufacturing documentation.
This article will explore the differences between the two software packages, and highlight their optimal use cases. Minimum system requirements will be defined. Both packages will be compared based on a range of parameters, such as user experience, customer support, application stability, user community, and price. 
What is AutoCAD?
AutoCAD is computer-aided design software that is primarily used as a 2D drafting tool owned by AutoDesk®. AutoCAD has powerful 2D drafting functionality and was originally designed to eliminate the need for hand drafting and thereby dramatically reduce design time and effort. AutoCAD does have some 3D modeling functionality but this is rather limited compared to more purpose-built 3D CAD packages which include much more quality-of-life features. For more information, see our guide on 3D Printing.
What is Solidworks?
Solidworks is a powerful engineering tool owned by Dassault Systemèes®. It is primarily a parametric (model dimensions can be changed without having to redraw the entire object each time) 3D modeling package.Solidworks is excellent for developing 3D models and manufacturing drawings of individual parts and assemblies that can be animated to check for individual part clearances. Solidworks comes in many different configurations that can include additional functionality at different price points such as FEA (Finite Element Analysis) and CAM (Computer Aided Manufacturing). It has limited 2D drafting capabilities when compared to other purpose-built 2D drafting CAD packages as it is not set up for creating 2D drawings that are not explicitly connected to a 3D model.
AutoCAD vs. Solidworks — Use Cases and Applications
AutoCAD is primarily used for 2D drafting. It has a wide range of tools for streamlining the production of formal drawings. It is used by civil engineers and architects to produce plans and layouts. AutoCAD is also a popular tool for creating P&IDs (Piping and Instrumentation Diagrams), and includes special functionality like autonumbering of instrumentation and maintaining a detailed BOM (bill of materials). AutoCAD does have limited 3D modeling functionality with parametric support but is not popular. Users generally use Autodesk's purpose-built 3D modeling software, Inventor®, instead.
Solidworks is a 3D modeling tool used primarily by mechanical engineers to design machine components and complete machine assemblies. Solidworks goes even further and includes CAE (Computer Aided Engineering) capabilities that simulate how a component will behave when experiencing an applied load and CAM (Computer Aided Manufacturing) that simulates how a component is manufactured. Solidworks follows a design from initial 2D sketches through to manufacturing. 
AutoCAD vs. Solidworks — System Requirements
The latest versions of Solidworks and AutoCAD require relatively powerful modern PCs to run effectively. However, AutoCAD has a lighter computer footprint than Solidworks. Table 1 below lists the recommended system requirements for the latest (at the time of writing) system requirements for Solidworks and AutoCAD:
Table 1: System Requirements for AutoCAD and Solidworks
Apple® (AutoCAD 2023)
Microsoft® (AutoCAD 2023)
Apple (Solidworks 2023)
Microsoft (Solidworks 2023)

Apple® (AutoCAD 2023)

Microsoft® (AutoCAD 2023)

Apple (Solidworks 2023)

Microsoft (Solidworks 2023)

Apple's operating system is not officially supported.

64-Bit AMD or Intel 3+ GHz

Apple® (AutoCAD 2023)

Microsoft® (AutoCAD 2023)

Apple (Solidworks 2023)

Microsoft (Solidworks 2023)

Apple's operating system is not officially supported.

Apple® (AutoCAD 2023)

Microsoft® (AutoCAD 2023)

2280 x 1800 Retina Display

Apple (Solidworks 2023)

4k High Resolution Display

Microsoft (Solidworks 2023)

Apple's operating system is not officially supported. 

4k High Resolution Display

Apple® (AutoCAD 2023)

Microsoft® (AutoCAD 2023)

Mac native installed graphics cards

Apple (Solidworks 2023)

4GB GPU with 106 GB/s bandwidth & Direct X 12

Microsoft (Solidworks 2023)

Apple's operating system is not officially supported. 

Apple® (AutoCAD 2023)

Microsoft® (AutoCAD 2023)

Apple (Solidworks 2023)

Microsoft (Solidworks 2023)

Apple's operating system is not officially supported. 
Which Operating Systems Do AutoCAD and Solidworks Support?
AutoCAD is available for both macOS and Windows whereas Solidworks is available only on Microsoft Windows. Solidworks can be run on Apple hardware provided it is run on a Microsoft Windows operating system. Running Solidworks on Apple can be done with software like Boot Camp. However, this solution is not formally supported by Solidworks.
What Are the Minimum Memory Requirements for AutoCAD and Solidworks?
Solidworks and AutoCAD both require a minimum of 8 GB of RAM to operate effectively. However, if point clouds, large datasets, or 3D modeling is performed in AutoCAD, 16 GB and up is recommended. In the case of Solidworks, if large assemblies with thousands of parts are being designed, then 32 GB is recommended. 
What File Formats do AutoCAD and Solidworks Support?
Solidworks and AutoCAD can support a large number of file formats. Table 2 below lists all the proprietary file formats as well as neutral file formats that are compatible with both Solidworks and AutoCAD:
For more information, see our guide on 3D Printing Files.
Table 2: Supported CAD File Formats for AutoCAD and Solidworks
Solidworks File Formats
AutoCAD File Formats

Solidworks File Formats

AutoCAD File Formats

SLDPRT

SLDASM

SLDDRW

SLDDRT

eDrawings

Solidworks File Formats

AutoCAD File Formats

CatiaPro/Engineer

3DM

3DS

DXF

DWG

X_T

Solid Edge

Catia

Pro/Engineer

3DM

3DS

DGN, PRP, PRW

PRT

X_T

IPT, IAM, IPJ

RVT

SKP

SLDPRT, SLDASM

Solidworks File Formats

AutoCAD File Formats
AutoCAD vs. Solidworks — User Experience
Both Solidworks and AutoCAD have modern, easy-to-navigate user interfaces, and include many quality-of-life features that help automate and increase the speed with which tasks can be completed. However, Solidworks delivers a better overall user experience. Its icons are intuitive, the user interface is highly customizable, and the program offers many built-in tutorials. 
Learning Curve for AutoCAD and Solidworks
AutoCAD is best suited to 2D drafting and is therefore easier to master. The 3D modeling in Solidworks adds another dimension to becoming proficient with the software. However, 3D modeling can, in some respects, be more intuitive than 2D work, as it does not require a deep understanding of 1st and 2nd angle projections, and other 2D drafting techniques that are needed for efficient production of final drawings in AutoCAD. Solidworks also has a larger user community and more high-quality tutorials than AutoCAD. For these reasons, the learning curve for AutoCAD is steeper than that of Solidworks. 
Is AutoCAD Easier To Learn and Use Than Solidworks?
No, AutoCAD is not easier to learn and use than Solidworks. Solidworks is very user-friendly and intuitive and contains built-in tutorials to teach users all the basics. However, it must be noted that if a user is coming from a purely 2D background, then AutoCAD may be easier to learn. If coming from a 3D modeling background, Solidworks will be easier.
AutoCAD vs. Solidworks — Application Stability
AutoCAD is generally more stable than Solidworks, as it is ultimately simpler than Solidworks, and less demanding of computer resources. Thus, there is less potential for things to go wrong in AutoCAD. Solidworks will often crash when working on large complex assemblies and sometimes, even when performing relatively simple operations on a single part. This occurrence, while extremely frustrating, can be expected as Solidworks has many different features that may interact in unexpected ways causing a crash. It must be noted that despite this comparison, AutoCAD and Solidworks are both professional software packages used by large corporations and crashes are handled in a way that limits user disruption and loss of data. 
AutoCAD vs. Solidworks — Customer Support
Solidworks has better customer support than AutoCAD. The Solidworks online support portal helps users define their problems more precisely so that they can be addressed quickly. Structured forums also allow users to ask questions to be answered both by  other users and by Solidworks staff. AutoCAD support is more limited than Solidworks and there aren't as many options available when looking for assistance with a problem. However, both packages are often sold by local resellers who have relevant expertise and can provide telephonic or in-person assistance if required. Overall, Solidworks has the most avenues of support available when a user has a problem.
AutoCAD vs. Solidworks — User Community
There are thousands of free tutorials available online for Solidworks, and these are rapidly updated when new features are introduced. There are many official and unofficial online forums where a user can ask for assistance. AutoCAD also has an online presence in terms of tutorials and forums, but it is more limited than the Solidworks online footprint.
AutoCAD vs. Solidworks — Price
Both AutoCAD and Solidworks have a subscription-based pricing structure, which means that to gain access to new features and technical support, the software must be paid for every year. AutoCAD has a very simple pricing structure and can be purchased as a monthly, annual, or 3-year subscription. The AutoCAD price for a monthly subscription is $325. The yearly fee is $1,865, and a 3-year license costs $5,315. Naturally, the 3-year subscription is the most cost-effective. 
Autodesk has also introduced a new pricing model called "flex" that is best suited for intermittent users of the software and is based on a pay-as-you-go token system. 
The Solidworks price structure is significantly more complex than that of AutoCAD, because there are so many different configurations and add-on packages available. Solidworks also prefers to sell its software through local resellers who set the prices. Solidworks can cost anywhere from approximately $5,000 for the standard version to as much as $10,000  for the premium version, for a one-year subscription. 
Alternatives to AutoCAD and Solidworks
There are not many high-quality software packages that are truly alternatives to Solidworks and AutoCAD. For Solidworks, AutoDesks's Inventor® is an excellent alternative and has many of the same features as Solidworks. 
In terms of AutoCAD alternatives, there is Draftsight which is Dassault Systemès' answer to AutoCAD. However, AutoCAD is measurably better than Draftsight. Another potential alternative is NanoCAD which offers a free version limited to 2D drafting. 
Ultimately, choosing between AutoCAD and Solidworks depends heavily on the intended application. AutoCAD may be difficult to learn at first, but once the basics are understood it can be used to quickly draw out conceptual designs. It can also be further leveraged to draw engineering diagrams and flow sheets that will be used as the basis for more detailed 3D modeling. These detailed 3D models are then better suited to being designed in Solidworks. Most engineering companies will use both software packages and will use them to end up with an optimal CAD workflow. 
Summary
This article presented AutoCAD and Solidworks software, explained what they are, and discussed when each software is used and their different system requirements. To learn more about 3D printing software, contact a Xometry representative.
Xometry provides a wide range of manufacturing capabilities, including 3D printing and other value-added services for all of your prototyping and production needs. Visit our website to learn more or to request a free, no-obligation quote.
Copyright and Trademark Notices
AutoCAD® & Inventor® are trademarks of Autodesk, Inc.
Solidworks® & Draftsight are trademarks of Dassault Systemès Solidworks Corporation
Windows is a trademark of Microsoft Corporation
macOS is a trademark of Apple Inc.
Disclaimer
The content appearing on this webpage is for informational purposes only. Xometry makes no representation or warranty of any kind, be it expressed or implied, as to the accuracy, completeness, or validity of the information. Any performance parameters, geometric tolerances, specific design features, quality and types of materials, or processes should not be inferred to represent what will be delivered by third-party suppliers or manufacturers through Xometry's network. Buyers seeking quotes for parts are responsible for defining the specific requirements for those parts. Please refer to our terms and conditions for more information.

Team Xometry
This article was written by various Xometry contributors. Xometry is a leading resource on manufacturing with CNC machining, sheet metal fabrication, 3D printing, injection molding, urethane casting, and more.