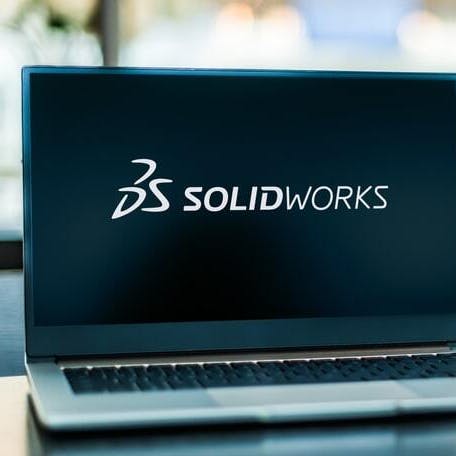 CREO vs. Solidworks® — Software Comparison
Learn more about these two types of 3D printing software and when to best use them.

By Team Xometry
November 11, 2022
 10 min read
The CAD (computer-aided design) systems CREO and Solidworks®, produced by PTC and Dassault Systèmes respectively, are two of the most popular CAD software packages used by engineers, designers, and hobbyists alike. Both of these CAD programs are used to produce 3D designs and engineering drawings and carry out in-depth studies on newly designed parts, such as finite element analysis. 
Though CREO and Solidworks are similar in many regards, there are three noticeable differences between them that can make one software program or the other better for a particular project or application. CREO can be used for pure, 3D solid modeling - allowing users to easily establish datum references, create features, and make retroactive changes to their designs. Solidworks, on the other hand, has a more simplified, parametric approach to 3D modeling that makes it easy to use for beginners, but makes retroactive changes difficult and time-consuming. Another key difference between the two is their usability. Solidworks is praised for its streamlined, easy-to-use interface that is perfect for both novices and experienced users, while CREO is aimed at more advanced users. The final major difference between the two is how the software is packaged and sold. CREO is a suite of modules that users can purchase to perform CAD functions specific to their needs, while Solidworks is a single program that comes complete with all the tools needed for 3D modeling. This article will compare the key features of CREO vs. Solidworks to help you determine which one is best for your particular project.
What is CREO?
CREO was first released by PTC in 1987 under the name Pro/ENGINEER, but has been known as CREO since 2009. It was one of the first 3D solid modeling software programs to enter the CAD market, and it has impacted the industry dramatically. CREO is a family, or suite, of individual CAD modeling applications. They can be bundled together and used to complete particular CAD tasks, such as 3D modeling, assembly modeling, finite element analysis, and 2D technical drawings and visualizations. These individual suites allow users to pick and pay for only the CAD features that they need for a particular project. 
What is Solidworks?
Solidworks is a 3D solid modeling CAD software package developed and first released by Massachusetts Institute of Technology graduate Jon Hirschtick in 1995. Dassault Systemès acquired the software in 1997 and has developed and published it ever since. Developed as a cheaper and simpler alternative to CREO, Solidworks can be used to complete 3D solid modeling and many other functions, such as large and complex assembly designs and finite element analysis — all from an efficient, easy-to-use user interface.
CREO vs. Solidworks — Use Cases and Applications
Both CREO and Solidworks are used by engineers and designers to complete many of the same functions. Both programs are used in a wide range of industries — from automotive and aerospace to mining and construction, to consumer products. PTC CREO's Parametric and Simulation Suites, for example, have been used in the motorsport industry to redesign the rear anti-roll bar of an IndyCar and analyze its aerodynamics. Solidworks has been used to design a jet-powered exoskeleton that allows humans to fly and hover. 3D designs were created and optimized using flow simulation, all within Solidworks. Both software allows complex and sophisticated designs to be made, however, the methods used to accomplish such a successful design is where the differences lie. 
CREO vs. Solidworks — System Requirements
Both CREO and Solidworks require a certain degree of computing power to work smoothly and effectively. The recommended system requirements for CREO are:
Operating System: Windows 8.1, 32 or 64-bit
Minimum RAM: 4 GB (or more, depending on rendered size)
Video Display: 3D-capable graphics card
CPU: Single or dual-quad processors
Disk Space: Minimum of 2 GB
For Solidworks, the following are required:
Operating System: Windows 10, 64-bit
Minimum RAM: 8 GB (or more depending on the rendered size)
Video Display: Workstation card
CPU: Intel Core i7 9700K or Core i9 9900K or equivalent
Disk Space: 5 GB
What Operating Systems Do CREO and Solidworks Support?
Both CREO and Solidworks are designed to be used on Windows OS (operating systems). The current version of CREO (9.0) requires an OS of Windows 8.1 or newer. For Solidworks, the current version (2021 SP2.0) requires at least a Windows 10 64-bit operating system. 
Apple macOS is not compatible with either CREO or Solidworks. A Windows emulator software may be used on a Mac PC to operate CREO or Solidworks. Still, the programs may malfunction due to the inherent incompatibility between the software and the operating system.
What Are the Minimum Memory Requirements for CREO and Solidworks?
Due to the computing functions and processes executed by CREO and Solidworks, minimum memory (RAM) requirements must be satisfied to ensure the best use. 4 GB of RAM is the minimum requirement to operate PTC CREO smoothly. However, more RAM may be required when designs and assemblies are larger and/or more complex. Significantly more RAM (16 GB or higher) is recommended for computationally intensive engineering analysis such as a finite element or CFD (computational fluid dynamics) analysis. 
The same can be said for Solidworks in terms of additional RAM for better performance. A minimum of 8 GB is recommended to use Solidworks, however, more RAM may be required depending on the functions being performed.
What File Formats Do CREO and Solidworks Support?
Both CREO and Solidworks use many of the same neutral formats for CAD drawings and 3D models. Both CREO and Solidworks use many of the same neutral formats for CAD drawings and 3D models. Additionally, both CREO and Solidworks can read some proprietary file formats. The ability to read both neutral and proprietary file formats allows both CREO and Solidworks users to collaborate with each other with few barriers. Table 1 below shows a list of both native and proprietary file formats that can be read by both CREO and Solidworks: 
Table 1: File Formats for Both CREO and SolidWorks
| Native File Formats | Proprietary File Formats |
| --- | --- |
| Native File Formats | Proprietary File Formats |
| Native File Formats | Proprietary File Formats |
| Native File Formats | Proprietary File Formats |
| Native File Formats | Proprietary File Formats |
| Native File Formats | Proprietary File Formats |
CREO vs. Solidworks — User Experience
Perhaps the biggest difference between CREO and Solidworks is the difference in user experience. CREO has a steep learning curve compared to Solidworks. Several of CREO's advanced features make it difficult to learn for users who are new to CAD. CREO is the best choice when its high-end features, such as topology, optimization, mold design, surfacing, and simulations, are needed. Additionally, the suite of applications offered by PTC for CREO allows users to pick and choose only the features they need - enabling a streamlined workflow for even the most complex designs. 
SolidWorks, on the other hand, was designed to be a simpler alternative to PTC CREO. This makes Solidworks more suitable for beginners to CAD than CREO. The complete history of all changes is carried throughout the design process, making errors easier to trace back to the source. Additionally, in Solidworks, portions of a single design or parts of an assembly can be designed and edited separately. This allows users to easily identify issues and optimize designs.
Learning Curves of CREO and Solidworks
The difference in the difficulty of learning CREO vs. Solidworks is one of the biggest differences between the two programs. CREO, with its more advanced features such as topology design for additive manufacturing, and simulation capability, can be harder to learn for new CAD users seeking to design a successful part. Solidworks, on the other hand, is lauded for its simplicity and efficient use that any user, even one without any CAD experience, can learn. 
Is CREO Easier To Learn and Use Than Solidworks?
No, CREO is not easier to learn and use than Solidworks. The difficulty associated with learning and using CREO compared to Solidworks is why many users actually prefer Solidworks. Solidworks has a built-in tutorial that allows any new CAD user to quickly become acquainted with basic and intermediate CAD functions. With CREO, however, users will need to check tutorials and walkthroughs through PTC or various online resources to understand difficult aspects of the software.
CREO vs. Solidworks — Application Stability
Stability for any application ultimately comes down to both the application's innate design and the computer's processing power. While having a more powerful computer will lead to more stable use of CREO or Solidworks, there are some differences between the stability of the two applications in terms of software design. Solidworks allows users to continue creating designs even when a feature is failing. Though this may be beneficial to users in that they can continue their design and address issues later, it creates a headache for data references. This leads to several more failures in a model for silly and redundant reasons.  With more complex and large designs, Solidworks users may encounter more difficulty in creating a design efficiently.
CREO vs. Solidworks — Customer Support
Support for the two software is generally equivalent. Both PTC for CREO and Dassault Systemès for Solidworks offers wide-ranging support for their CAD software. PTC has an educational program called PTC University that offers a great variety of training classes that can be selected by region and product suite. Dassault Systemès provides a centralized knowledge base for Solidworks that includes CAD education and training modules. Through their courses and training modules, users can earn certificates proving their knowledge. For both CREO and Solidworks users, users can contact the respective developers for more detailed help and support. 
CREO vs. Solidworks — Community
Communities of users have formed for both CREO and Solidworks. For CREO, PTC has a company support group page for each specific product that they develop. Here, CREO users can post questions and find answers to issues they commonly encounter while using CREO. For Solidworks, a user group network hosts virtual meet-ups and live streams. Solidworks users can find specific groups based on their geographic locations and specialties, and can even lead groups themselves. Additionally, several user-led forums are accessible through Dassault Systemès' website.
CREO vs. Solidworks — Price 
Though Solidworks was first developed as a cheaper and simpler-to-use alternative to PTC CREO, the two software packages are quite similar in price. The entry-level offering for CREO, Design Essentials, starts at around $2,400 for a locked license and can cost up to $20,000 for a locked license for their most premium offering, Design Premium Plus. These prices are for annual, renewable licenses. For Solidworks, the entry-level offering, Standard, starts at $4,000 initially, and $1,300 per year after that. Their premium offering starts at $8,000 initially and $2,000 every year after. 
Alternatives to CREO and Solidworks
There are several alternatives to CREO and Solidworks on the market, including: Autodesk Inventor®, Fusion 360®, and AutoCAD Dassault Systemès Catia®. Additionally, there are many free-to-use and open-source CAD software programs such as FreeCAD, TinkerCAD, and OpenSCAD that are alternatives. However, free CAD software programs may not have the same advanced features as CREO and Solidworks.
Summary
This article presented CREO and Solidworks, explained what they are, and discussed when to use each software. To learn more about 3D printing software, contact a Xometry representative.
Xometry provides a wide range of manufacturing capabilities, including 3D printing and other value-added services for all of your prototyping and production needs. Visit our website to learn more or to request a free, no-obligation quote.
Copyright and Trademark Notices
SolidWorks® is a registered trademark of Dassault Systèmes SolidWorks Corp. 
Autodesk®, Inventor®, and Fusion 360® are trademarks of Autodesk, Inc., and/or its subsidiaries and/or affiliates, in the United States.
Disclaimer
The content appearing on this webpage is for informational purposes only. Xometry makes no representation or warranty of any kind, be it expressed or implied, as to the accuracy, completeness, or validity of the information. Any performance parameters, geometric tolerances, specific design features, quality and types of materials, or processes should not be inferred to represent what will be delivered by third-party suppliers or manufacturers through Xometry's network. Buyers seeking quotes for parts are responsible for defining the specific requirements for those parts. Please refer to our terms and conditions for more information.

Team Xometry
This article was written by various Xometry contributors. Xometry is a leading resource on manufacturing with CNC machining, sheet metal fabrication, 3D printing, injection molding, urethane casting, and more.